Live Coverage of Apple's WWDC 2013 Keynote [Event Over]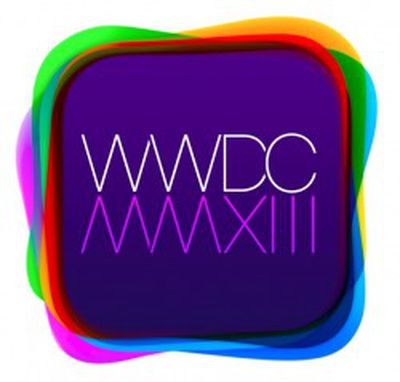 Apple's annual Worldwide Developers Conference (WWDC) kicks off today at the Moscone West convention center in San Francisco, headlined by the traditional keynote address beginning at 10:00 AM Pacific Time / 1:00 PM Eastern Time. At the keynote, Apple is expected to provide an overview of its upcoming iOS 7 and OS X 10.9, as well as other announcements such as possible new hardware and a streaming music service.
Apple will be providing a live video stream on its website for Mac and iOS users and via Apple TV.
Live Video Stream of Apple's WWDC 2013 Keynote
In addition to Apple's video stream, we will be updating this article with live blog coverage and issuing Twitter updates through our @MacRumorsLive account as the keynote unfolds. Separate news stories regarding the event announcements will go out through our @MacRumors account.
Apple's online stores around the world are currently down in advance of the event.
Live Blog Transcript (In reverse chronological order)

12:09 pm: Keynote over.
12:02 pm: I'm really glad you liked that. You'll begin to see it on TV beginning this evening. Those words mean a great deal to us and I hope they mean a lot to you as well. Have a great conference, enjoy the week. Thank you! - Tim Cook
12:01 pm: 'Made by Apple in California'
12:01 pm: "This is it. This is what matters. The experience of a product. How will it make someone feel? Will it make life better? Does it deserve to exist? We spend a lot of time on a few great things. Until every idea we touch enhances each life it touches. You may rarely look at it, but you'll always feel it. This is our signature. It means everything."
12:00 pm: We've created an ad to reflect how deeply we feel about this. I'd like to share it with you.
12:00 pm: I'd like to close this morning with a reminder. Our goal at Apple is to make amazing products that our customers love. Really great products that enrich people's lives. The words you saw at the beginning of the show are more than just words to us. They're the values we live by. They drive us. You see them reflected in our products over the years and just as much in the products this morning. You'll continue to see this in the products we do in the future.
11:59 am: "It's a joy to serve with them. Thank you."
11:59 am: "We are incredibly proud of all of these products. They are great examples of what Apple does best. I'd like to thank everyone at Apple that worked so hard to create them."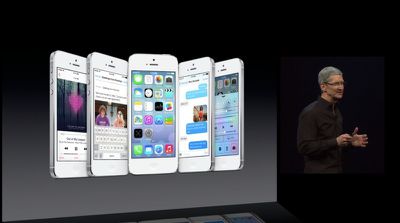 11:59 am
: Tim Cook back on stage recapping the presentation.
11:57 am
: Supports iPhone 4 or later, iPad 2 or later, iPad mini and 5th-generation iPod touch.
11:57 am
: iPad beta coming in next few weeks. Final release coming this fall.
11:57 am
: iOS 7 is available in Beta to developers today.
11:57 am
: iOS 7 adds 1500 new APIs to the SDK. iBeacons for Bluetooth LE location.
11:56 am
: Activation Lock: If a thief tries to turn off Find My iPhone, or if they wipe the device entirely, they won't be able to use it.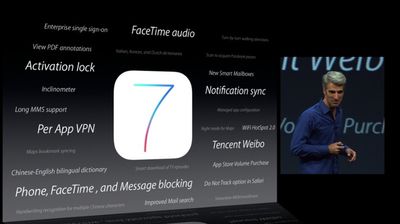 11:55 am
: Per App VPN for enterprise customers.
11:55 am
: Phone, FaceTime, and Message blocking for "people who just won't let go".
11:55 am
: More to iOS 7 than we had time to show off today. Audio-only FaceTime calls. Notification sync between devices.
11:54 am
: Ad supported but ad-free for iTunes Match subscribers. Starting in U.S., adding more countries over time.
11:54 am
: Built into iOS 7, works on iPhone, iPad, iPod Touch, built into Mac and AppleTV.
11:53 am
: Songs have buy button right on the currently playing screen. Feedback on individual songs, preview and buy songs right from playback history.
11:52 am
: Skip to next song. Create own stations based on songs or stations. Hundreds of stations based on genre.
11:51 am
: Once you have a station you love, you can share with a friend or create a new station based on the artist or song.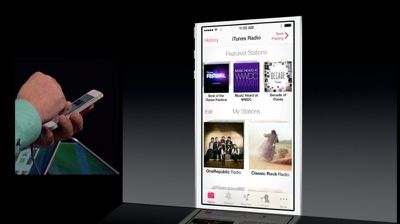 11:51 am
: Featured Stations, trending on Twitter, Music Heard at WWDC, Artists on Tour, Summer Songs.
11:51 am
: Built right into the music app. Demo coming up.
11:50 am
: iTunes Radio
11:50 am
: Music app: The best music player we have ever done. Beautiful artist images right in the library. Tap an artist, see the songs on the device, purchased music and iTunes Match.
11:49 am
: App Store updates apps automatically.
11:49 am
: At baseball stadium or museum, get popular local apps.
11:48 am
: App Store: Look for apps based on age range. Kids categories. Find most popular apps based on current location.
11:48 am
: Honda, Mercedes, Nissan, Ferrari, Chevy, Infinity, Kia, Hyundai and more integrating in 2014.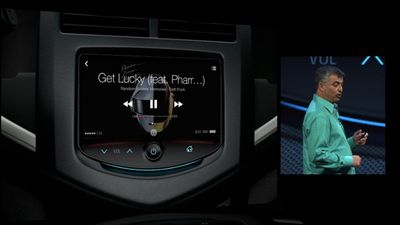 11:48 am
: iOS Maps, get directions, music control, all Eyes Free and displayed on the nav screen in the car.
11:47 am
: iOS on the screen built into the car.
11:47 am
: iOS in the Car: 95% of new cars have implemented music and control from an iOS device.
11:46 am
: New services: Twitter, Wikipedia, Web Search results from Bing
11:46 am
: Control more of the device, including "turn on Bluetooth", "increase brightness", "play last voicemail"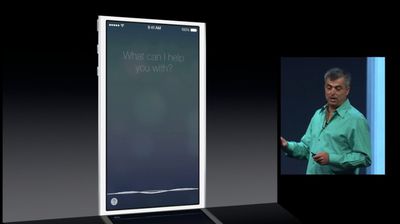 11:46 am
: Siri: 'Gorgeous new interface' - Soundwave displayed while speaking. All new Siri voices.
11:45 am
: Eddy Cue coming on stage to show integration with Internet services.
11:44 am
: Can share videos via iCloud Photo Sharing as well.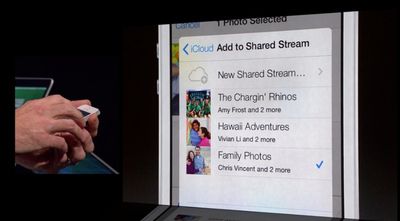 11:44 am
: Other people can share into Photo Streams as well for better collaborative sharing.
11:44 am
: New ways to share photos, AirDrop, iCloud Photo Sharing -- photo picker for sharing is similar to Facebook's picker.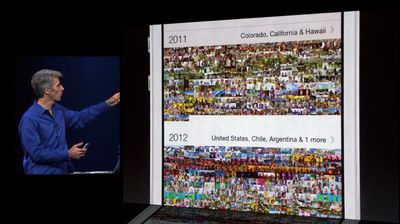 11:42 am
: Lets users view by location, month, or year. Shows locations as well.
11:41 am
: Organizes photos into 'moments' based on location and time.
11:41 am
: Currently, an endless stream of images. There is lots of metadata on photos -- iPhone knows where and when you took photos.
11:41 am
: Camera: Swipe from video camera to photo, video, panoramic, to square. Live photo filters. New photo management in new Photos app.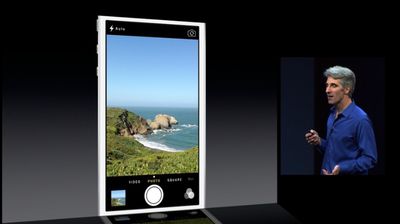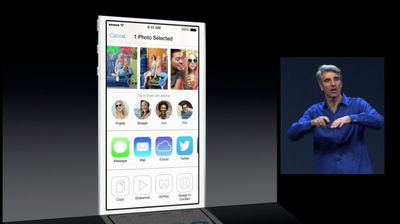 11:40 am
: System wide for any app that supports a share sheet, peer-to-peer Wi-Fi. Supported by iPhone 5, 4th-gen iPad, iPad mini and 5th-gen iPod Touch.
11:39 am
: "No need to wander around the room bumping your phone."
11:39 am
: Tap on them, and they can accept the sharing right on their device.
11:39 am
: AirDrop: Absolutely the easiest way to share with the people that are right around you. Any app that supports a share sheet, your friends that are around you show up right there.
11:38 am
: Craig is demoing multitasking, Control Center, and Safari.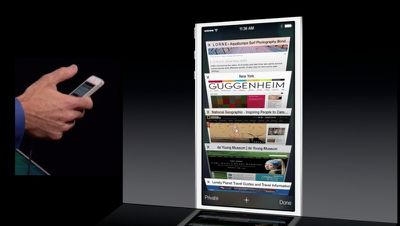 11:37 am
: No longer limited to 8 tabs in Safari.

11:35 am
: Safari: The most popular mobile browser in the world. New full screen mode, smart search/url field, new interface for tabs. Parental controls, iCloud Keychain.
11:34 am
: New multitasking screen as well.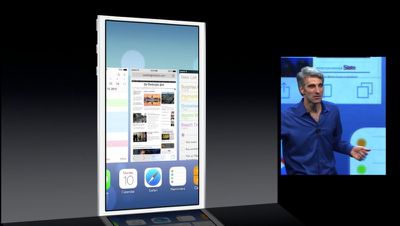 11:34 am
: Push notifications are triggers to update apps in the background when necessary.
11:33 am
: Apps will now get updated in the background. Adapts to network conditions. Coalesces updates across multiple applications to let apps take advantage of updates together.
11:33 am
: iOS 7 notices your patterns of use to keep frequently used apps up to date. If you use an app only in the morning or at night, apps get cycles so they're up to date when you use them.
11:32 am
: Multitasking: iOS 7 built on foundations of OS X. In iOS 4, added select multitasking. In iOS 7, multitasking for all apps with great battery life.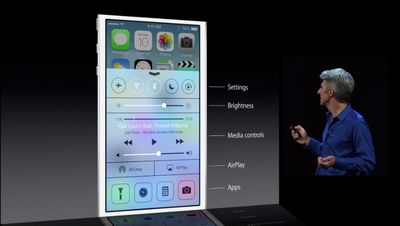 11:31 am
: Control center: Swipe up from the bottom, change Wi-FI, Bluetooth, brightness, volume, AirPlay, flashlight, change a song. Available from anywhere including lock screen.
11:31 am
: Major feature release as well. 10 new features to talk about.
11:31 am
: Like getting an entirely new phone, but one you already know how to use.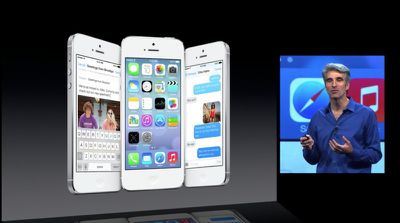 11:30 am
: "Comprehensive end-to-end redesign of the user experience."
11:30 am
: Notification center available from the lock screen as well.
11:30 am
: New notification center, can show all notifications, missed notifications, new 'Today' view.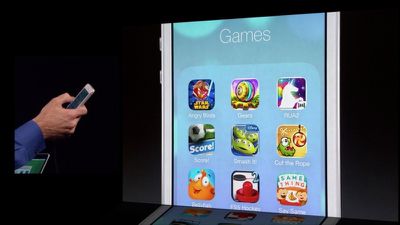 11:29 am
: Folders on the home screen now have multiple pages.
11:29 am
: New gesture from left edge of device goes back from one screen to the previous.
11:28 am
: The weather app shows animated backgrounds reflecting current weather.
11:26 am
: No wood in Newsstand either. Stocks and compass redesigned, "look of precision and a sense of purpose."
11:26 am
: All apps fully redesigned. Game Center redesigned -- "we completely ran out of green felt".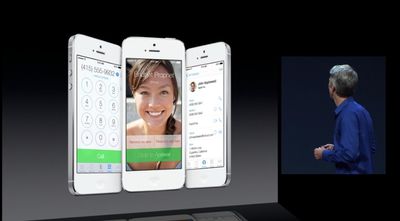 11:26 am
: New weather app looks very much like Yahoo's weather app.
11:25 am
: Animated lock screen, home screen with new flat icons. Home screen moves around the background as the phone is physically moved.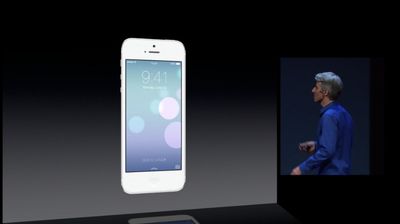 11:25 am
: 'It's just gorgeous."
11:25 am
: Craig Federighi is back to talk about iOS 7.
11:24 am
: "Incredible collaboration between Jony and his design team and Craig and his engineering team."
11:24 am
: Standing ovation for iOS 7 introduction.
11:24 am
: "You are going to absolutely love iOS 7." - Tim Cook
11:23 am
: "We see iOS 7 as defining a whole new direction, and in many ways, a beginning."
11:23 am
: The design is significantly different from before, with new multitasking screens, totally redesigned icons and more.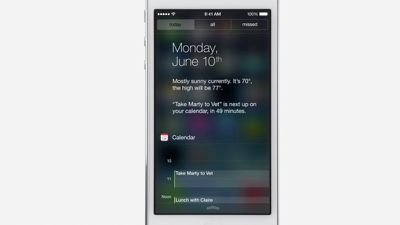 11:20 am
: iOS 7 is a clear representation of these goals. It has a whole new structure that is coherent and applied across the entire system.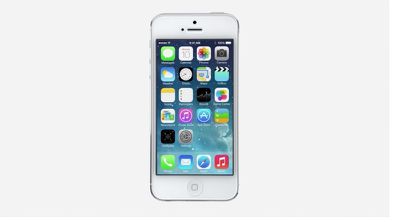 11:20 am
: I think there is a profound and enduring beauty in simplicity. In clarity. In efficiency. True simplicity is derived from so much more than the absence of clutter and ornamentation. It's about bringing order to complexity.
11:19 am
: It's the whole thing. The way something works on so many different levels. Ultimately, of course, design defines so much of our experience.
11:19 am
: "We have always thought of design as being so much more than the way something looks." - Jony Ive
11:19 am
: Running new iOS 7 introduction video.
11:19 am
: Packed with amazing new features and a stunning new user interface.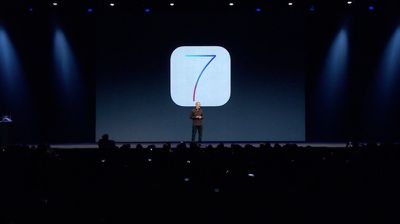 11:18 am
: Biggest change to iOS since the introduction of iPhone.
11:18 am
: iOS 7
11:18 am
: That's what we've been up to. The team at Apple has been working incredibly hard on the latest version of iOS.
11:18 am
: This is why we get so excited when we're working on a new version of iOS. We can positively effect millions of developers and hundreds of millions of users.
11:18 am
: This isn't just bad for users, but version fragmentation is terrible for developers. If you do the math, you'd find that iOS 6 is the world's most popular mobile operating system and in second place is a version of Android released in 2010.
11:17 am
: Android is "a pretty bleak story". More than a third of Android users are using an OS released in 2010.
11:17 am
: 93% of iOS users are on the latest OS. Stark contrast when compared to Android.
11:16 am
: 73% of iOS users are 'very satisfied', 25% better than Android.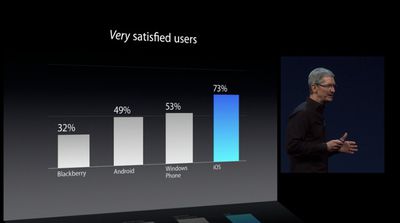 11:15 am
: 97% overall satisfaction for iOS.
11:15 am
: #1 in customer satisfaction, most important to Apple. iPhone ranked #1 by JD Power 9 times in a row.
11:15 am
: Both iPhone and iPad customers responsible for materially more mobile shopping traffic than all Android devices combined on Black Friday last year.
11:14 am
: iOS is 2.5x Android in mobile web share. iPad is 4x Android in tablet web share.
11:14 am
: iPhone users spend 50% more time on their phones than Android users use theirs.
11:14 am
: Our products are number one in customer usage.
11:13 am
: 600 million iOS devices sold. "It's extraordinary and we're proud of it, but it's not what drives us."
11:13 am
: Tim Cook back out for iOS presentation.
11:13 am
: Public beta coming with general release later this year.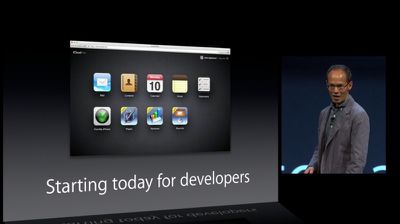 11:13 am
: Beta - beta.icloud.com
11:13 am
: IE, Chrome and Safari. iWork on all your devices -- create a document on the Mac, edit on a PC, and present from the iPhone.
11:12 am
: 'Editing a Keynote document on Windows 8!"
11:12 am
: Demoing on Windows now, running Chrome on Windows 8.
11:11 am
: Showing off editing a spreadsheet in Numbers, full Keynote editing and animations right in a browser window.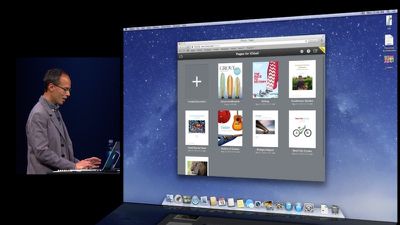 11:07 am
: iCloud homepage now has new iWork app icons. Work on Pages right in the browser.
11:07 am
: New software: iWork for iCloud lets you create beautiful documents right in the browser on Mac or PC.
11:06 am
: iWork is Pages, Numbers and Keynote. Most powerful productivity apps ever created for a mobile device. Awesome new releases of Mac and iOS iWork suites coming later this year.
11:06 am
: Roger Rosner showing off new iWork.
11:05 am
: We will be deeply integrating iCloud into the next version of iWork.
11:05 am
: 800 billion iMessages sent, 7.4 trillion push notifications.
11:05 am
: 240 million users of Game Center.
11:04 am
: 300 million users of iTunes in the Cloud. Downloaded content 35 billion times.
11:04 am
: Took Facebook 5 years to reach this point.
11:04 am
: 300 million iCloud accounts, the fastest growing cloud service ever.
11:04 am
: "You're gonna love the Mac Pro. It's killer." - Tim Cook
11:03 am
: Special lunchtime session tomorrow with Pixar, the Foundry showing character animation running on the new Mac Pro.
11:03 am
: Assembled in the USA.
11:03 am
: Coming "later this year".
11:03 am
: 'Stunning product. The future of the pro desktop."
11:03 am
: Audio, 4 USB 3.0 ports, 6 Thunderbolt 2 ports, Gigabit ethernet, HDMI out, and motion sensor that lights up the back panel when its turned.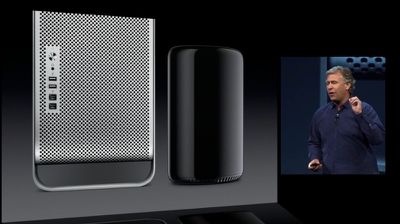 11:02 am
: Is only 1/8th the volume of the old generation Mac Pro.
11:02 am
: Mac unlike any we've ever made. Delivers so much more performance and capabilities.
11:01 am
: Final Cut Pro X will support performance and graphics capabilities of the new machine.
11:01 am
: Supports 4K displays. Multiple streams. 3 4K displays on built-in dual workstation graphics.
11:01 am
: 7 teraflops over OpenCL.
11:01 am
: 528GBps total bandwidth.
11:01 am
: Graphics: First Mac ever to include dual workstation GPUs. AMD FirePro Graphics.
11:00 am
: All expansion is external. Uses Thunderbolt 2, 20Gbps throughput, 6 devices per port, backwards compatible. 2x of industry leading Thunderbolt 1.
11:00 am
: Flash internal storage. New Flash PCIe-based. 1.25GBps read, 1.0GBps write. 10x faster than any hard drive put in a Mac Pro.
10:59 am
: Double the CPU performance of the previous generation. 1766MHz DDR3, 60GBps bandwidth memory.
10:59 am
: Processor, graphics and memory are inside. New generation Intel Xeon.
10:59 am
: This is a machine unlike anything we've ever made both inside and out.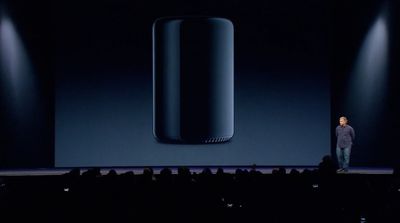 10:58 am
: "Can't innovate anymore my ass." - Phil Schiller
10:58 am
: New Mac Pro is a totally different cylindrical design.
10:57 am
: Really pleased to give you the first glimpse of the next generation of Mac Pro.
10:57 am
: New capabilities for the next 10 years. Truly revolutionary and truly radical. So cool, we're gonna go a little over the top and give it a grand introduction.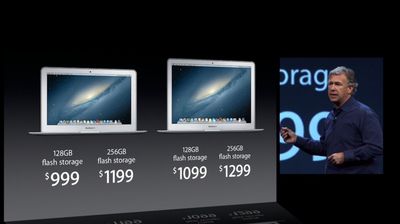 10:57 am
: Spent quite a bit of time thinking about the future of the pro desktop
10:56 am
: We didn't want to make another version of the same old desktop idea.
10:56 am
: Our most advanced users want to get their hands on the fastest most expandable Mac we make.
10:56 am
: Mac Pro
10:56 am
: "Sneak peek of something we're working on"
10:55 am
: Environmentally friendly MacBook Air.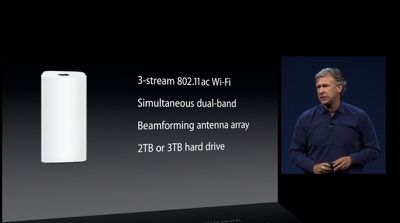 10:55 am
: 11" Starts at $999 for 128GB flash storage. 13" at 128GB starts at $1099, $100 off.
10:55 am
: Beamforming antenna array, 2TB and 3TB Time Capsule.
10:54 am
: New AirPort Base Stations with all-new designs. 4" square but 6" high with larger antennas. New AirPort Time Capsule as well.
10:54 am
: 802.11ac faster Wi-Fi networking. 3x faster than 802.11n.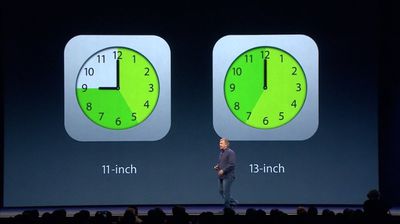 10:53 am
: 10 hours of iTunes movie playback.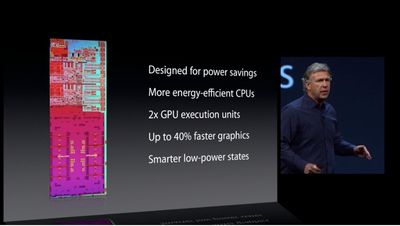 10:53 am
: 11-inch now has 9 hours of battery life, 13" is 12 hours of battery life.
10:53 am
: Current MacBook Air: 11-inch has 5 hour battery life, 13" is 7 hours.
10:53 am
: 40% faster graphics, smarter low-power states, more energy-efficient CPUs.
10:52 am
: Haswell ULT processors.
10:52 am
: Update an entirely new line of MacBook Air. All-day battery life.
10:52 am
: "The Ultimate Everyday Notebook"
10:52 am
: MacBook Air - The future of the notebook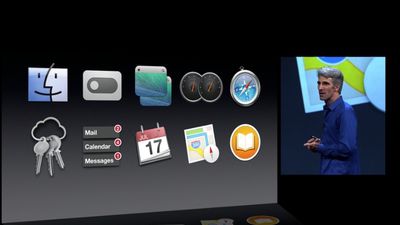 10:51 am
: Phil Schiller coming out to "talk about the Mac".
10:51 am
: For everyone else, final release will come out this Fall.
10:51 am
: Developer Preview available today.
10:51 am
: Great features for everyone.
10:51 am
: "Mavericks makes your digital life follow you from device to device." Remembers what page you're reading, remembers your passwords across devices. Bookmark location and travel routes. Fantastic release full of some great features for power users.
10:50 am
: Take notes right from text, read in the sidebar. Turn notes into flip cards.
10:49 am
: iBooks: Demo's iBooks textbooks, scrolls through pages, watch a video, graphical table of contents, select another chapter, interactive items.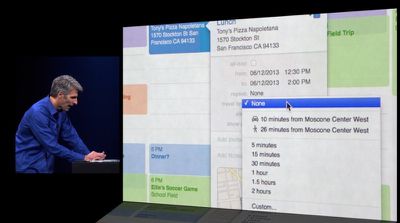 10:48 am
: Can get a notification on Mac and phone when the user needs to leave to make their appointment.
10:48 am
: Suggests locations, maps and weather based on calendar entries. Gives suggest travel time for various modes of travel. Adds anticipated travel time to the calendar for appointments.
10:47 am
: Calendar: Has continuous scrolling. "Without stitching, the window still sticks right there on the screen. I don't know how we did it. Engineering."
10:46 am
: Demo: Showing off Maps. Flyover, search, info cards with reviews and photos. Bookmark sites synced across devices. Get directions and send them to the iPhone.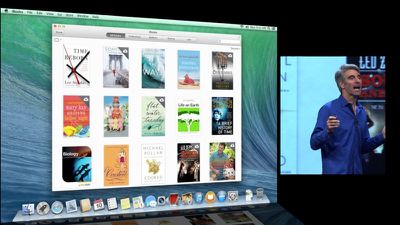 10:45 am
: iBooks textbooks available on the Mac, "great for notetaking"
10:44 am
: Full library of 1.8 million iBooks on the Mac.
10:44 am
: iBooks
10:44 am
: Developer SDK to add mapping functionality to Mac apps.
10:44 am
: Send routes and directions right to the iPhone.
10:44 am
: Maps team has been making great improvements and Mac users are going to benefit. Fantastic new Maps app. Street maps, 3D, flyover data, POI, info cards, turn by turn directions.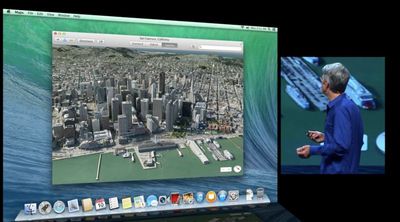 10:43 am
: Maps
10:43 am
: Calendar on the Mac has been redesigned with a flat redesign. "No virtual cows were harmed in the making of this UI. We'll be adding that to our environmental checklist."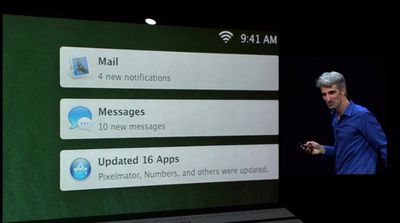 10:42 am
: Apps update automatically in the background.
10:42 am
: Push notifications sent to iOS devices can be sent to the Mac as well.
10:41 am
: Improvements to notifications: Can reply within notifications for emails and messages, can delete emails from notifications.
10:41 am
: Autofill credit cards as well.
10:40 am
: Can suggest passwords and login for you from then on.
10:40 am
: Can remember website logins, credit card numbers, wifi networks, synced across all systems.
10:40 am
: iCloud Keychain - You want to have a different complex password for each site you have a login. Post it notes are not recommended!
10:39 am
: 'That's Safari in Mavericks. I think you're going to like it.'
10:39 am
: Can scroll from one article to the next without clicking.
10:39 am
: Can load links shared on Twitter right from the sidebar, can retweet from within Safari.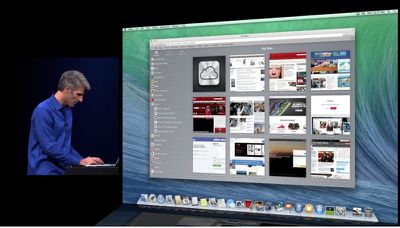 10:38 am
: App Nap shuts off CPU work when a window is unseen in the background. If a window is covered, the CPU stops processing as much, saving battery life.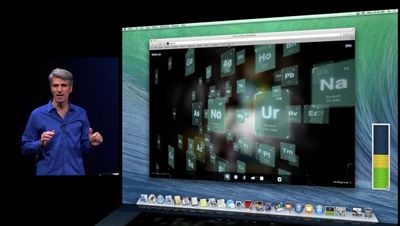 10:37 am
: "Optimized heavily for Retina displays." Showing off smooth scrolling, up to 60fps during scrolling.
10:35 am
: Demonstrating Safari.
10:35 am
: Showing off benchmarks with Safari marking significantly faster on JSBench.
10:34 am
: Process per tab architecture, shared memory resource cache, additional power savings.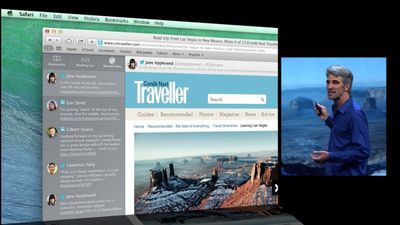 10:34 am
: Shared Links: See links posted by people you're following on Twitter or LinkedIn.
10:34 am
: Clean new homepage in Safari, new sidebar, browser right from bookmarks, Reading List.
10:33 am
: WebKit is used by 1.5 billion devices.
10:33 am
: Safari: In the last decade, Safari has focused no just on providing the easiest to use and most elegant browsing experience, but also the most innovative.
10:33 am
: Compressed Memory: Compresses data in memory rather than writing inactive memory to disk.
10:32 am
: Timer Coalescing: When you look at battery life, the real factor that software has the most influence over is CPU activity. "Intelligently align work reducing transitions between idle and work mode." Reduces CPU utilization up to 72%.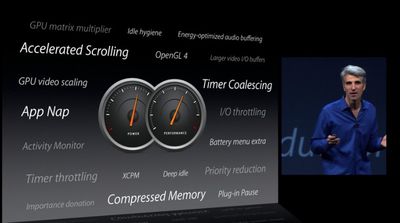 10:30 am
: Can drag windows and full-screen displays to the AppleTV and use it as a standard display.
10:30 am
: I have an AppleTV as well. "This is pretty over-the-top." Can connect to AppleTV and it becomes a full-powered display as well. Dock and menus appear on AppleTV.
10:29 am
: 'Mission Control has been supercharged for full screen displays." Can organize windows and full screen apps within Mission Control.
10:29 am
: Can drag from one full screen app to another.
10:28 am
: One app goes full screen, the other one stays normal. Multiple apps full screen on multiple screens.
10:28 am
: Showing off multiple displays. Can move windows across displays, menu bar on both displays, dock can move from one display to another.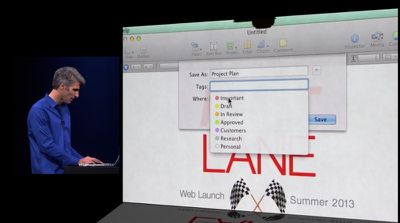 10:26 am
: Tagging: When I save a document, I can save its location and give it tags. Can show all documents from multiple locations drawn together on the sidebar.
10:26 am
: Merges multiple Finder windows into one window with tabs. Drag and drop between tabs, and shows Finder window going fullscreen.
10:25 am
: Showing off the new features in OS X Mavericks.
10:25 am
: If you have an AirPlay connected HDTV, it can act as a full-powered HD display.
10:25 am
: When you pan your spaces, you can do it independently on each of your displays.
10:24 am
: You can get your menus across multiple displays. Your dock across multiple displays. When you take an app full screen, it doesn't mess with your desktop on the other display.
10:24 am
: Multiple Displays -- To great applause, "We're not giving you all a free display, this is software"
10:24 am
: Tags are great for really powerful search. Craig seems very excited about tags.
10:24 am
: 'Tags' -- We're bringing tagging to the Mac. In addition to its location and name, you can tag it. It'll appear right in the Finder sidebar. You can tag things wherever they are.
10:23 am
: Safari-esque tabs, can drag content across tabs. Finder goes full screen as well.
10:23 am
: 'Finder Tabs'
10:23 am
: Three of the new features showing off today.
10:23 am
: Mavericks is a release with deep technology focus on extending battery life and responsiveness.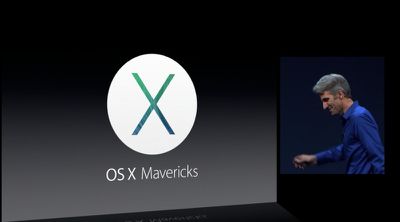 10:22 am
: For our first California themed release, we went to OS X Mavericks.
10:22 am
: We want names that will carry us for the next ten years. The answer was really obvious. It's those places that inspire us here in California.
10:21 am
: We thought out of the box. OS X Sea Lion! (OK, maybe not).
10:21 am
: "We don't want to be delayed due to a dwindling supply of cats."
10:21 am
: Craig Federighi, Senior Vice President Software Engineering, on stage to talk about OS X.
10:20 am
: "We're not standing still. We've got lots of innovation left." We want to talk about OS X.
10:20 am
: 35% of Mac users are using Mountain Lion. 8% of Windows users are using Windows 8.
10:20 am
: Mountain Lion launched last year, shipped 28 million copies.
10:19 am
: Mac is #1 in customer satisfaction in quality. "Lots of innovation for the Mac last year."
10:19 am
: Mac has 15% 5-year annual growth rate, compared to 3% for PC market. Mac is up 100% versus PC up 18% in that time.
10:19 am
: 72 million Mac installed base. New iMac is #1 desktop in the U.S. MacBook is the #1 notebook in the U.S.
10:18 am
: "I'd like to thank all of the developers for creating such incredible apps."
10:17 am
: Tim Cook is back on stage.
10:17 am
: "We are bringing video games to live on the floor of your living room." AnkiDrive is coming to Apple Stores this fall.
10:17 am
: "Weapons enabled" -- one car "shoots" the other toy cars off the track. "We are taking video games and programming those onto physical items you can actually touch."
10:16 am
: The cars are using artificial intelligence to race around a track without any direction or input from each other.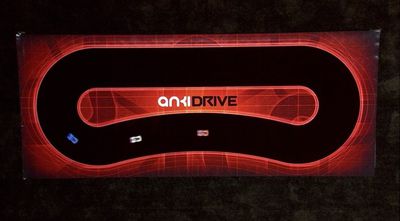 10:14 am
: The first product is 'AnkiDrive', using robotic toy cars powered by Bluetooth low energy. The cars know where they are located and react to their surroundings in real-time.
10:13 am
: 'With the help of iOS devices, we're bringing AI and robotics out of the lab and into their lives."
10:12 am
: Featuring an independent developer, 'Anki'. "They're launching their company for the first time on-stage today." They're bringing AI and robotics into our daily lives.
10:12 am
: "The App Store levels the playing field between large and small developers."
10:11 am
: "That's three times more than all other platforms combined."
10:11 am
: The momentum is incredible, $5 billion of that in the past year.
10:11 am
: We are proud to announce that we have now paid developers more than $10,000,000,000.
10:11 am
: 575,000,000 store accounts. "We have more accounts with credit cards than any store on the Internet that we're aware of."
10:10 am
: 375,000 apps designed for iPad. Just a few hundred from "those other guys".
10:10 am
: 50 billion apps have been downloaded, and is a truly staggering number for 5 years. 900,000 iOS apps. 93% of those apps are downloaded each month.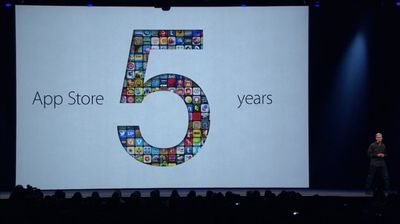 10:10 am
: "We have some pretty great digital stores. The App Store turns 5 next month."
10:09 am
: Running video about new Apple Store Kurfürstendamm in Berlin. The store includes a renovated theater that Apple will use for community events.
10:07 am
: Apple Retail Updates up first. 1 million daily visitors, 407 stores in 14 countries.
10:06 am
: This is the biggest venue we could get, but we are posting sessions online each day.
10:06 am
: 6 million registered developers with 1.5 million in the past year. WWDC 2013 sold out in 71 seconds.
10:05 am
: "The engineers are here to help. Don't ask them about future roadmaps!"
10:05 am
: 24th annual WWDC. Attendees from 66 countries, 64% are first-time attendees. 100 sessions, 120 hands-on labs, 1000 Apple engineers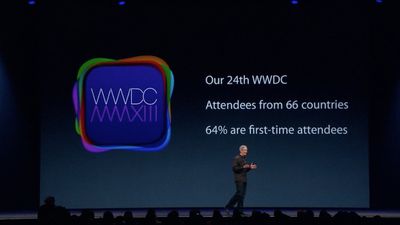 10:05 am
: "Welcome to the Worldwide Developers Conference. You're going to have an incredible week."
10:04 am
: Tim Cook is now on stage
10:04 am
: "Designed by Apple in California"
10:04 am
: "There are a thousand no's for every yes. We simplify, we perfect... until everything we touch enhances each life it touches."
10:03 am
: The video is focused on design, asking "what do we want people to feel?"
10:02 am
: The presentation is beginning with a introductory video
10:00 am
: "The presentation will begin shortly. Please take this opportunity to switch all electronic devices to silent mode."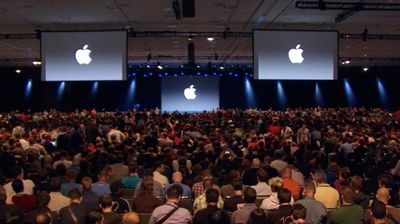 9:51 am
: Laurene Powell-Jobs, Steve Jobs' widow, is in attendance.
9:47 am
: Apple board member Al Gore and co-founder Steve Wozniak are chatting near the stage.
9:46 am
: The auditorium is filling up as thousands of developers and press await Tim Cook's presentation.
9:45 am
: Fifteen minutes ahead of the keynote, Apple's livestream has begun on Apple's website.
9:19 am
: Press have been allowed into the auditorium to get situated.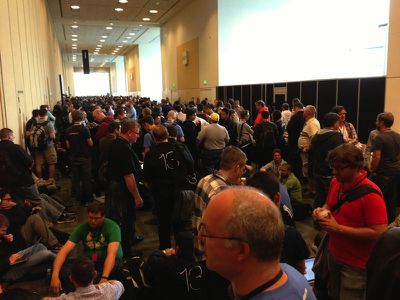 8:50 am
: Developers lining up inside the Moscone Center for the WWDC Keynote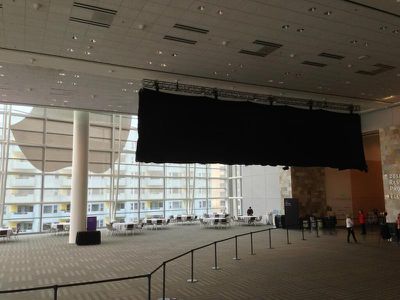 8:34 am
: Covered banner spotted by Matthew Panzarino (@panzer) at WWDC.