Apple's Lottery for 2017 Worldwide Developers Conference Tickets Kicks Off
Developers hoping to attend Apple's 2017 Worldwide Developers Conference in San Jose, California can now apply for a chance to purchase a ticket, with Apple's lottery having kicked off at 10:00 a.m. Pacific Time. Tickets are priced at $1,599.
Tickets will be doled out using a random selection process, implemented because in past years, tickets sold out within a matter of minutes. Approximately 5,000 attendees are expected at the conference, which will also be attended by Apple executives and more than 1,000 Apple engineers.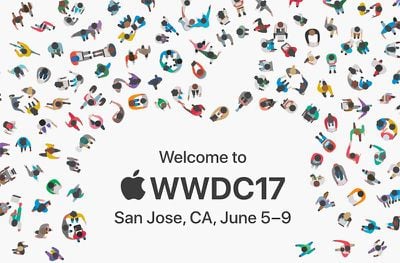 The 2017 Worldwide Developers Conference will start on Monday, June 5, and will last through Friday, June 9. Apple announced the conference in mid-February this year, as it is the first that will be held outside of San Francisco in many years. In 2017, WWDC will take place at the McEnery Convention Center in San Jose, California, which should be a welcome change for many developers as it is less expensive to secure accommodations.
Apple says that it is working with the city of San Jose and local businesses to plan "very special experiences" around San Jose during the week of the conference, so this year's event promises to be unique.
Along with the ticket lottery, Apple is now accepting WWDC scholarship applications for students and STEM organization members who don't have the funds to attend the conference. Scholarship applicants, who must be at least 13 years old, have a chance to earn both tickets and accommodations for the 2017 event.
Apple is asking prospective scholarship attendees to share a visually interactive scene created in Swift Playgrounds that can be experienced in three minutes. Swift Playgrounds for iPad or Xcode on macOS must be used, and Apple will judge applications on technical accomplishment, creativity of ideas, and the content of written responses.
Apple's ticket lottery will end on Friday, March 31 at 10:00 a.m. Pacific Time, while Apple will take scholarship applications until Sunday, April 2 at 5:00 p.m. Pacific Time. Lottery winners are likely to be notified on April 3 by 5:00 p.m. Pacific Time as that is when Apple will begin charging credit cards.
Developers and students who are not selected to purchase a ticket will be able to watch both the keynote event and sessions with engineers through the Apple Developer website and through the WWDC app for iPhone, iPad, and Apple TV.