Apple Updates Official WWDC App Ahead of 2017 Event
Ahead of the 2017 Worldwide Developers Conference, set to kick off on Monday, June 5, Apple has updated its official WWDC app for the event, introducing several new features and a revamped look.
According to Apple's release notes, the updated app features curated video playlists centered on featured themes, interactive venue and street maps, and a new Venue tab that provides information about the conference site in San Jose, California. For the first time in many years, WWDC will take place at the McEnery Convention Center in San Jose rather than the Moscone Center in San Francisco. There are also stickers for Messages featuring classic Apple icons.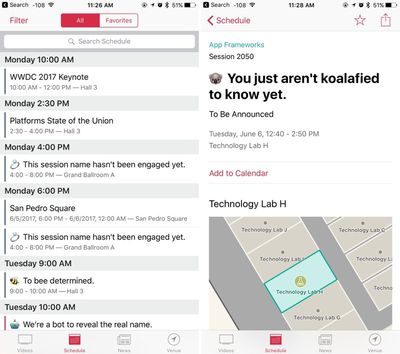 - Watch curated video playlists focused on featured themes.
- View interactive venue and street maps.
- See important venue information in the new Venue tab.
- Use all app features without signing in.
The WWDC app is meant to be used by both conference attendees and developers who were not able to purchase tickets for the event. It offers up on-site tools like maps and start times for labs, sessions, and events, plus it includes live video streams so those not in attendance can watch each session.
As of last year, Apple also offers a tvOS WWDC app for the fourth-generation Apple TV, so developers can watch live sessions on their television sets.


Today's update also includes a schedule of sessions that will take place during the conference, with several funny placeholder names in place to hide information that won't be available until new versions of iOS, macOS, tvOS, and watchOS are unveiled at the keynote event. For the first time, Apple will be allowing podcasters to reserve time for on-site WWDC podcasts in a special Podcast Studio.


The Worldwide Developers Conference starts on June 5 with a keynote that will take place at 10:00 a.m. Apple will live stream the keynote on both its website and on the Apple TV, and MacRumors will also provide live coverage on MacRumors.com and through the MacRumorsLive Twitter account.
Apple's WWDC app can be downloaded from the App Store for free. [Direct Link]