watchOS 4
The 2017 software update for the Apple Watch.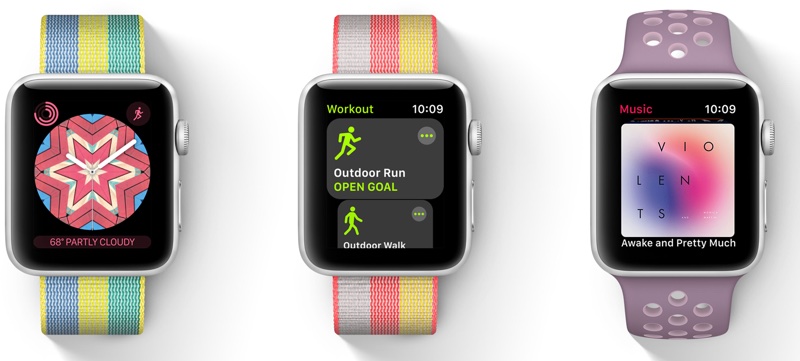 At a Glance
watchOS 4 is designed to run on the Apple Watch. It features new watch faces, including a smart Siri face powered by a user's preferences and routines, and it offers new Workout and Activity features, Peer-to-Peer Apple Pay payments, and a revamped Music app. Launched Sept. 19.
Features
Vertical dock
New watch faces
New complications
Support for High Intensity Interval Training
Improved Music app
Smarter Siri
What's New in watchOS 4
watchOS 4 is the publicly available version of watchOS, the operating system that runs on the Apple Watch. watchOS 4 was introduced at the Worldwide Developers Conference in June of 2017, and it will be followed by watchOS 5 in fall 2018. In watchOS 4, Apple has focused on introducing a more personalized Apple Watch experience and improving what people love most about the Apple Watch, bringing new Activity, Music, and Workout features.
There are three new watch faces in watchOS 4, including a new Siri watch face that offers up dynamic, personalized information that changes based on the time of day. It takes into account your daily routine, the apps you use, and when you use them to predict what you'll want to see next. Other watch faces include a photo-based Kaleidoscope face and a new Toy Story face starring Jessie, Woody, and Buzz Lightyear.

With watchOS 4, Apple wants to better motivate you to close your Activity rings, so there are new notifications when you're close to meeting a goal, more exciting animations when you reach your target, and personalized monthly fitness challenges based on your own Activity history.
It's faster to start a workout with a new Quickstart interface, and Apple has added High Intensity Interval Training as a new workout option. There's a new auto-set option for swim workouts, an interface for doing more than one workout in a session, and a new feature for controlling music right in the Workout app.
Apple Watch integrates with gym equipment in new ways for real-time data sharing and automatic workouts that let you monitor more than ever before, and a new Core Bluetooth feature allows the Apple Watch to connect directly to health and fitness-based Bluetooth devices like glucose monitors for direct data sharing.
Apple Music is redesigned in watchOS 4, with multiple playlist support and syncing of curated Apple Music content like the New Music Mix. Album and playlist art is displayed on the watch face, and a simple tap plays what you choose. Music can also be set to play automatically when starting a workout.

You'll notice that the apps in the Dock are displayed vertically, and with Apple News support, you can get news headlines right on your wrist. Person-to-person Apple Pay is available in the Messages app, there are new gestures in Mail, and a Flashlight Control Center option lights up the Apple Watch screen and doubles as a safety light at night. New complications for unread messages and Now Playing songs are available.
Third-party apps are faster in watchOS 4 with better load times and more responsive interface elements, and developers have expanded access to features like the heart rate monitor, accelerometer, and gyroscope.
watchOS 4 was released to the public on Tuesday, September 19, 2017. It was replaced with watchOS 5 on Monday, September 17, 2018 and has been retired.
Watch Faces
There are three new watch faces available in watchOS 4, along with new options for the Photos watch face, which allows users to choose a selection of 10 photos to add to the watch, rather than a specific album. The Siri, Kaleidoscope, and Toy Story watch faces are new.
All Apple Watch faces can be set on the watch itself or using the Apple Watch app on the iPhone. The Faces Gallery in the app is the best way to see all of the available watch faces at a glance.
Siri
The Siri watch face is perhaps the biggest new feature added in watchOS 4, because it brings Siri personalization to the Apple Watch. The Siri watch face is designed to automatically display the information that's most relevant to you, based on the apps you use, when you use them, and your daily routine.
Siri on the Apple Watch uses the same machine learning algorithms and intelligence that's used for Siri on iOS to predict what you'll need next, and then it displays that info right on the Apple Watch. What's displayed on the Siri watch face is dynamic and updates throughout the day, offering up new info each time you raise your wrist.

In the morning, for example, Siri might bring up an estimated commute time along with your first calendar appointment of the day, or a Breathe reminder and the weather. In the afternoon, you might get details about a nighttime flight, along with direct access to your boarding pass. At the end of the day, sunset times might appear, along with specific nighttime HomeKit scenes.
Siri can display weather, maps info, calendar appointments, reminders, photo memories, sunset times, HomeKit controls, passes stored in Wallet, alarms, Apple News, music, stocks, stopwatch, timers, Breathe alerts, and Workout details.
You can tap into any of the notifications that are displayed on the Siri watch face to get more information or to open the related app, and scrolling through the content on the Siri watch face can be done with the Digital Crown. All of Siri's data sources are customizable in the Apple Watch app on the iPhone, so you can exclude certain data types if you don't want to see them.
The Siri watch face supports two complications, including an exclusive Siri complication that brings up the personal assistant's voice interface when tapped. The Siri complication can only be used on the Siri watch face.
Kaleidoscope
The Kaleidoscope watch face is designed to take a photo and make a kaleidoscope design out of it, which moves and shifts throughout the day or when the Digital Crown is updated. There are several stock photos available for the Kaleidoscope face, but you can also use one of your own images, so there are endless possibilities.

The Kaleidoscope watch face supports three complications and has two patterns available, facet and radial.
Toy Story
The Toy Story watch face is a new Disney option that joins the existing Mickey and Minnie watch faces. Users can choose to have Jessie, Woody, or Buzz Lightyear on the Apple Watch, and each time the wrist is raised, a small animation or vignette plays.

iOS 11 Updates
In iOS 11, there's a new Share Sheet option that allows a photo from the camera roll to be used to create either a Photos watch face or a Kaleidoscope watch face.

New and Updated Complications
The Heart Rate complication has been updated to show your heart rate measurement when used in a complication section with enough room. This is an update from the previous complication that just offered a quick way to open the Heart Rate app.
There's a new Now Playing complication that brings up direct music controls, with this complication replacing the previous Music complication.

A new Apple News complication allows quick access to the Apple News app, and the existing Messages complication has been updated to display how many unread iMessages you have in the Messages app.
New Interface Elements
In watchOS 4, when you force press on the main app Home screen, there's a new option to switch from the standard app grid interface to a simple list of all the apps installed that can be scrolled through with a finger or the Digital Crown.
The Dock, which you access by pressing on the side button on the Apple Watch, has been redesigned, and it now displays a vertical list of icons instead of a horizontal list, which makes more sense with the Digital Crown control. The Dock also now offers an option to display most recently used apps instead of favorite apps, making it similar to the App Switcher on the iPhone.

If you receive two notifications in a row, like incoming emails, watchOS 4 now displays the content of the messages instead combining them and simply alerting you of new notifications.

In the Control Center, there's a new Flashlight icon. Turning it on lights up the Apple Watch's display with a bright white background, a red background, or a flashing light background. In addition to providing a bit of light when it's dark out, the Flashlight can also serve as a safety light when you're working out at night.
With watchOS 4, Apple even celebrates your birthday. On your birthday, Apple sends a new "Happy Birthday" notification that's accompanied by balloons. The animation is similar to the balloons Screen Effect introduced in Messages in iOS 10.

Activity Updates
Apple is aiming to better motivate people to finish their Activity goals each day in watchOS 4 and has introduced new notifications that let you know how close you are to completing a goal and what you can do to reach it. For example, if you need to burn a few more calories to close your movement ring for the day, Apple might tell you how long you need to walk to finish it up.

There are also new achievement animations that offer more of a visual reward when you complete a goal. Apple has added small animations for everyday goals and more significant animations when you hit a major milestone.
To further get people to move, watchOS 4 brings personalized monthly challenges, which are based on past Workout and Activity goals that you've reached. Because these monthly challenges are based on your own workout history, they're achievable with a little effort.
Workout Updates
The Workout app has a new interface that's designed to make it easier to start a workout. All of the available workout types are listed in a vertical row, and starting one up is as simple as scrolling down, choosing the appropriate option, and tapping it. There's no longer a start button or an option to set calories, but if you tap on the dots on each menu item, you can choose to set a workout goal based on calories burned, distance traveled, or time.

There's a new option to choose a playlist that plays whenever a new Workout is started, and there are also music controls right in the Workout app to make it easy to switch between songs. A simple swipe to the left brings up the new music controls.
If you want to do more than one workout in a row, there's no need to stop the current workout anymore. Instead, there's an option to swipe to the right and tap the "+" button to automatically shift to a new workout type. If you don't want to be disturbed by incoming notifications while exercising, there's a new Do Not Disturb During Workouts feature that can be enabled in the Apple Watch app for the iPhone.
Along with the interface changes, there's a new High Intensity Interval Training option in the app, and support for auto-sets when using the swim workout option. A rest at the edge of the pool marks the end of a set, with the Workout app now offering up distance metrics for each stroke type and pace for each set. As of watchOS 4.2, there's also support for skiing and snowboarding, with several apps taking advantage of the new APIs.

When doing an Outdoor Run or intense Outdoor Walk that's at least 20 minutes long, the Apple Watch is now able to calculate a predicted VO2 Max, which is the maximum rate that oxygen can be consumed during exercise. This can give an estimate of cardiovascular fitness and endurance capacity. VO2 Max is normally tested in a laboratory setting, and Apple specifies its measurement is just an estimate.
With new Bluetooth integration, the Apple Watch is able to interface with gym equipment for two-way real-time data exchange. Many people exercise in gyms, and until watchOS 4, there was no way to sync data from gym equipment to the Apple Watch and vice versa. GymKit started rolling out in late 2017.

The Apple Watch is now able to send heart rate information to compatible exercise equipment over Bluetooth, while the machines themselves can transmit info like speed for better estimates of calories burned. Starting a workout on a machine also automatically triggers the Workout app on the Apple Watch, making tracking more straightforward. Apple is partnering with many of the largest gym manufacturers to introduce this feature in the fall.
New Apps and App Updates
Music
The Apple Music app has been redesigned with Apple's AirPods in mind, and when you open the app, it brings you right to a scrollable list of playlists so you can start listening to music right away. A "Shuffle All" button is front and center, and there's quick access to your music library.

Playlists and albums are represented by artwork and can be scrolled through using the Digital Crown. Playing content is as simple as a tap on a playlist.
Apple Music now syncs curated playlists, including Heavy Rotation, Favorites Mix, and New Music Mix, with regular content updates provided.
Messages
iOS 11.2 introduces peer-to-peer Apple Pay payments through a new Messages app, and the same app is available on the Apple Watch. You can send money directly to people using the Apple Watch's biometric authentication feature, and you can receive money.

Money you're sent is applied to a new Apple Pay Cash card, which works just like a regular credit or debit card for Apple Pay purchases made on the iPhone or the Apple Watch.
Mail
Instead of a view that's limited to all of your email mailboxes and your most recent emails, the Mail app on Apple Watch now allows you to view your messages by inbox. User-created inboxes are available, as are VIP, Flagged, and Unread inboxes.
In previous versions of watchOS, it was possible to respond to an email, but there was no option for composing a new message. That's changed in watchOS 4 with a new Compose option brought up with a force press on the main Mail view.

The new Compose UI has options for adding a contact, a subject line, and a message, while taking advantage of Siri speech-to-text, the Scribble feature that lets you spell out a word with gestures, and pre-defined quick responses.
Apple News
There is a dedicated Apple News app on the Apple Watch, which delivers regular notifications when news relevant to you is published. The Apple News app also offers up access to a selection of recent news headlines, giving you a brief overview of the content. You can't read Apple News stories right on the watch, but you can choose to save articles for later.

You can swipe through news stories in the app with simple left and right swipe gestures.
Heart Rate
Apple has updated the Heart Rate app with a little graph that displays your heart rate measurements over the course of the day. The new graph gives a better idea of heart rate fluctuations over time compared to the previous view, which only showed current heart rate and one prior measurement.

The Heart Rate app has also been updated to display resting heart rate, average walking heart rate, and recovery rate after exercising, all new features that provide more information on heart health. Users can choose to receive notifications when the Apple Watch detects a heart rate over 120 when at rest, providing alerts for potential heart issues. Some of these features, including resting heart rate, average walking heart rate, and notifications are not available on the original Apple Watch.
Camera
The Camera app has always been able to be used to snap photographs on the iPhone, but in watchOS 4, there are also video controls for starting and stopping video playback. Video was not supported in previous versions of watchOS.
Timers
The Timers app has been updated to display seconds, so when you're timing something, you can see a seconds countdown instead of just minute/hour countdown options.
Features for Developers
Through new features available to developers, watchOS 4 apps load faster, are more responsive, and can do more.
A native Core Bluetooth feature lets the Apple Watch connect directly to a huge range of Bluetooth-enabled health and fitness devices, like glucose monitors from Dexcom and connected sports devices from Zepp. Data collected can be viewed right on the Apple Watch for immediate feedback without the need to route it through the iPhone.
watchOS 4 apps can record audio in the background, access navigation information in the background, use the heart rate sensor, gyroscope, and accelerometer in real time, access the water lock feature in Series 2 models, implement auto screen rotation, and much more.
SiriKit, which allows third-party apps to interface with Siri, has gained support for note taking apps, meaning Siri can now be added into apps used for taking notes.