Apple Announces WWDC 2017 Takes Place June 5-9 in San Jose
Apple today announced that WWDC 2017 will run Monday, June 5 through Friday, June 9 at the McEnery Convention Center in San Jose, California.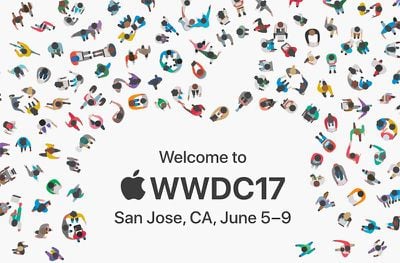 WWDC is returning to San Jose for the first time since 2002. The conference had been held in San Francisco since 2003. Apple marketing chief Phil Schiller told The Loop that downtown San Jose is closer to Apple's headquarters in nearby Cupertino and will provide a "great environment for developers."
Schiller said that downtown San Jose is going to provide a great environment for developers attending the conference. Of course, San Jose has the added benefit of being close to Apple's Cupertino headquarters, which should make logistics much easier for the company, especially when it comes to getting engineers on site.
Schiller said he expects WWDC 2017 to be about the same size as previous conferences—about 5,000 developers and 1,000 engineers. But given the venue's closer proximity to Cupertino, more Apple engineers will be able to attend since they will not need to take an entire day or week off to commute to San Francisco.
The McEnery Convention Center will be the hub for thousands of attendees with great hotel, restaurant and entertainment options, all within walking distance. In addition to the keynote address, get-togethers, sessions and labs for developers, Apple is working with the city of San Jose and local businesses to celebrate the return of WWDC with very special experiences around San Jose throughout the week.
San Jose should be a more affordable location for attendees as well, while an early February announcement allows for cheaper airfare.
Tickets will be offered by random selection for $1,599. Ticket lottery registration opens Monday, March 27 at 10:00 a.m. Pacific Time. Those that plan on registering must be a member of the Apple Developer Program or Apple Developer Enterprise Program as of February 16 at 5:30 a.m. Pacific Time.
WWDC, or the Worldwide Developers Conference, is where Apple unveils the latest versions of its software platforms, which this year is likely to include iOS 11, macOS 10.13, and new versions of tvOS and watchOS. The opening keynote has sometimes included other big announcements, such as new Macs and iCloud.
"Technology alone is not enough," said Apple. "Technology must intersect with the liberal arts and the humanities, to create new ideas and experiences that push society forward. This summer we bring together thousands of brilliant minds representing many diverse perspectives, passions, and talents to help us change the world."
Apple said the conference will be live-streamed on its WWDC 2017 website and through the WWDC app for iPhone, iPad, and Apple TV.