iOS 7
Now available with a modern new look.
By MacRumors Staff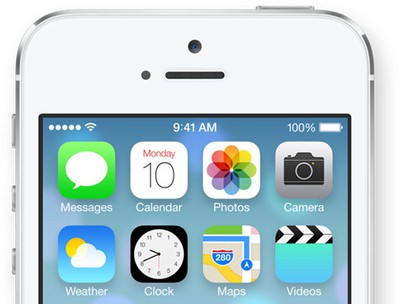 Overview
Apple revealed iOS 7 during the WWDC keynote on June 10, 2013, featuring a brand new design and a number of new features. iOS 7 launched publicly on September 18, 2013. Users can obtain the update either by connecting their devices to iTunes and clicking the "Check for Update" button or checking for over-the-air updates on their devices via Settings -> General -> Software Update.
iOS 7 is available as a free upgrade for the iPhone 4, iPhone 4S, iPhone 5, fifth-generation iPod touch (16GB/32GB/64GB) and the iPad 2, iPad with Retina display (third- and fourth-generation), and iPad mini. iOS 7 will come pre-installed on the new iPhone 5s and iPhone 5c devices. Owners of the iPhone 5s will also find several new features that are specific to that device. These include: 64-bit support, Touch ID fingerprint sensing, Camera image stabilization, Burst Mode and Slow-Mo video.
iOS updates are generally recommended for all users, but in the past, users of older hardware have found that performance of the latest iOS versions on their devices can be sluggish. If you are on older iPhone hardware (iPhone 4), you may want to wait to see how iOS 7 runs on your device. Our discussion forums are a good resource for specific questions/answers, and we've also gathered some tips to help users discover less well-known features. Over time, we expect new apps and updates will start requiring iOS 7 to take advantage of the new features and interface.
iOS 7 was designed to be compatible with all existing iOS 6 apps, and user testing has found this to generally be true. If you rely on a specific "mission critical" app, it would still be prudent to make sure that that app runs before upgrading.
As part of its announcement of launch weekend sales of nine million units combined for the iPhone 5s and iPhone 5c, Apple also revealed that there were over 200 million devices running iOS 7 less than five days after the launch of the new operating system, making it the fastest software upgrade in history.

In Detail

After Apple launched iOS 6 in September 2012 to mostly positive reviews, the company underwent major personnel changes last October that would affect its direction in software. Scott Forstall, then Senior Vice President of iOS Software, was reportedly forced out of Apple after claims that he had caused an internal political divide about the use of skeuomorphism, among other things. As part of the reorganization, Apple announced that Jonathan Ive (pictured) would provide leadership of the Human Interface team in addition to his role as the head of Industrial Design, while OS X chief Craig Federighi would add iOS to his responsibilities.
Apple's iOS 7 mobile operating system started appearing in developers' logs leading up to the new year, with a next-generation iPhone also showing up in those logs. After the personnel shifts, speculation about iOS 7 included claims that Jony Ive was pushing for a flat design amid greater hardware and software design collaboration, and also that it would feature a complete design overhaul in general, removing the skeuomorphic elements found in iOS 6 and prior versions.
Apple unveiled iOS 7 during the WWDC keynote on June 10, 2013, touting a major design overhaul of almost every element of the software. The new design for the mobile operating system features an entirely new color scheme with translucency to "create a sense of depth and vitality," with new, flat icons and an overhauled user interface.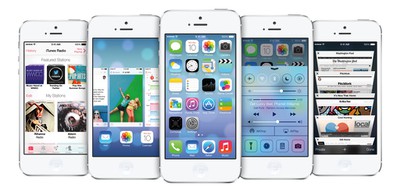 What's in iOS 7
Beyond the aesthetic redesign, iOS 7 also contains numerous tweaks and features that streamline user configuration. Multitasking has been vastly overhauled for iOS 7, offering a new cards look for apps that allows for easier quitting by swiping up out of a preview screen, while also intelligently scheduling updates for apps that pull data. Apple has also included a new universal settings window known as Control Center, which allows the user to swipe up from the bottom of the screen for quick access to preferences such as brightness controls and music buttons, as well as toggles for Do Not Disturb and Airplane Mode.
Notification Center has also been revamped in iOS 7, offering new daily overviews that let users know about new mail, missed calls, tasks, and other information. Notification Center can also now be accessed from any screen, including the Lock Screen, with a downward swipe, while also allowing for sync between devices. Also new in iOS 7 is support for AirDrop, a simple file sharing feature originally introduced with OS X Lion and which allows users to send photos, videos, contacts, and other content to other iOS users via Wi-Fi or Bluetooth. AirDrop capabilities are limited to the iPhone 5 and up, the fourth-generation iPad, the iPad mini, and the fifth-generation iPod touch.

Apple's services also have received new integration into iOS 7, including the brand new iTunes Radio, a streaming music service that adapts to user listening tendencies, as well as a brand new redesign for the App Store which includes a feature called "Apps Near Me", which shows a collection of popular apps relevant to a user's location, as well as automatic updating and a new kids category. Apple's iOS in the Car will also be making its way into iOS 7 in 2014, allowing for compatible car systems to interact with iOS through Siri as well as allowing for full navigation and response to phone calls and messages.
Other existing apps bundled with iOS have received updates and redesigns in iOS 7 as well. Voice assistant Siri has received a new look that fades into the top of a current screen, and Siri also connects with more services such as Bing and Wikipedia. The service has also received multiple new voices and can control certain settings such as Wi-Fi and music by voice.
Web browser Safari has received a unified smart search field within its address bar, as well as a new 3D tab view, expanded Reading List functionality, and a new iCloud Keychain feature with a built-in password generator that arrived as part of iOS 7.0.3 alongside the debut of OS X Mavericks.
Also, the Camera and Photos apps have been updated, with the former including modes for shooting in still, video, panorama, and square, as well as new filters with a new minimalistic interface, and the latter receiving a new sizable grid view with organizational "Collections", and refined integration with iCloud photo sharing. Find my iPhone has also been updated for iOS 7, requiring an Apple ID and password to reactivate, restore, or erase a device. The service can now also display a custom message for locked and stolen phones.
Apple has also introduced a number of new features specific to the iPhone 5s such as Touch ID fingerprint sensor and camera features like automatic image stabilization, Burst Mode, and Slo-Mo 120 fps video.
Other Things We've Found
In the lead up to the public release of iOS 7, we collected other interesting new features discovered during developer testing. They are cataloged in these articles: iOS 7 Beta Tidbits, iOS 7 Beta 2 Tidbits, iOS 7 Beta 3 Tidbits, iOS 7 Beta 4 Tidbits, and iOS 7 Beta 5 tidbits.
We've pulled out a few here:
Background App Refresh: Apps are able to refresh their content in the background in iOS 7, keeping them up-to-date at all times. This can be toggled on and off for individual apps by accessing Settings > General > Background App Refresh. Disabling Background App Refresh can potentially increase battery life, so it is best to limit this function to apps that are used often.
Siri: Siri requests seem to load much faster with the new iteration of iOS 7 and there are also male and female voice options available. These can be accessed in the General Settings under the Siri heading, which offers a new Voice Gender option. While male and female voices have been available in other languages, this is the first time English male/female voices can be activated
Boot Screen - When installing iOS 7 beta 5, many iPhone 5 users noted that the color of the boot screen matched their devices, with a white screen used for white phones and a black screen used for black phones. This differentiation appears to be limited to the iPhone 5 at this point in time as iPad owners and older iPhone users have not noticed the change.
Issues
Following the release of iOS 7, users have discovered a few issues with the new operating system, several of which have already been fixed by Apple and others that have yet to be addressed.
Some users have been complaining about motion sickness due to the parallax effect and zooming animations included in iOS 7. The parallax effect on the home screen where icons appear to hover over the wallpaper and move in a simulated 3-D manner when the device is tilted can be adjusted with a "Reduce Motion" in the Accessibility settings of iOS 7, but other issues such as zooming animations are not affected by this setting.
Several lock screen passcode vulnerabilities were discovered in iOS 7, allowing users to access photos and email on a device even when protected by a passcode. These issues were addressed with the release of iOS 7.0.2.
Users also experienced issues with iMessages in iOS 7, and while resetting network settings can help fix the problem, Apple has stated that it was working on a fix and deployed it as part of iOS 7.0.3 in late October. That release also addressed a number of other issues, including an accelerometer calibration problem on the iPhone 5s.
iOS 7.0.4 arrived in mid-November, bringing a fix for an issue with FaceTime calling. Some iOS devices in Europe and Asia received an iOS 7.0.5 update in late January, adding a fix for network provisioning in China.
Recently, Apple announced that a fix is in the works for a home screen crashing issue that has plagued iOS 7 since its release. The bug causes random system reboots, with the iPhone screen going black or white (depending on the color of the phone) for a short period of time before reloading.
iOS 7 Updates
iOS 7 was updated to version 7.1.2 on June 30, adding a few minor fixes and improvements that included repairing an email attachment encryption issue, adding improvements to iBeacon, and fixing a bug with data transfer for third-party accessories.
Prior to that, iOS 7.1.1, released on April 22, brought Touch ID enhancements and bug fixes. iOS 7's only major update thus far, iOS 7.1, initially came on March 10 and added several visual tweaks and new features to the operating system.
For example, the Phone, FaceTime, and Messages icon were tweaked to be a darker green that is less neon in appearance than the icons first shipped with iOS 7.

Darker iOS 7.1 icons on the top, brighter iOS 7 icons on the bottom
Apple also changed the keyboard contrast with revamped shift and caps locks keys along with bolder text. Control Center was also slightly tweaked with new animations, iOS gained a new shut down slider, and several changes were made to the Phone app.

iOS 7 dialer on the left, iOS 7.1 dialer on the right
In addition to a multitude of minor visual updates, iOS 7.1 also brought the support for CarPlay, improvements to Touch ID, Siri enhancements, and a new in-app purchase warning.
iOS 7.1 officially disabled the iOS 7 evasi0n jailbreak by patching multiple exploits, but the Pangu jailbreak for iOS 7.1.x became available in June.
Discussion