Apple Maps Takes Waze Head-On
After adding support for speed and red light cameras in iOS 14 last year, Apple now appears to be directly challenging rival maps app Waze with the latest iOS 14.5 beta, which adds a plethora of new features to Apple Maps such as accident reporting, hazards, and speed checks.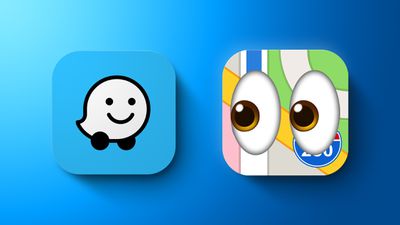 Waze is a popular maps app, now owned by Google, that describes itself as a community-driven GPS navigation app. Waze is unlike many other maps apps because it uses user-submitted travel times and information about accidents, hazards, speed checks, and more, to show specific information about a route in real-time.
Apple Maps has always lagged behind when it comes to these user-sourced features, but the latest iOS 14.5 beta looks to be taking Waze head-on. Now, when a user inputs a destination in ‌Apple Maps‌, selects a route, and then chooses "Go," Siri says that users can now report accidents or hazards that seen along the way.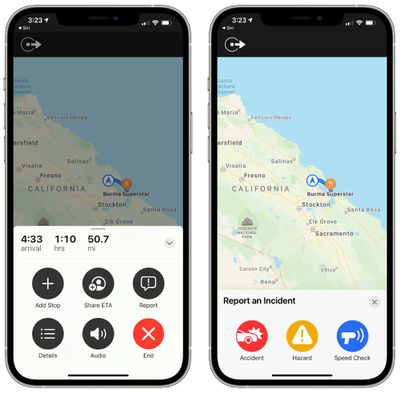 After swiping up on the ‌Apple Maps‌ interface where map details are available, users can tap on a "Report" button to flag an accident, a hazard, or a speed check, much like Waze. Tapping "Report" automatically flags a user's location with no confirmation window, so it should only be used in a valid situation.

Users can also say "Hey ‌Siri‌, there's an accident" and ‌Siri‌ will send in a report to ‌Apple Maps‌, and presumably, if enough people file reports, an accident site will show up in the Maps app through crowdsourcing. The features are believed to be available in the United States only at present, and it is not yet clear if they have started showing up in other territories.
The new features also work in Apple CarPlay, as noted on the MacRumors forums by MozMan68, with the reporting interface being available on the ‌CarPlay‌ screen.

Note that ‌Siri‌ will inform users about the new accident reporting functionality the first time that directions are sought after upgrading to iOS 14.5, but the feature is not mentioned after that. There is no similar accident reporting functionality available in iOS 14.4, and it also does not appear to be showing up for all iOS 14.5 users at this time based on reports from Reddit, likely due to a server-side element.