Since iOS 14.4 was released for iPhone and iPad, Apple has included an option for users to specify the Bluetooth accessories they connect with pre-defined individual labels.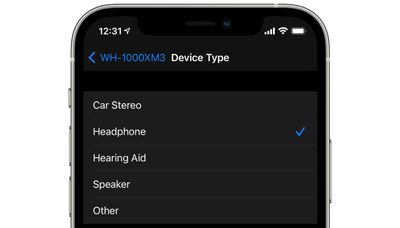 Not only does the feature help with identifying connected devices and improve audio notifications, Apple says that classifying Bluetooth accessories can ensure that headphone audio level measurements are accurate.
Apple added headphone audio level detection to iPhones and iPads in iOS 13 and watchOS 6 to help users avoid being exposed to high levels of sound when wearing headphones for an extended period of time. You can learn more about that in our dedicated how-to on the subject, but here we're going to show you how to label your Bluetooth devices.
Apple provides five categories with which to label your Bluetooth accessories: Car Stereo, Headphone, Hearing Aid, Speaker, and Other. Here's how to access them.

Launch the Settings app on your ‌iPhone‌ or ‌iPad‌.
Select Bluetooth.
Tap the info button (the encircled 'i') next to a Bluetooth device in the list that you want to label.


Tap Device Type.
Select a label if the accessory is not already correctly identified.

Note that iOS recognizes AirPods And AirPods Max as headphones, so there isn't an option change their Bluetooth label. However, you can still change the name of Apple earphones and headphones as they appear in Bluetooth device lists.