Where Is iOS 14.1 and When Is It Coming Out?
Update: iOS 14.1 is indeed shipping on the iPhone 12 lineup and was released to all users on Tuesday, October 20. Our original article continues below.

---
Following the release of iOS 14 on September 16, Apple quickly moved to provide developers and public beta testers with an initial version of iOS 14.2, which so far is focused primarily on music-related tweaks such as a new Shazam-powered Music Recognition feature for Control Center and a redesigned Now Playing widget that offers up recently played music as recommendations if there's no currently playing track.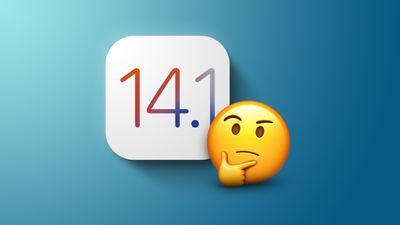 With the immediate jump to iOS 14.2 testing, many people have wondered why there is no sign of an iOS 14.1 release.
The most likely reason for Apple skipping over iOS 14.1 in its developer and public beta testing is that the version is destined to ship on the ‌iPhone‌ 12 lineup, which looks as though it will begin shipping in October. iOS 14.1 has likely already been locked down and is being provided to Apple's manufacturing partners for installation on the new iPhones as they are being produced.
If this is indeed Apple's plan, that means any changes and updates for Apple's full device lineup will need to be delivered as iOS 14.2, which is likely to remain in beta testing for a month or so before seeing a public release after at least some of the ‌iPhone‌ 12 models have been launched.