iOS 14 Leaked Feature: @ Mentions in Group Messages
iOS 14 is expected in a matter of weeks at WWDC. Typically, we know very little concrete about an upcoming iOS version prior to the announcement, but this year there was a leak of an early build of iOS 14.
That leak got into the hands of the developer community which has found a number of new features hidden in the code.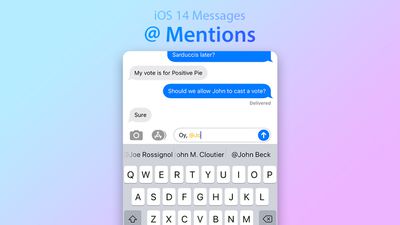 Mockup of the new @ mention Messages feature in iOS 14
One of these is the addition of a new Slack-like mention system in Messages. This will allow users to tag contacts with their name like @eric. When you type the @ sign, a list of suggested contacts would appear.
In a busy group chat, this feature will make it possible to mute the conversation but receive push notifications when direct mentions are included.
Similar features already exists in a number of other messaging apps, but it will be welcome for Apple to provide it in Messages.