Apple Pulls iOS 16.2 Option to Upgrade to New Home Architecture
One of the key new features in iOS 16.2 and macOS Ventura 13.1 is the ability to upgrade to a new Home app architecture. While Apple hasn't shared details on exactly what the changes are, the company says the upgrade offers "improved performance and reliability" for HomeKit accessories.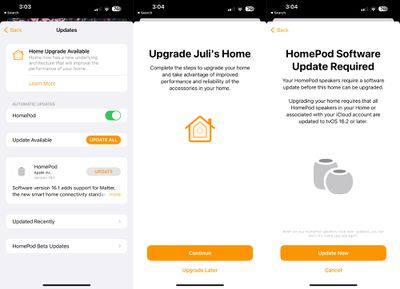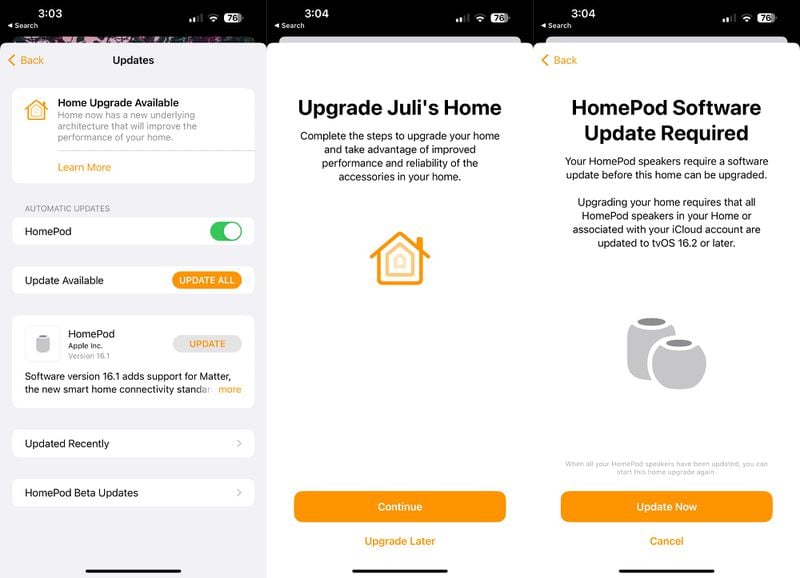 Upgrading the Home architecture requires that all devices accessing the home be updated to the latest operating system version, so many users have yet to take the leap, but users who have upgraded have reported some issues. Amidst those reports, it now appears Apple has removed the option for users to upgrade their Home app architecture.
Issues reported by users include ‌HomeKit‌ devices stuck in an "updating" or "configuring" status, devices going missing entirely, invitations to share the Home with other users failing, HomeKit Secure Video recording not working, and more.
Upgrading to the new Home app architecture is a user-initiated process in the Software Update section of Home Settings in the Home app, and as of a few hours ago, the option to upgrade no longer appears in the app. As a result, users who have yet to move to the new architecture will be unable to do so until Apple reenables the option. Users who have already upgraded will remain on the new architecture and can not revert to the previous one.
Update: Apple has confirmed in a support document that the new Home architecture update has been temporarily removed, and that the option to upgrade "will return soon."