PSA: Apple Has Made Its New Home Architecture Update Available Again
Apple has made the option to upgrade to new Home architecture available again with the release of iOS 16.4, iPadOS 16.4, and macOS Ventura 13.3, after it temporarily pulled the update in December.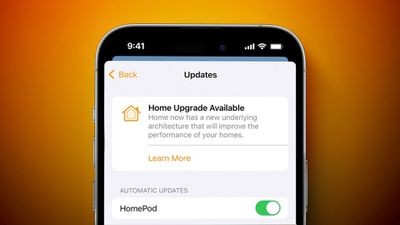 After updating Apple devices to the latest software, users can once again opt to upgrade any homes set up in the Home app to the new Home architecture, which Apple says brings faster, more reliable performance, especially for smart homes with a lot of smart accessories installed.
To perform the upgrade, open the Home app on your iPhone, iPad, or Mac, tap or click the ellipsis button (three encircled dots), then select Home Settings. Select Software Update, tap or click Learn More under "Home Upgrade Available," then follow the prompts. Users who upgraded previously will not see this option and don't need to do anything, since their Home architecture is already up-to-date.
Ahead of the launch of iOS 16 last year, Apple promised a new architecture for the Home app, and briefly offered it following the release of iOS 16.2. But the option was temporarily pulled after users reported issues such as HomeKit devices becoming stuck in an "updating" or "configuring" status, devices going missing entirely, invitations to share the Home with other users failing, HomeKit Secure Video recording not working, and more.