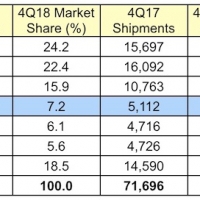 Apple's worldwide Mac shipments fell in the fourth quarter of 2018, according to new preliminary PC shipping estimates shared this afternoon by
Gartner
.
During the quarter, Apple shipped an estimated 4.9 million Macs, down from 5.1 million in the year-ago quarter. Apple's share of the market grew, however, from 7.1 percent in 3Q18 to 7.2 percent.
Gartner's Preliminary Worldwide PC Vendor Unit Shipment Estimates for 4Q18 (Thousands of Units)
Apple continues to maintain its position as the number four PC vendor in the world, behind Dell, HP, and Lenovo, but ahead of Asus and Acer.
Lenovo was the top PC vendor with 16.6 million shipments and 24.2 percent market share, followed by HP with 15.4 million shipments and 22.4 percent market share, with Dell coming in at number three with 11 million shipments and 15.9 percent market share.
Asus trailed Apple with 4.2 million shipments and 6.1 percent market share, as did Acer with 3.9 million shipments and 5.6 percent market share.
Apple's Market Share Trend: 1Q06-4Q18 (Gartner)
Apple's dipping Mac sales followed a trend that affected many PC vendors, with overall worldwide PC shipments dropping to 68.6 million, a 4.3 percent drop from the 71.7 million PCs shipped in the fourth quarter of 2017.
Apple also saw a small decline in the number of Macs shipped in the United States. Apple shipped 1.76 million Macs during the quarter, down from 1.8 million in the year-ago quarter, for a 2.1 percent drop in growth and 12.4 percent market share (up from 12.1 percent).
Gartner's Preliminary U.S. PC Vendor Unit Shipment