We've been hearing rumors about Apple's exploration of a foldable iPhone for years now, but the Cupertino company is also experimenting with other foldable form factors, including a larger-screened foldable iPad.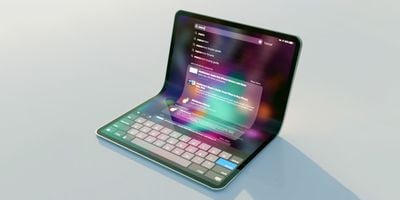 This guide covers everything that we've heard about the possibility of a future foldable tablet from Apple.
Rumors
According to Display Supply Chain Consultants (DSCC) analyst Ross Young, Apple is developing foldable displays that are up to 20 inches in size, and while he said that this was for a "foldable notebook," it's possible that could refer to a foldable iPad device.
Bloomberg's Mark Gurman has also said that Apple is working on larger-screened iPads, so combining these two rumors, we could see a future foldable ‌iPad‌ with a large display. Apple analyst Ming-Chi Kuo has also said that Apple has a foldable ‌iPad‌ in the works, and it certainly seems like foldable technology is on the horizon. In fact, as of 2022, Apple is rumored to working with LG Display on foldable OLED display panels for future iPads and MacBooks.
According to recent information from The Elec, Apple is developing a 20-inch OLED foldable display that could be destined for a future MacBook or ‌iPad‌. The display is said to measure in at 20.25 inches specifically, which would feature a 15.3-inch screen when folded.
Display Technology
The technology that Apple is allegedly working on with LG Display will see the company using an ultra-thin cover glass instead of polyimide, which is what other foldable displays use today.
Apple is testing electronic paper display (EPD) technology that could be used in future foldable devices, according to Apple analyst ‌Ming-Chi Kuo‌. Apple could use color EPD displays from Chinese company E Ink, as this technology would be much more energy efficient than other forms of display technology.
Resolution
At somewhere around 20 inches, the foldable device that Apple is working on could feature a 4K or higher resolution.
Carbon Fiber Kickstand
According to Apple analyst ‌Ming-Chi Kuo‌, Apple's foldable ‌iPad‌ will feature a carbon fiber kickstand, which will be light and durable.
Design Issues
Apple has not finalized the design of the foldable ‌iPad‌, and it is working to lower component costs as it works to make chances to the device.
Apple is reportedly concerned with the foldable ‌iPad‌'s screen and hinges, including display creasing. Apple is working with LG and Samsung to find a solution that mitigates creasing, and it also needs to source hinges.
Release Date
Apple analyst ‌Ming-Chi Kuo‌ believes that Apple will introduce a foldable iPad in 2024, but other reliable sources like display analyst Ross Young and Bloomberg's ‌Mark Gurman‌ have said that there are no signs of a foldable coming in 2024. Young has previously said that he expects a foldable tablet-like device in 2026 or 2027.
DigiTimes said in October 2023 that a foldable ‌iPad‌ is in an "intensive development" stage, and that it could be released in late 2024 or early 2025.