Apple to Collect Fee From Banks for Every Purchase Made with Apple Pay
Apple will collect a fee from banks every time consumers use the company's new Apple Pay payments solution, reports Bloomberg. Citing three individuals close to the matter, the report notes that Apple struck individual deals with each bank it has partnered with. Those banks include JPMorgan Chase, Bank of America, Citigroup, and more.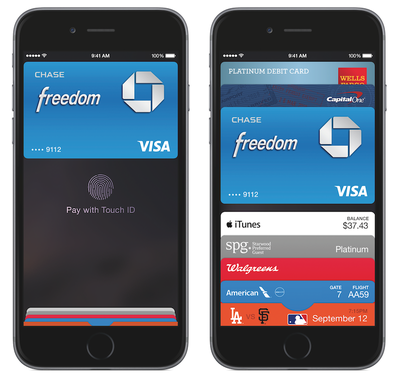 While that gives the tech company a share of the more than $40 billion that banks generate annually from so-called swipe fees, lenders expect to benefit as consumers spend more of their money via mobile phones and other digital devices, the person said.
The sources cited did not specify the exact size of the fee, noting that it could vary or be tied to the value of the purchases made by the consumer. During its announcement today, Apple stated that Apple Pay would be enabled at over 220,000 U.S. merchants including McDonalds, Macy's, Walgreens, Nike, and more. Apple Pay will also be compatible with American Express, Mastercard, and Visa credit and debit cards.
Apple Pay utilizes the Touch ID fingerprint sensor, a new "Secure Element" functionality, and the NFC antenna on the iPhone 6 and iPhone 6 Plus in conjunction with a credit card stored on iTunes to make payments. Apple Pay will also be compatible with the Apple Watch when it launches early next year.