Walgreens Officially Launches First Apple Pay Loyalty Rewards Program
Popular retailer Walgreens today announced that its Balance Rewards loyalty program can now be linked with Apple Pay and used by its customers across the country. The partnership will allow Apple Pay users to link their Balance Rewards card with the mobile payments service so they can earn and redeem loyalty points without having to scan their physical Walgreens card. Following Kohl's launch of Apple Pay support for its store-branded credit card, Walgreens is the first retailer to support a loyalty rewards program within Apple Pay.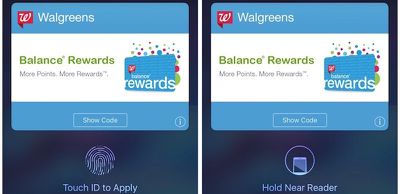 "We're excited to be the first to provide our customers with increased ease of access to their Balance Rewards account and information when using Apple Pay," said Sona Chawla, president of digital and chief marketing officer for Walgreens. "This offering supports our commitment to removing friction and enabling a simple and convenient customer experience."
Users simply need to add their Balance Rewards card into the Wallet app, going through the same process as adding a traditional credit or debit card, to be able to use the new feature at Walgreens on an iPhone and Apple Watch. The announcement comes just over a week after NFC abilities were discovered alongside Balance Rewards cards in the Wallet app, hinting at incoming loyalty rewards support from Walgreens.