Apple Pay Overtakes Starbucks as Most Popular Mobile Payment Platform in the US
Apple Pay has overtaken the Starbucks mobile app to become the most popular mobile payment system in the United States, claims a new report out today.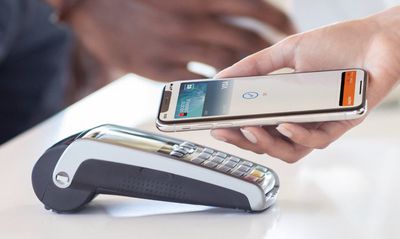 According to eMarketer, ‌Apple Pay‌ became the market leader last year, when 27.7 million Americans used the app to make a purchase. Since then, however, ‌Apple Pay‌ has grown even faster than expected.
In 2019, ‌Apple Pay‌ will have 30.3 million users, or 47.3 percent of mobile payment users. That compares with Starbucks' 25.2 million customers via its mobile app in the same year, representing 39.4 percent of mobile payment users.

"Apple Pay has benefited from the spread of new point-of-sale (POS) systems that work with the NFC signals Apple Pay runs on," said eMarketer principal analyst Yory Wurmser. "The same trend should also help Google Pay and Samsung Pay, but they will continue to split the Android market."
Citing data from Digital Trends, the analysis predicts ‌Apple Pay‌ will be available in 70 percent of U.S. retailers by the end of 2019. In contrast, the Starbucks app has commanded a 40 percent market share of mobile payments for the last few years, but growth potential is limited because it can only be used in Starbucks stores.
Total spending via contactless mobile payments will approach $100 billion this year in the U.S., according to eMarketer. On average, that is equivalent to a user spending $1,545 per year, up more than 24 percent over last year.
Nearly 64 million people (30 percent of all U.S. smartphone users) are expected to make use of mobile payments this year, a 9.1 percent increase over 2018. In terms of demographics, nearly 50 percent of all smartphone users are adults aged 25 to 34, so the growth of mobile payments is expected to be strongest in this age group, although digital wallet use is said to be growing across the board.
"Although a growing number of millennials feel secure using payment apps, virtually all still find credit and debit cards equally convenient," said eMarketer forecasting analyst Vincent Yip. That bodes well for Apple Card, which launched earlier this year. ‌Apple Pay‌ is now in 47 markets and in the June quarter, started adding more new users than PayPal, with monthly transaction volume growing four times as fast.