Apple Pay Now Available at Nearly 16,000 Cardless Chase ATMs
Chase, one of the major banks in the United States, today announced that customers can now use Apple Pay and other mobile wallet services at nearly all of the company's 16,000 ATMs, which have been upgraded with card-free access.
To access an ATM and withdraw money, customers no longer need a physical debit card or access code for authentication, with the contactless ATMs supporting a "tap" from a smartphone to use the ATM.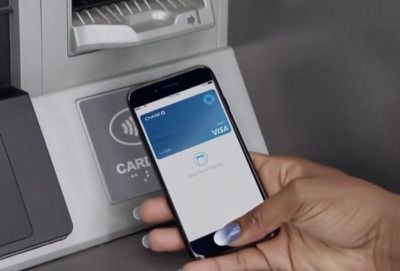 On its website, Chase walks users through the steps necessary to use the new ATM functionality.
For iPhone users, after adding a Chase card to the Wallet app on the iPhone, at an ATM, customers will need to open up the Wallet app, select the virtual Chase debit card and tap the iPhone on the "Cardless" symbol on the ATM, authenticating via Face ID or Touch ID.


A PIN code will need to be entered for verification purposes, so it's not quite as simple as a standard payment with Apple Pay, but it does prevent Chase card users from needing to pull out a physical card.
Chase says that cardless ATM access is available to all customers with a Chase debit or Liquid card that's been added to Apple Pay, Google Pay, or Samsung Pay. All Chase ATMs with the Cardless symbol support Apple Pay.
Chase first announced plans to update its ATMs with contactless money withdrawals in 2016, and has since then been rolling out the technology. Today's update suggests the rollout is nearly complete and available to most Chase customers.
Both Wells Fargo and Bank of America, Chase competitors, have also been rolling out card-free Apple Pay access to ATMs. Wells Fargo added Apple Pay support to over 5,000 ATMs last year, while Bank of America began implementing the feature in 2016.