Apple Announces 'Tap to Pay' Feature Allowing iPhones to Accept Contactless Payments Without Additional Hardware
Apple today announced plans to introduce a new "Tap to Pay on iPhone" feature that will allow compatible iPhones to accept payments via Apple Pay, contactless credit and debit cards, and other digital wallets, with no additional hardware required.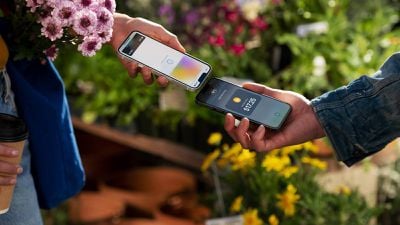 Apple said the feature will launch in the U.S. later this year and will allow merchants to accept contactless payments through supported iOS apps using an iPhone XS or newer. At checkout, the merchant will simply prompt the customer to hold their own iPhone or Apple Watch, contactless credit or debit card, or other digital wallet near the merchant's iPhone, and the payment will be securely completed using NFC technology.
Currently, merchants that accept contactless payments on an iPhone must rely on additional hardware like the Square Reader, which comes in various models that work wirelessly or connect to an iPhone's Lightning connector or headphone jack.
Stripe will be the first payment platform to offer "Tap to Pay on iPhone" to their business customers, including the Shopify Point of Sale app this spring, and additional payment platforms and apps will follow later this year, according to Apple. Apple Stores in the U.S. will also roll out the feature later this year. It appears that the feature will be exclusive to the U.S. at launch, with no other countries mentioned.
Bloomberg's Mark Gurman exclusively revealed that Apple was planning this feature last month.