A Comprehensive Outline of the Security Behind Apple Pay
Apple has described its new Apple Pay payments service, which is designed to be the first step towards the company's goal of replacing the wallet, as "easy, secure, and private." Apple Pay includes several different features that offer customers much greater security than a traditional credit card, including Device Account Numbers that replace credit card numbers, dynamic security codes for each transaction, and biometric payment verification through the use of Touch ID.
Ahead of the release of Apple Pay, TUAW's Yoni Heisler has taken an in-depth look at the security features built into the payments service, outlining the ways Apple is safeguarding customer information.
While Apple Pay is built on existing NFC technology, Heisler's research suggests it is the first implementation of the EMVCo tokenization specification, a newly introduced security framework designed to cover emerging payment methods. According to former credit card executive Tom Noyes, this specification is "the most secure payments scheme on the planet."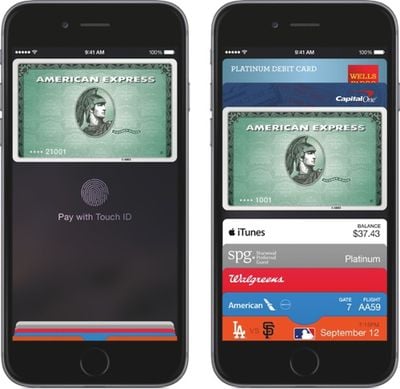 As previously rumored, Apple Pay utilizes a "token," which the company refers to as a Device Account Number, to replace a user's existing credit card number on the iPhone. A randomized 16-digit number, the Device Account Number ensures that no merchant is able to obtain a user's credit card number, protecting consumers from retail security breaches, as TUAW points out, because tokens are randomized numbers that cannot be decrypted back into a credit card number.
Device Account Numbers, or tokens, are paired with a dynamically generated one-time use code that replaces the credit card's CCV with every transaction.
Providing an additional layer of security, an Apple Pay-equipped iPhone at the time of each transaction also sends a dynamically generated CVV up the chain along with a cryptogram. The CVV is the three-digit string located on the back of your credit card and, in the case of Apple Pay, is a algorithmically-generated dynamic string that's tied directly to the token. The cryptogram itself "uniquely identifies the device" that created the token and, according to the EMV Payment Spec, is likely composed of encrypted data sourced from the token, the device itself, and transaction data. Note, though, that the precise components of the Apple Pay cryptogram aren't publicly known.
As noted by Heisler, a Device Account Number can't be used in a transaction without an accompanying one-time use cryptogram, which verifies that the "token in transit originated from the device being used." Cryptograms also carry transaction information like the merchant's identity and the amount of money being charged.
The transaction comprising the Device Account Number and accompanying cryptogram is further verified through the use of Touch ID, which essentially replaces insecure verification methods like passwords and PINs.
According to a credit card executive who spoke to TUAW, token transactions as implemented by Apple "are a new and much higher standard of security for electronic payments."
The amount of security built into provisioning tokens and supporting transactions is a new standard that I think will definitely shift fraud patterns going forward.
Apple Pay is expected to go live in October, enabled through an update to iOS 8. Hints of Apple Pay have already been found in the iOS 8.1 beta, which was seeded to developers on Monday. TUAW's full look at the security behind Apple Pay, which covers tokens, Touch ID, and more, is well worth a read.