How to Set Up Apple Pay and Add Credit Cards
Now that iOS 8.1 has been released to the public, we're getting our first look at what Apple Pay looks like on the iPhone 6 and the iPhone 6 Plus. Apple Pay isn't immediately obvious when iOS 8.1 is installed -- users will need to open up Settings or Passbook to see various Apple Pay features.
The initial setup for Apple Pay can be done through Passbook. Tapping the "+" icon in Passbook will allow users to add a card. If a card is already associated with an iTunes account, users can tap choose to use that card, or enter another one using the camera.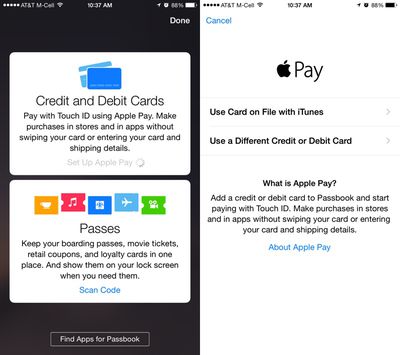 The camera roll will capture a card number, expiration date, and user's name, requiring the security code on the card to verify the number with the bank.
The verification process takes just a few seconds for most cards that are currently working with Apple Pay, after which the card can immediately be used for purchases. Some cards require additional verification steps, such as phone calls and emails. All cards stored in Passbook will be stacked on top of each other in Passbook's traditional style, with tap pulling a specific card to the forefront of the app.


Apple Pay's neatest features are buried in the Settings menu, located under the new "Passbook and Apple Pay" section. Each credit card listed added to Passbook is listed here, along with Transaction Defaults like billing address, shipping address, email, and phone number.


Tapping on one of the cards provides specific information about the card, allowing users to see the last digits of the card number, the last digits of the Device Account Number that replaces the card number in transactions, and it also provides contact information for the bank behind the card, as well as an app download.
Each card also includes a list of recent transactions that have been made, and with some cards, transactions made in stores that don't support Apple Pay will be listed right alongside Apple Pay transactions. This settings area is also where a card can be removed from Apple Pay.


After being set up, Apple Pay can be used within stores and within participating apps to make purchases with a single touch. When in a store, making a purchase is as simple as holding an iPhone 6 or 6 Plus near a contactless payment terminal with a finger on Touch ID, can be seen in the demo video below from The Verge.
According to Apple, Apple Pay will work with more than 200,000 stores that support contactless payments, and it has partnered with several retailers like Walgreens, Macy's, and Whole Foods to ensure support in those locations. Apple Pay also works for purchases made in participating apps like Uber, Starbucks, and Apple's
own Apple Store app
.