Walmart Announces Apple Pay Competitor 'Walmart Pay' for iOS
Walmart today introduced its own mobile payments service called "Walmart Pay" built into its Walmart app on iOS and Android. The new Apple Pay competitor will roll out in select Walmart stores in the U.S. this month, followed by a nationwide launch within the first half of 2016.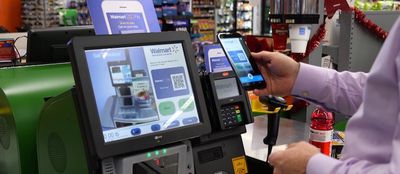 Walmart Pay's QR code-based checkout process will involve opening the Walmart app, selecting Walmart Pay, activating the camera, scanning the code displayed at the register and waiting for the cashier to finish bagging your items. An electronic receipt will automatically be sent to the Walmart app.
The new payments solution will only work in Walmart stores and supports any major credit, debit, pre-paid or Walmart gift card. Walmart says that 22 million customers actively use its Walmart app each month, placing it among the top three retail apps in the App Store and Google Play.
Walmart is among a handful of retailers that have
refused to support Apple Pay
since its U.S. launch in October 2014. The retailer is instead one of over a dozen retailers committed to the Merchant Customer Exchange (MCX) consortium and its yet-to-launch rival payments service
CurrentC
.
Walmart's future plans to support Apple Pay remain undisclosed, but the company's senior vice president of services Daniel Eckert said Walmart Pay allows "for integration of other mobile wallets in the future."
"The simplicity and ease of Walmart Pay comes not only from how it works, but also in how it's been built," said Daniel Eckert, senior vice president, services, Walmart U.S. "We made a strategic decision to design Walmart Pay to work with almost any smartphone and accept almost any payment type – even allowing for the integration of other mobile wallets in the future. The result is an innovation that will make the ease of mobile payments a reality for millions of Americans."
Walmart App is free on the App Store for iPhone and Apple Watch. [Direct Link]