Foldable iPhones Could Have Self-Heating Displays to Avoid Damage in Cold Weather
The foldable smartphone era is in full swing with the recent introductions of the Samsung Galaxy Fold and Huawei Mate X, and while it remains unclear if Apple will follow suit, the company has at least explored ideas related to foldable smartphones in patent applications over the past few years.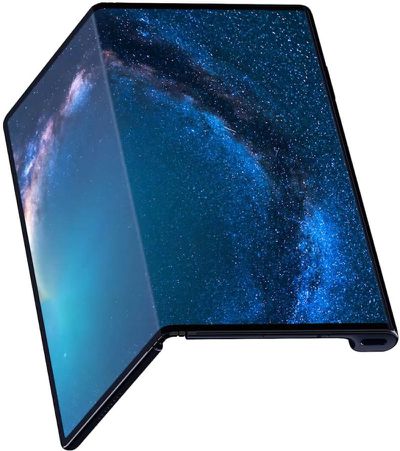 Huawei Mate X
In a
patent application
published by the U.S. Patent and Trademark Office today, titled "Electronic Devices With Flexible Displays," Apple explains that foldable smartphone displays could be prone to damage when bent in cold temperatures, and describes various heating methods to mitigate the issue.
For example, Apple says the portion of the display that bends could be heated by lighting up the pixels in that area of the screen. Alternatively, a "heating element or other heating structure" could be used, although Apple wasn't specific.

Apple's illustration of a folding device, along with an expanded view showing the bendable area of the display being heated
The patent application, highlighted by
AppleInsider
, notes that the foldable smartphone could have a magnetic latching mechanism that would prevent the device from being folded or unfolded in very cold temperatures to avoid damage to the display. This would be in environments "significantly below room temperature."
Apple files numerous patent applications every week, of course, and many of the inventions do not see the light of day. Patents are also very detailed, encompassing many possible ideas, even ones that Apple might not have any plans to advance. So, the exact implementation if any remains to be seen.
While unique, early foldable smartphones from Samsung and Huawei are far from perfect, with bulky designs and expensive price tags. Apple is unlikely to release a foldable iPhone unless it can meet the company's strict quality standards.
Last year, Bank of America analyst Wamsi Mohan predicted that Apple is working on a foldable iPhone for release in 2020, while an earlier Korean report said Apple was developing a foldable iPhone alongside LG. However, it's still not entirely clear if Apple will ever proceed with those plans.