Apple Working With LG Display on Future Foldable iPhone
Apple is developing an iPhone with a foldable display alongside LG Display, reports Korean site The Investor. Apple is said to have chosen to work with LG and not Samsung out of fears that Samsung could get ahold of sensitive tech.
This is not the first time we've heard rumors of a future iPhone with a foldable display. Back in December of 2016, rumors suggested LG's display division would begin mass-producing foldable displays for smartphones as early as 2018, with Apple said to be one possible partner.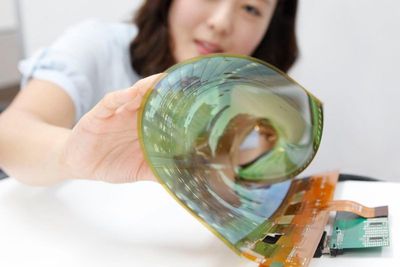 LG has shown off several foldable display prototypes over the last two years, including one that folds over like a book and a second that rolls up much like a newspaper. LG's foldable displays use flexible OLED panels and LG has been working to increase durability and yield rate.
LG is said to have recently created a dedicated task force to start developing a foldable OLED display for a future iPhone, while its siser company LG Innotek has a team developing a rigid flexible printed circuit board or (RFPCB) to go along with it.
Folding display technology is a ways off from launch, and unnamed industry sources believe panel production for an iPhone with a folding display won't kick off until 2020, which is more than two years from now.
Samsung supplies the OLED displays for the iPhone X and is also expected to supply OLED panels for Apple's 2018 iPhones, but LG recently started OLED production for phones at a factory in China and has plans to begin supplying Apple with panels as early as 2019.
Next year's devices will not include foldable display tech, but we have heard rumors suggesting an all-OLED lineup with two OLED devices in 5.85 and 6.46-inch sizes.