LG Said to Supply Apple With Foldable Displays for Future iPhones
LG's display division is developing and will start mass-producing foldable displays for smartphones in 2018, and supply them to Apple, Google, and Microsoft, according to South Korean website ETNews.
LG has shown off various futuristic-looking curved and foldable display prototypes over the past three years, including one with a book-like design and another that can be rolled up like a newspaper. Both designs take advantage of the flexible property of OLED displays, compared to rigid LCD displays in current iPhones.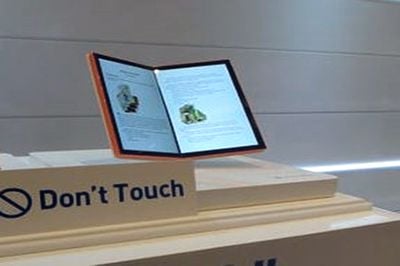 LG foldable display prototype shown at CES 2013
Multiple rumors point towards Apple releasing a
new iPhone with an OLED display
and
glass casing
at the high end of its smartphone lineup next year, but the reports suggest the display will be curved rather than foldable. With more than
ten iPhone prototypes in testing
, however, the exact design remains to be seen.
The all-new premium model is expected to have at least a 5-inch display, with early rumors claiming it could be up to a 5.8-inch device. Samsung is expected to be the primary—and possibly sole—supplier of OLED displays for Apple, at least until LG joins the mix in 2018 or later if today's report proves to be accurate.

LG curved display prototype
Next year's iPhones could have
bezel-free designs
and
no physical Home buttons
, as some reports claim Touch ID will be
integrated directly into the display
as
now possible
. Apple has filed patents for flexible OLED displays with both
curved
and
foldable
designs, confirming it has at least explored both sides of the coin.
Apple's foldable display patent describes how the display could fold outward, allowing both halves of the screen to remain accessible when the phone is closed shut. The two sides would connect via a clamshell-like hinge that allows them to rotate relative to each other, while flexible printed circuit boards keep the connection intact.