KGI Securities analyst Ming-Chi Kuo has issued a note to investors that claims the so-called "iPhone 6s" will be offered in 16GB, 64GB and 128GB storage capacities, the same sizes available for the iPhone 6 and iPhone 6 Plus.
Kuo also claims the iPhone 6s will have an improved front-facing FaceTime camera with a 5-megapixel sensor, and reaffirms three much-rumored features:
Force Touch
, a new
rose gold casing color
and an
upgraded Touch ID
fingerprint scanner.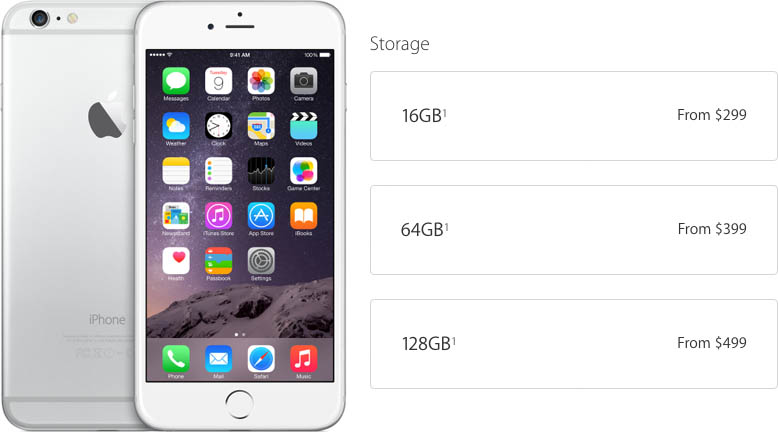 Kuo's prediction corroborates multiple rumors that claim Apple will retain 16GB, 64GB and 128GB storage sizes for the iPhone 6s and iPhone 6s Plus, which are expected to be announced at the company's
September 9th media event
in San Francisco.
Kuo says the iPhone 6s entered mass production in mid-August after some manufacturing bottlenecks due to Force Touch, casing and vibration motors.
Related Roundups:
iPhone 6,
iPhone 6s (2015)
Tags:
KGI Securities,
Ming-Chi Kuo,
storage,
16GB,
64GB,
128GB
Buyer's Guide:
iPhone (Don't Buy)
For months, rumors have indicated the upcoming "iPhone 6s" may be slightly thicker and larger than its predecessor, likely due to several factors including a change in the aluminum being used for the shell, thickening of weak spots in the case to help address concerns over bending, and new support for Force Touch functionality in the display. The size increase is expected to be only a fraction of a millimeter in each dimension, making it virtually unnoticeable to users and allowing most iPhone 6 accessories to continue to work with the iPhone 6s.
MacRumors
has now received several photos showing an iPhone 6s assembled from parts, allowing full measurements of the device to be taken. Of most interest has been the thickness of the device, and photos show the iPhone 6s measuring 7.08 mm thick compared to Apple's official measurement of 6.9 mm on the iPhone 6. This is in line with
previous rumors
claiming that each of the new models will be roughly 0.2 mm thicker than the current iPhones, with the iPhone 6s Plus moving to 7.3 mm thick from 7.1 mm.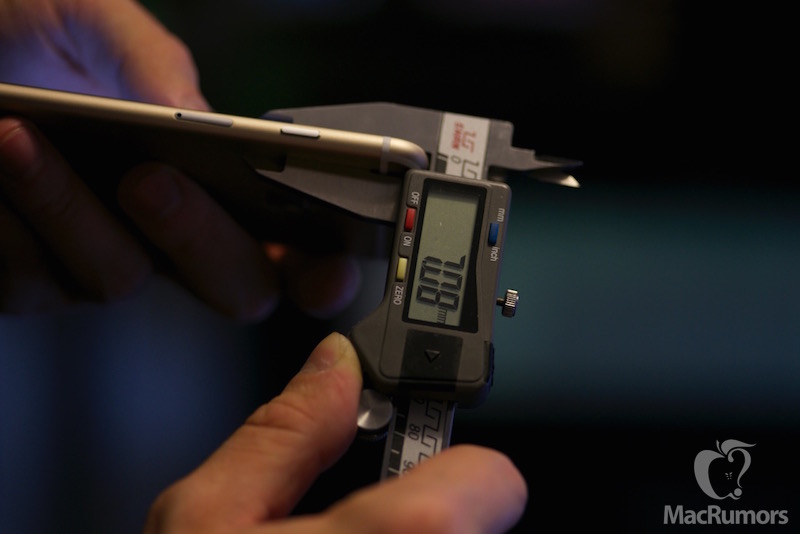 The new photos also reveal slight increases for the height and width of the iPhone 6s, with the device measuring 138.19 mm tall and 67.68 mm wide, compared to 138.1 mm and 67.0 mm for the corresponding measurements on the iPhone 6. Since the height and width of the device are determined solely by the rear shell, we can also compare these measurements to those
taken by Unbox Therapy
last month. Those measurements came in at 138.26 mm tall and 67.16 mm wide.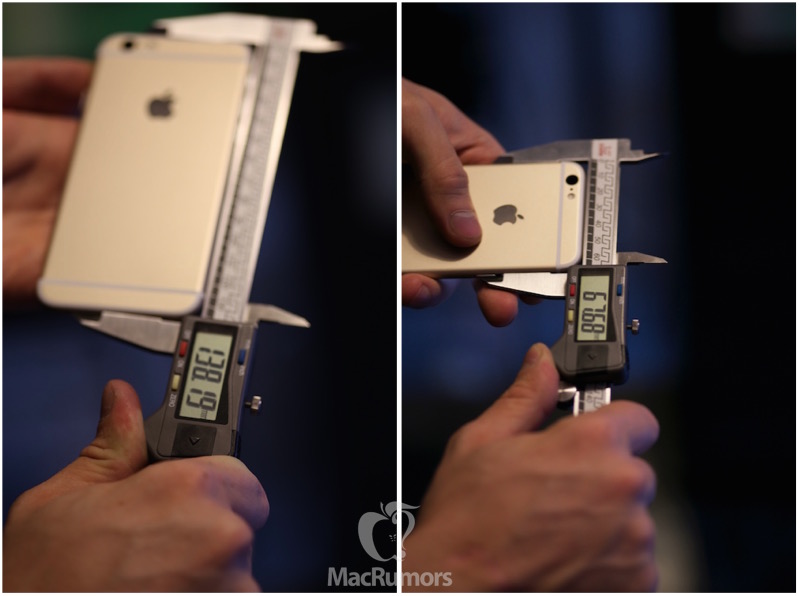 KGI Securities analyst Ming-Chi Kuo had predicted as early as
mid-June
that the iPhone 6s could be roughly 0.15 mm taller and wider and 0.2 mm thicker than the iPhone 6, and while there is some variability in measurements likely due in large part to the relatively low quality digital calipers being used for measurements, they do suggest there may indeed be a slight increase in each dimension.
On a percentage basis, the thickness would see the biggest increase of nearly 3 percent, matching the iPhone 6 Plus thickness. That increase could be enough to prevent some tight-fitting iPhone 6 cases from fitting the 6s, but many cases should have enough wiggle room to accommodate the new models.
Case makers such as Spigen are already announcing cases designed specifically for the
iPhone 6s
and
iPhone 6s Plus
, suggesting they are confident in rumors and leaks pointing toward slight size changes, and making early announcements of cases specific to the new models gives the company some additional marketing buzz headed into the release.
Apple will introduce the iPhone 6s and 6s Plus at a media event scheduled for next Wednesday, September 9, an event that is becoming increasingly jam-packed amid reports of unveilings of a
new Apple TV
, the
long-rumored iPad Pro
, and a thinner iPad mini 4. Apple Watch tidbits such as
new Sport Band color options
and final looks at iOS 9 and watchOS 2 before their public launches are also likely to be included.
With the "iPhone 6s" and "iPhone 6s Plus" expected to be announced at Apple's
September 9th media event
, and released a few weeks later, now is the time for prospective upgraders to begin exploring trade-in and resale options for their current iPhone or Android-based smartphone.

Getting the best value for your iPhone 6, iPhone 6 Plus, iPhone 5s or other current smartphone can help offset a significant portion of your next iPhone purchase, but resale and trade-in prices will drop significantly between now and the launch of new iPhones, so it is best to move fast.
MacRumors
compared iPhone trade-in prices from various services using a 16GB iPhone 6 from AT&T as a baseline.
Trade-In Programs

Gazelle
announced today that it is offering a
Best Price Guarantee
on
iPhone 6, 6 Plus and 5s trade-ins
until September 9th, promising to beat the trade-in values offered by Apple and carriers AT&T, Verizon, Sprint and T-Mobile.
Gazelle's Best Price Guarantee covers all storage sizes and colors and includes a 30-day grace period, meaning that you can lock in your trade-in price now and wait until you have your new iPhone before sending in your current one.
Average Price (16GB/AT&T)
: $301 (iPhone 6), $326 (iPhone 6 Plus), $166 (iPhone 5s)
Payment Method
: Check by Mail, Amazon Gift Card, PayPal or Charitable Donation
Resale Method
: Ship iPhone to Gazelle (Free)

NextWorth
offers a similar trade-in service as Gazelle for the
iPhone 4 through iPhone 6 Plus
. NextWorth quotes are valid for 30 days, allowing you to lock in a trade-in price on your current iPhone and ship it after receiving your new iPhone.
NextWorth offers higher prices on average for the iPhone 6 and iPhone 6 Plus than Gazelle, with trade-in values up to $480, although it depends on the specific model and condition of the smartphone. Completing a checklist about the condition of the smartphone is required.
Average Price (16GB/AT&T)
: $320 (iPhone 6), $360 (iPhone 6 Plus), $160 (iPhone 5s)
Payment Method
: Check by Mail, Discover Prepaid Card, PayPal or Target Gift Card
Payment Process
: Ship iPhone to NextWorth (Free)

Amazon
runs a trade-in store where you can search for the iPhone model that you want to trade in and receive a price quote. After answering a few questions about the condition of the smartphone and entering your shipping address, you can print off a shipping label to mail the iPhone for free in exchange for an Amazon Gift Card.
Average Price (16GB/AT&T)
: $360 (iPhone 6), $389 (iPhone 6 Plus), $175 (iPhone 5s)
Payment Method
: Amazon Gift Card
Payment Process
: Ship iPhone to Amazon (Free)
Click here to read rest of article...
Related Roundups:
iPhone 6,
iPhone 6s (2015)
Tags:
Amazon,
Best Buy,
Target,
Gazelle,
Craigslist,
NextWorth
Buyer's Guide:
iPhone (Don't Buy)
Along with unveiling the next-generation iPhones, the revamped Apple TV, and new
Apple Watch Sport bands
at its September 9 event, Apple is also likely planning to introduce the updated iPad mini 4 and the much-anticipated larger-screened iPad Pro, reports
9to5Mac
.
While the event will see the debut of the 12.9-inch tablet, Apple does not plan to ship it until November, following late October pre-orders. A September introduction for new iPads is not in line with Apple's past iPad updates, which have come in October for several years running, but Apple may be introducing the iPad Pro several months early in order to give developers time to create apps for the new device.
Apple also plans to introduce the iPad mini 4, a significant update that brings the 7.9-inch tablet in line with the existing iPad Air 2. It appears the 9.7-inch iPad Air 2 may not be updated in 2015, with Apple instead focusing its attention on the iPad Pro and the iPad mini 4 and pushing the iPad Air 2 update back to 2016.
New Macs are also not expected to be included at Apple's September event, and with the iPads being debuted this month instead of next month, it's unclear if we will see two fall Apple events in 2015 as we have in past years.
Today's report warns that while Apple's plan is to unveil the iPad Pro at the September 9 event, the company could choose to delay its introduction until October.
In addition to a larger 12.9-inch display, the iPad Pro is expected to include an A9 processor, 2GB of RAM, a
Force Touch-enabled stylus
, and perhaps USB 3.0 ports that will support peripheral devices. The tablet will run iOS 9.1, an update to iOS 9 that will debut in November when the iPad Pro launches.
At its upcoming iPhone-centric event on September 9, Apple will debut new Apple Watch Sport bands in a variety of new colors,
MacRumors
can confirm. News of the new bands was shared by
9to5Mac
this morning, and we've also been hearing similar rumors about Apple's plans to introduce additional band options.
It is not clear what colors Apple is planning to introduce, but it's possible the company will focus on darker colors to complement the neon-like shades of the existing Apple Watch Sport bands, which come in bright pink, green, and blue, along with black and white.
Apple has already produced Sport Bands in additional colors, which were
initially shown off by Jony Ive
at the Milan Design Week in April shortly before the Apple Watch launched. At that event, he displayed a selection of bands in red, orange, yellow, blue, and several nude shades.

Image via Umberta Gnutti Beretta
Apple has also provided several celebrities with custom Apple Watch Sport bands in unique colors. Former professional rugby player Will Carling received a
red Apple Watch Sport band
, while director J.J. Abrams was given a
custom navy blue Sport band
.
Along with introducing new Apple Watch bands, iPhones, and the revamped Apple TV, Apple may also announce sales of the Apple Watch in additional countries,
including Austria, Denmark, and India
. We'll also hear more about watchOS 2 at Apple's iPhone event, with Apple providing a launch date for the new operating system update.
Apple is set to introduce the next iteration of its Apple TV lineup at next week's
September 9 media event
, alongside the expected announcement of new iPhones, and a previously rumored feature is gaining additional traction today with a
report
from
BuzzFeed
claiming the new Apple TV will have universal search functionality, letting users search once and get hits from multiple sources, not just iTunes.

Universal search feature will reportedly be a "cornerstone" of the new Apple TV, allowing users to, for example, search for one movie across services like Netflix, Amazon Prime Video, and iTunes, among others. The ability to search for actors and directors will also be included in the search options, and won't limit users to just movie or television show titles.
Sources familiar with Apple's plans say that a cornerstone of the the company's new set-top box is a universal search feature that will enable searches across multiple streaming video services as well as Apple's iTunes Store. Instead of searching the catalogs of multiple video services one-at-a-time for a particular movie, you'll now be able to search all — or most of them — at once and then choose the service on which you'd like to watch it. You'll also be able to search for actors and directors, and run other more targeted searches as well — all with Siri.
The report also claims that the new Apple TV will "start" at a price point of $149, hinting that there could be more expensive models with perhaps the possibility of expanded storage capacities. The $149 retail price does line up with previous rumors that pegged the Apple TV of
launching with either a $149 or $199
price tag. The company has been said to be keeping the third-generation Apple TV, currently priced at $69, as an entry-level option.
Along with Siri integration, the next-generation Apple TV is rumored to feature an
A8 processor
,
a touch-pad remote
, and an
App Store
with an SDK available for developers to create apps. The new box will be aimed at more than just video consumption, with recent rumors hinting that the newly designed remote control will include
motion sensors
to support "casual" gaming experiences.
Update 8:52 AM
: According to a
follow-up report by 9to5Mac
, the new Apple TV's onboard storage will be in the 8–16 GB range, and the touchpad remote included with the box will be black rather than the silver seen on the current Apple TV remote.
Intel has released detailed information about its upcoming Skylake processors for notebooks and desktops ahead of IFA 2015 in Berlin (via
Ars Technica
). The sixth-generation chips will deliver CPU and GPU performance improvements and longer battery life, and are likely to power future MacBook, MacBook Air, MacBook Pro and iMac models released over the next year.

Retina MacBook
Intel's new lineup of Core M processors appropriate for the 12-inch Retina MacBook will provide up to 10 hours of battery life, between 10%-20% faster CPU performance and up to 40% faster graphics compared to equivalent Broadwell chips.
CPU World
accurately shared
Core m3, Core m5 and Core m7
specifications last week, with all three families of chips including Intel HD 515 graphics, 4MB of L3 cache and 4.5 watt thermal design power (TDP).

The low-end Core m3 6Y30 replaces the Core M-5Y31 and is likely suited for the base model 12-inch MacBook sold for $1,299. The mid-tier Core m5 6Y54 and Core m5 6Y57 replace the Core M-5Y51 on the high-end 12-inch MacBook sold for $1,599, while the high-end Core m7 6Y75 replaces the Core M-5Y71 for top-of-the-line 12-inch MacBook custom configurations.
Core M processors have configurable TDPs, allowing for performance and heat output to be adjusted. Core m3, m5 and m7 chips can be run at 3.5-3.8 watts or be increased to 7 watts to allow for higher CPU clock speeds. For the current 12-inch MacBook, Apple boosted the 900 MHz 5Y31 chip to 1.1 GHz, 1.1 GHz 5Y51 chip to 1.2 GHz and 1.2 GHz 5Y71 chip to 1.3 GHz.
Ars Technica
notes that Core M processors should be available to Apple and other PC makers now, meaning that Core m3, m5 and m7-powered notebooks could begin shipping within the next few months. However, given that the 12-inch MacBook just launched in April, it remains uncertain if Apple is willing to release updated models this soon or hold off until 2016.
Click here to read rest of article...
Related Roundups:
iMac,
Mac Pro,
Mac mini,
MacBook Air,
MacBook Pro,
Retina MacBook
Tags:
Intel,
Skylake
Buyer's Guide:
iMac (Don't Buy)
,
Mac Pro (Don't Buy)
,
Mac Mini (Caution)
,
MacBook Air (Neutral)
,
Retina MacBook Pro (Neutral)
,
MacBook (Neutral)
Apple continues to recruit talent to bolster its "
Project Titan
" team, which is rumored to be researching an electric vehicle. Over the past several weeks, the company has hired multiple employees from Tesla Motors, Texas Instruments, and other companies in the automotive and technology industries, likely to join hundreds of others already working on the so-called "Apple Car."

Apple hired former Tesla Motors engineering manager
Hal Ockerse
last month to join its own software engineering team, according to his LinkedIn profile. Ockerse was employed at Tesla between July 2014 and August 2015, working on hardware architecture and advanced driver assistance system (ADAS) components, including cameras, radars, LiDAR, and engine control units (ECUs).

Ockerse does not list his responsibilities at Apple, but it is likely that he is working on Apple's car-related project. His experience prior to Tesla includes an eleven-year stint at Gentex Corporation, where as a research manager he worked on advanced driver assist solutions, a three-axis automotive electronic compass, custom designed HDR image cameras and sensors, and more.
Apple also recruited former Texas Instruments design engineer
Subhagato Dutta
to join its in-house technologies team in July. Dutta is a recent graduate of Carnegie Mellon University, known for its research on self-driving vehicles, and worked on an automotive algorithm and imaging algorithm development team at Texas Instruments between July 2012 and November 2013.

Yakshu Madaan
joined Apple as a technical program manager in July, according to his LinkedIn profile. Madaan previously served as an operations manager at Tata Motors, the largest Indian automotive manufacturer, between July 2012 and August 2014. Madaan also designed and developed fuel injection strategies as a research assistant at the Indian Institute of Technology and UBC in early 2011.

Apple has been recruiting automotive experts since
at least February
for its automotive-related project, including former
Tesla, Ford and GM employees
, but there still remains some uncertainty as to whether Apple is working on its own vehicle or building upon its CarPlay platform for an enhanced in-car experience. As expected, the project remains
highly secretive
in Cupertino.
Last week, it was
reported
that former Tesla firmware engineer
Jamie Carlson
left the company to join Apple's "Special Projects" group in August, alongside several other autonomous vehicle experts. Apple also
hired Doug Betts
, former Senior Vice President of the Chrysler Group, and Paul Furgale, a researcher who specializes in autonomous vehicles, according to a report in July.
Apple is expected to provide additional details about
watchOS 2
at its
September 9th media event
in San Francisco. Alongside that announcement, a trio of rumors hint towards Apple expanding Apple Watch sales to Austria, Denmark, India and possibly other countries later this month.

Austrian website
MacMania
claims that the Apple Watch will be available in Austria starting September 15, citing information it received over Facebook Messenger from a reputable source working for an undisclosed large electronics chain in the country. Apple does not have an official retail presence in Austria.

MacMania reports the Apple Watch will launch in Austria on September 15
Danske Bank, the largest bank in Denmark, also recently issued a press release stating that its MobilePay service will support the Apple Watch when the device launches in Denmark next month (via
Rec.dk
), but the bank has since backtracked and now cites "rumors" about a September launch.
Danske Bank has a large presence throughout the Nordic region of Europe, with locations in Denmark, Finland and Norway, three countries where the Apple Watch is slated to launch before the end of the year per Apple's website. The bank also operates in Sweden, where the Apple Watch launched in July.
Indian website
iGyaan
claims that the Apple Watch will launch in India in September, starting at Rs. 24,999 for the entry-level Apple Watch Sport. "However we have some good news for those waiting to get their hands on the device," the report said in late August. "It arrives in the country next month."
The full list of countries where the Apple Watch will be "available in 2015" includes Austria, Belgium, Brazil, Denmark, Finland, India, Malaysia, Norway, Saudi Arabia and the United Arab Emirates. Apple also has an Apple Watch preview website live in Latin America, but no launch date is provided.
Apple has launched the Apple Watch in 22 countries to date in four waves:
April 24: Australia, Canada, China, France, Germany, Hong Kong, Japan, U.K. and U.S.

June 26: Italy, Mexico, Singapore, South Korea, Spain, Switzerland and Taiwan

July 17: The Netherlands, Sweden, Thailand

July 31: New Zealand, Russia, Turkey

It should be noted that all four dates listed above were Fridays, so there is a possibility that Denmark's rumored Apple Watch launch date of Tuesday, September 15 is inaccurate. But with "iPhone 6s" and "iPhone 6s Plus" pre-orders expected on Friday, September 11, ahead of a Friday, September 18 launch, and watchOS 2 expected midweek, Apple could go for an unusual date.



Related Roundups:

Apple Watch,

watchOS 2

Tags:

India,

Austria,

Denmark

Buyer's Guide:

Apple Watch (Neutral)
Apple has been having early discussions with Hollywood executives about producing original video programming in a bid to potentially compete against companies like Netflix, Amazon and Hulu, according to a
new report
from
Variety
.

Sources indicate the Cupertino, Calif. colossus has held preliminary conversations in recent weeks with executives in Hollywood to suss out their interest in spearheading efforts to produce entertainment content. The unit putting out the feelers reports into Eddy Cue, who is Apple's point man on all content-related matters, from its negotiations with programmers for Apple TV to its recent faceoff with Taylor Swift.
It's currently unclear how large Apple's ambitions and commitment to producing original video content are, as sources have told
Variety
contradictory things about the Cupertino company's plans. One source says Apple wants to create development and production departments that could create long-term content like Netflix does with original TV shows and movies. Another source says Apple is "flirting" with the idea, and launched an "unprecedented bid" to sign
Top Gear
stars Jeremy Clarkson, James May and Richard Hammond when they left the BBC. However, Amazon ended up winning that bidding war.
In recent years, Apple has
hired
independent film content experts to shore up iTunes Movies' independent offerings with exclusive windows on films and a broader selection of content, including offering movies available for rent before or during their theatrical runs.
More recently, Apple has expanded into original content with its worldwide Beats 1 Radio station and music videos for artists like Drake, Eminem and M.I.A., which are reportedly
produced in-house
. With Apple's rumored live TV-over-the-internet service
coming in 2016
, it's likely the Cupertino company could be looking for original and exclusive content to lure customers to its service rather than its competitors.
Samsung today
unveiled
its newest smart watch, the Samsung Gear S2, which is the company's first watch that includes a round display instead of one that's square or rectangular.
Positioned as Samsung's seventh smart watch release, the Gear S2 comes in three varieties: Classic, standard, and 3G. The Classic version includes a black case with a black leather band, while the standard version includes a dark gray case with a matching rubber band or a silver case with a white rubber band. According to Samsung, the Classic model is for users "who prefer a more timeless watch design," while the standard model is "ideal for those who are on-the-go and have an admiration for minimal and modern design."

The third model, the 3G Gear S2, features the same design as the standard model but includes a 3G radio to connect to 3G cellular networks. With dedicated 3G capabilities, the 3G Gear S2 can be used without a phone, unlike the Apple Watch and most other smart watches on the market.
"For the past several years, Samsung has pioneered and advanced the wearables category, bringing brave new concepts to the smart wearables market," said JK Shin, CEO and Head of Samsung's IT & Mobile Business. "The Samsung Gear S2 reflects Samsung's most progressive innovation. It is the perfect complement for any occasion, easily taking you from day to night, from work to workout--and ensuring that you get more out of every moment in your day, by making it smarter and ultimately more personal and fun."
Each of the 11.4 millimeter thick Gear S2 watches includes a 1.2-inch diameter touch display with a resolution of 360 x 360 (302 pixels per inch), a 1 GHz dual-core processor, 512MB RAM, and 4GB of storage space. It charges wirelessly, has two to three days of battery life, and includes NFC, WiFi, and Bluetooth. On the battery front it outshines the Apple Watch depending on use, but it has less storage space than the Apple Watch's 8GB.
The bezel of the Gear S2 rotates, a feature that's used to navigate through the operating system to interact with apps, and it also uses dedicated Home and Back buttons. Samsung plans to release apps and watch faces designed specifically for the circular display of the Gear S2. Taking a cue from Apple, Samsung designed a new 24-hour fitness activity log for the Gear S2, which will let users view daily progress and get reminders to help them stay on track with fitness goals.
Samsung's Gear S2 watch runs the Tizen operating system instead of Android, making it incompatible with the Android Wear app for iOS
that Google launched earlier today
.
Samsung has not yet released pricing details on the Gear S2 or provided a release date, but the company plans to provide more information at the IFA consumer electronics trade show in Berlin, which starts later this week.
The Apple TV's existing NFL Now channel was today revamped, changing the name to "NFL" and adding support for Game Pass subscriptions. Through the updated channel, NFL fans who have a Game Pass subscription can watch on-demand NFL games and live out-of-market preseason games on the Apple TV for the first time.
In late July, the NFL did away with its existing NFL
Game Rewind program
, which previously gave customers in the United States access to on-demand NFL games after they aired on broadcast television. Game Rewind was replaced with Game Pass, with access being added to the Apple TV and the
NFL Mobile
app on the iPhone and the iPad.

The prior NFL Now channel that was on the Apple TV was limited to historic videos, breaking news, and game highlights rather than complete games as the NFL's contracts with television providers have previously prevented it from showing full game content on the television through the Apple TV.
Game Pass includes live access to most out-of-market preseason games, aside from those that are nationally broadcast, plus on-demand regular season, playoff, and Super Bowl games that are available after they air on broadcast television.
Game Pass is available in the United States, Bermuda, Antigua, the Bahamas, any U.S. territories, possessions and commonwealths (including American Samoa, Guam, Puerto Rico and the US Virgin Islands), and Mexico. An NFL Game Pass subscription is priced at $99.99 and access to content will last until July 31, 2016.

NFL fans outside of the United States also have access to an international "Game Pass" service that offers up live games and on-demand content, which confusingly shares the same name as the new service available in the United States.
(Thanks, Dale!)