Microsoft today launched a new commercial for its Surface Pro 4, directly comparing the tablet computer to Apple's
MacBook Air
.
The ad, titled "Surface Pro 4 is the one for me", was posted on YouTube and features a woman trying out some of the features of the Surface Pro 4 and then attempting to replicate the functionality on a MacBook Air, to no avail. All the while, a melody man plays a musical keyboard and quirkily sings the praises of Microsoft's PC offering against the Apple machine, which he calls "less useful, like a hat for your cat".
The lighthearted ad plays upon the Surface Pro 4's signature features like the detachable keyboard, pen, and touchscreen, as well as the machine's relative lightness compared to the MacBook Air, which is "slower, heavier, and a bit square," sings the keyboard player. The ad ends with the tagline: "Surface does more. Just like you."
The commercial follows a similar anti-Apple theme adopted by Microsoft in recent ads, which have previously compared the
iPad Pro with the Surface Pro 4
, the
Surface Book with the MacBook Pro
, and
Windows 10 with OS X
.
The 12.3-inch
Surface Pro 4
starts at $899 for 128GB of internal storage and 4GB of RAM, and goes up to as much as $1,799 for 256GB of internal storage and 16GB of RAM.
Comparatively, the 11-inch MacBook Air starts at $899, with 128GB of storage and 4GB of RAM, increasing to $1099 for 256GB of storage and 8GB of RAM, while the 13-inch model starts at $999 for 128GB of storage and 8GB of RAM, and rising to $1199 for 256GB of storage.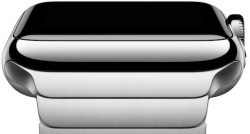 A purported photo of a larger 334 mAh lithium-ion battery destined for the
Apple Watch 2
has surfaced on Chinese microblogging service Weibo, foreshadowing expected battery life improvements coming to the wrist-worn device.
The battery is allegedly for the 42mm model, which currently has a 246 mAh battery, suggesting the next-generation 42mm model could have a 35.7% larger battery. The photo does not provide any clues about potential battery life improvements coming to the smaller 38mm model, which is currently equipped with a 205 mAh battery.
The veracity of the photo cannot be confirmed, as is often the case, but KGI Securities analyst
Ming-Chi Kuo
said an Apple Watch 2 with a higher capacity battery will
launch later this year
. The larger battery should unsurprisingly lead to longer battery life for the Apple Watch, which is currently rated for
up to 18 hours of mixed usage
and up to 72 hours in Power Reserve mode on a single charge.

The much-rumored Apple Watch 2 is expected to be
released in late 2016
with a faster TSMC-built processor,
GPS
, barometer, superior waterproofing, and a higher capacity battery -- but
no cellular
. Both 38mm and 42mm screen sizes will be retained with thinner display technology adopted. The device could launch in September alongside the
iPhone 7
and
spec-bumped Apple Watch 1 models
.
Spotify and
Apple Music
are becoming increasingly bitter rivals, and according to new reports from
The New York Times
and
Bloomberg
, the feuding is now affecting artists. Spotify has been punishing artists who agree to Apple Music exclusives, displaying their content less prominently and offering fewer promotional opportunities.
Spotify has explicitly told artists who offer Apple Music exclusives that their music won't be included on featured playlists, and Spotify has also "buried" their songs in its search rankings. The music streaming service has reportedly been using these retaliatory tactics for about a year.

Spotify has been retaliating against musicians who introduce new material exclusively on rival Apple Music by making their songs harder to find, according to people familiar with the strategy. Artists who have given Apple exclusive access to new music have been told they won't be able to get their tracks on featured playlists once the songs become available on Spotify, said the people, who declined to be identified discussing the steps.
Spotify's tactics may not affect major artists in a significant way, but according to
Bloomberg
, the service has also threatened smaller acts who introduce their music on Beats 1 Radio with Zane Lowe.
Since Apple Music launched last year, Apple has been
using exclusive content
as a way to lure new subscribers to the service. Artists like
Drake
,
Frank Ocean
,
Dreezy
,
Taylor Swift
, and
Katy Perry
have debuted content exclusively on Apple Music, something both Spotify and record labels have become increasingly uncomfortable with.
Earlier this week, Universal Music Group CEO Lucian Grange told employees that UMG is now
prohibiting its artists
from offering music exclusives, meaning popular content from Taylor Swift, The Weeknd, Kendrick Lamar, and more, will no longer be eligible for debut solely on Apple Music. UMG's new policy has already affected Apple, preventing Apple Music from inking a deal with Lady Gaga.
At its one year anniversary in June, Apple Music boasted more than
15 million subscribers
, and should it continue its rapid growth rate, the service could eventually eclipse Spotify as the most popular streaming service. Spotify continues to have approximately twice as many subscribers but the music service continues to struggle because it has yet to become profitable.
Update:
According to a Spotify spokesperson that spoke to
MacRumors
,
Bloomberg
's claim that Spotify has "buried" search results for songs of artists who have signed Apple Music exclusives is "unequivocally false."
Apple today seeded the eighth beta of iOS 10 to developers and a seventh version to public beta testers for testing purposes, one week after
releasing the seventh developer beta
and more than two months after first unveiling the new operating system at its
2016 Worldwide Developers Conference
.
iOS 10 beta 8 is available as an over-the-air download to those who installed the first seven betas or the beta configuration profile and it's available for direct download via Apple's Developer Center (developers only).
iOS 10 is a major iOS update with a ton of new features and design tweaks, including a new Lock screen experience with
3D Touch
-enabled notifications, a more easily accessible camera, a redesigned Control Center, and a new widgets screen. According to Apple, iOS 10 is the company's biggest iOS update ever released.
Subscribe to the MacRumors YouTube channel for more videos.
The Messages app in iOS 10 has been overhauled with features that include background animations, bubble effects, Digital Touch, handwritten notes, Tapback replies, predictive emoji, and a dedicated
App Store
, and Photos has gained new facial and object recognition capabilities along with a Memories feature for rediscovering forgotten moments.
iOS 10 is currently available to developers and public beta testers, with a full public release planned for the fall. iOS 10 beta 8 is likely to be the last update before the golden master version is released as Apple will need time to finalize the software before its public launch. For full details on iOS 10, make sure to
check out our iOS 10 roundup
.
Update:
Many users appear to be running into an error when attempting to download the new beta, getting an "Unable to Check for Update" popup.
Following tradition, a new report out of Apple's supply chain is hinting that the company "may need to contend with a supply shortage" for the
iPhone 7
and iPhone 7 Plus, citing vague issues with "faulty components" as the central problem (via
Nikkei
).
Similar stories
have emerged before the launch of the new iPhone nearly every year, stemming from Apple's annual late-summer production ramp-up ahead of the September iPhone reveal.
"If Apple sticks to its launch schedule from last year, there may not be enough supply at the beginning, as some suppliers are still trying to fix low yield rates of their components," an industry source familiar with the issue said.
Apple is said to be staying
close to its launch schedule
from last year, which could lead to low supply "during the first round of the rollout," resulting in low yield rates, higher costs for manufacturers, and subsequently less volume to deliver to customers. Yuanta Investment Consulting analyst Jeff Pu believes total iPhone 7 builds to be 10 million less than that of the
iPhone 6s
last year.

Pu cut his forecasts for iPhone production to 114 million from 120 million, including both new and old models, in the July-December period, due to defects in the waterproof speaker and dual-camera module, which have yet to be resolved.

"We estimate total iPhone 7 builds to be 74 (million) in 2H16F, compared to 84 (million) for iPhone 6s in 2H15. Together with pricing pressure, we expect most Apple food chain suppliers to see (year-on-year) revenue decline for the rest of the year," Pu wrote in a note dated Aug. 23.

Continuing the usual
doom-and-gloom sentiment
regarding Apple's 2016 iPhone sales, the new report points to "weakening demand" for the iPhone 7 and iPhone 7 Plus as a contribution to manufacturing numbers falling as well. Apple's own orders are said to be "conservative" this year compared to years past, with individual components dropping precipitously year-over-year. According to various sources, core processor chips "may drop up to 15 percent," and panel orders "are dropping around 20 percent," both compared with the company's 2015 supply chain orders.
Although it's true that the iPhone 7 will be a modest update on the iPhone 6s, like every model before it, the 2016 iPhone is expected to see a heavy influx of pre-orders the day it goes live on Apple's website, currently rumored for September 9. Users will then have to wait a few weeks to get their hands on the smartphone, with a launch either on
September 16
or
September 23
.

Intel's new licensing deal allowing it to
manufacture ARM-based chips
for smartphones could win over Apple as a customer in as little as two years, placing pressure on current A-series chip manufacturer TSMC, according to
Nikkei Asian Review
.
The report cited analysts that believe Intel could supply Apple with at least a portion of tentatively named A12 chips for iPhones in 2018, following reports that TSMC will be the sole supplier of A10 and A11 chips for iPhones in 2016 and 2017 respectively.
"TSMC could face tough competition as soon as 2018 or 2019 as Intel is likely to gain orders from Apple by then," Samuel Wang, a veteran semiconductor analyst at research company Gartner, told the Nikkei Asian Review. "Intel has begun to engage with Apple and it aims to grab one or two top-tier customers from TSMC."
The switch to Intel may not have significant implications for iPhone users, but it provides Apple with an opportunity to secure the best manufacturing deal and technologies available. Intel's foundries will manufacture ARM-based smartphone chips based on a 10-nanometer process, which TSMC is also moving towards. The move could also shift at least a portion of A-series chip production to the United States, which could help create new jobs on the company's home turf.
"Intel is definitely the most formidable challenger for TSMC," a senior Taiwanese chip industry executive said. "There is no rivalry between Apple and Intel so it's really likely that Apple could shift some orders there. The move is also in line with Washington's policy to encourage U.S. companies to make more products at home."
Intel is also expected to
supply modems for select iPhone 7 models
, including AT&T versions and some international models sold in other countries, as Apple lessens its dependance on existing supplier Qualcomm.
The radically redesigned iPhone coming in 2017 will not feature a Home button,
Bloomberg
today confirmed in a wider report focusing on
new mobile payment features
coming to Japan.
Apple is already at work on a major redesign of the iPhone for 2017 that focuses more heavily on the display by removing the Home button, according to a person familiar with the matter.
According to past rumors, the 2017 iPhone, which may be called the
iPhone 8
, will feature a
complete design overhaul
with an edge-to-edge
flexible OLED display
that does away with the top and bottom bezels where features like the
Touch ID
fingerprint sensor and front-facing camera are housed.

Instead, the functionality of the Home button, including Touch ID, may be built directly into the display. Apple design chief Jony Ive is said to have wanted to
build an iPhone
that looks like a single sheet of glass for several years, and 2017, the year that marks the 10th anniversary of the iPhone, is when it will happen.
The iPhone display may also feature edges that are curved on both sides, similar to the Samsung Galaxy S7 edge, and it is rumored to
have a glass body
, moving away from the aluminum that's been used for iPhones since the iPhone 5. Other features that may be built into the 2017 iPhone include wireless charging, an
enhanced Taptic engine
, and
new biometric capabilities
like iris scanning or facial recognition.
Apple is developing a version of the iPhone for Japan that includes one of Sony's FeliCa chips to enable contactless transit payments, reports
Bloomberg
.
FeliCa
is a tap-to-pay format developed by Sony and built into cards that are used to access Japan's railway and bus system. FeliCa is faster than
Apple Pay
, allowing transactions to occur in a fraction of a second, which makes it suitable for use in a fast-paced transit environment. It's also able to store e-money that can be used at vending machines and cafes across the country.
Apple plans to work with several transit card providers to create virtual versions of FeliCa transit cards that can be stored in the Wallet app on the iPhone and used in place of a physical card.

The FeliCa chip will let customers in Japan store their public bus and train passes on their iPhones. Users would then be able to tap their phones against the entrance scanners instead of using physical cards. While the FeliCa chip is the standard technology underlying the service, there are several different providers of transit payment cards based on the type of transit and areas within Japan.
The addition of a FeliCa chip to the iPhone will help Apple make inroads into the mobile payment market in Japan, which is dominated by the standard. 1.9 million payment terminals in the country have already adopted FeliCa and FeliCa terminals saw 4.6 trillion yen ($46 billion) in transactions in 2015.
The FeliCa payment feature could be available as soon as next month, built into the
iPhone 7
and iPhone 7 Plus that Apple plans to unveil in early September.
Bloomberg
warns, though, that Apple could potentially delay the feature's launch until next year should discussions with Japanese payment networks fall through.

Services like
Siri
, Cortana, and Alexa are being held back by a lack of advancements in digital microphone technology, reports
Bloomberg
, citing the opinions of several analysts.
While processors, camera sensors, and other vital iPhone components have evolved rapidly over the course of the last several years, the same can't be said for microphones. Digital microphones still have trouble focusing on filtering out background noise and clearly detecting faraway voices, impacting device listening capabilities.
With artificial intelligence growing in popularity, however,
Bloomberg
says manufacturers are scrambling to improve microphone tech.
"No doubt, there is an arms race," says Peter Cooney, an analyst at SAR Insight & Consulting. The big tech companies are thinking a lot more about mics than they have for the past few years. Since the 2012 launch of the iPhone 5, "microphone performance has not really improved that much," says Marwan Boustany, an analyst with research firm IHS Markit.
Apple and other companies who rely on microphones to deliver queries to smartphones and other devices are said to want technology improvements that will make them better able to distinguish voices from other sounds at longer distances.
In
a recent interview
, Apple SVP of software engineering Craig Federighi said that microphones have a big impact on Siri's ability to understand commands. "It's not just the silicon," he said. "It's how many microphones we put on the device, where we place the microphones. How we tune the hardware and those mics and the software stack that does the audio processing." He said Apple's expertise at combining hardware and software gives the company "an incredible advantage" over companies just working on AI with software.
In the same interview, Apple execs said Siri's capacity to interpret commands has
reportedly improved greatly
following the introduction of machine learning, but in practice, Siri still often fails to hear commands or misinterprets spoken words, mistakes that could perhaps be improved with better microphone technology in the future.
Siri has long been limited to iOS devices and the
Apple Watch
, but with the launch of
macOS Sierra
this fall, the personal assistant will expand to Macs. Siri also came to the
Apple TV
last fall with the launch of the fourth-generation set-top box.
A rare "Celebration" Apple-1 computer has fetched $815,000 in an auction hosted by charity auction site
CharityBuzz
, one of the highest prices an Apple-1 has sold for at auction. During the final minutes of the auction, bids reached $1.2 million, but it appears the last bid was pulled just seconds before the auction ended.

The "Celebration" Apple-1, so named by computer historian
Corey Cohen
, features a blank "green" PCB board that was never sold to the public and was not a part of a known production run.
The auction included an original Apple-1 ACI cassette board, pre-NTI, with Robinson Nugent sockets, a period correct power supply, an early Apple-1 BASIC cassette labeled and authenticated by original Apple employee Daniel Kottke, Apple-1 manuals, marketing materials, and Cassette Board schematics.
Unlike other Apple-1 computers that have fetched lower prices, the Celebration Apple-1 is not in working condition but could be restored to full functionality with minor tweaks. Cohen recommended against such restoration to preserve the board's uniqueness. "The Apple-1 board is a not just a piece of history, but a piece of art," he said.
Steve Jobs and Steve Wozniak originally created and sold 175 Apple-1 computers during the summer of 1976, marking the launch of Apple computer, a company that's grown to be one of the largest and most influential in the world. Of those 175 machines, only 60 or so are still in existence, making them quite valuable to collectors.
Several Apple-1 computers have surfaced at auction over the past few years, selling for prices between and
$365,000
and
$905,000
.
10 percent of the proceeds from the CharityBuzz auction will benefit the Leukemia and Lymphoma Society.
Apple today released an
iOS 9.3.5
update for the iOS 9 operating system, almost a month after
releasing iOS 9.3.4
and a few weeks before we expect to see the public release of
iOS 10
, currently in beta testing.
iOS 9.3.5 is available immediately to all devices running iOS 9 via an over-the-air update.

iOS 9.3.5 is likely to be the last update to the iOS 9 operating system, introducing final bug fixes, security improvements, and performance optimizations before iOS 9 is retired in favor of iOS 10. iOS 9.3.4, the update prior to iOS 9.3.5, included a critical security fix patching the Pangu iOS 9.3.3 jailbreak exploit. iOS 9.3.5
features major security fixes
for three zero-day exploits and should be downloaded by all iOS users right away.
According to
The New York Times
the three security vulnerabilities patched in the update were exploited by surveillance software created by NSO Group to jailbreak an iPhone and intercept communications.
In an overview of the exploits, security firm
Lookout
says NSO Group's spyware software, nicknamed "Pegasus," was highly sophisticated, installing itself through a link sent via a text message.
The exploit was initially discovered on August 11 after human rights defender Ahmed Mansoor received a suspicious link and sent it to Citizen Lab and Lookout. Had Mansoor clicked the link, it would have jailbroken his iPhone and installed "sophisticated malware" able to intercept phone calls, text messages, FaceTime calls, email, and more.
Pegasus is the most advanced attack Lookout has seen because it is customizable, can track a range of things, and uses strong encryption to avoid detection. Lookout believes "Pegasus" had been in the wild for quite some time before it was discovered, with some evidence dating back to iOS 7.
Citizen Lab and Lookout informed Apple of the vulnerabilities and the company worked quickly to implement a fix, patching the exploits in just 10 days.
WhatsApp
has
updated
its
terms of service and privacy policy
to reflect that it will begin sharing select data with Facebook, including the phone number a user verifies during the registration process and the last time a user accessed the service. Facebook, which
acquired WhatsApp in 2014
, will use the information to provide better friend suggestions and targeted ads and offers to users of its own service.

By coordinating more with Facebook, we'll be able to do things like track basic metrics about how often people use our services and better fight spam on WhatsApp. And by connecting your phone number with Facebook's systems, Facebook can offer better friend suggestions and show you more relevant ads if you have an account with them. For example, you might see an ad from a company you already work with, rather than one from someone you've never heard of.
WhatsApp ensures that nothing users share on the service, including messages, photos, and account information, will be publicly shared onto Facebook for others to see. The updated terms and privacy policy also state that the new data sharing measures will help WhatsApp more accurately count unique users, fight spam and abuse, and improve the overall experience of its messaging service.
Existing WhatsApp users can
choose not to share their account information with Facebook
. On the iPhone app, before you tap "Agree" to accept the updated terms, tap on "Read," scroll to the bottom, and toggle the control. Users that agree to the updated terms also have an additional 30 days to opt out by going to Settings > Account > Share My Account Info and toggling the appropriate control in the app.
WhatsApp remains committed to providing private communications. All messages sent through the service are not stored on its servers, and
end-to-end encryption
has been in place since April on the latest version of the app. The updated terms and privacy policy do not affect these security measures.
In a
new FAQ about its updated terms
and privacy policy, WhatsApp says it will still not allow third-party banner ads on the service.
WhatsApp
is free on the
App Store
[
Direct Link
] for iPhone.