WWDC 2018
Held June 4 to June 8 in San Jose.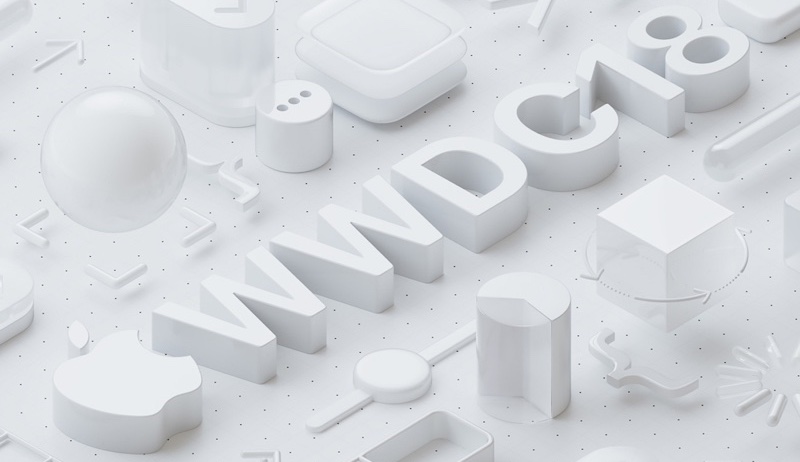 At a Glance
WWDC is Apple's annual Worldwide Developers Conference where developers can attend sessions and meet with over 1,000 Apple engineers. The event included a first-day keynote where Apple introduced upcoming software. The 2018 conference was held June 4–8 in San Jose, California.
Announcements
iOS 12
macOS Mojave
watchOS 5
tvOS 12
Everything Apple Announced at WWDC 2018
The 2018 Worldwide Developers Conference focused solely on software, with no hardware announcements included in the event. Apple introduced new versions of iOS, macOS, tvOS, and watchOS, officially debuting iOS 12, macOS Mojave, tvOS 12, and watchOS 5.
iOS 12
With iOS 12, Apple doubled down on performance, working from top to bottom to make iPhones and iPads faster and more responsive. Apple has made improvements on devices both old and new, and iOS 12 has been designed to run on all devices able to run iOS 11.
With Apple's performance improvements, apps launch faster, the keyboard appears faster, and the Camera is quicker to open. Apple has also optimized the system when it's under load, making iOS devices faster when you need performance the most.
Though Apple focused on under-the-hood improvements for iOS 12, there is a long list of new features in the update that makes this an impressive new version of iOS.
Apple introduced new customizable Animoji called Memoji, which you can personalize to look like you. Group FaceTime is here and supports calls with up to 32 people, and Memoji, Animoji, and other fun effects can be used both in Messages and with FaceTime through the new Effects camera.

Siri is a whole lot smarter in iOS 12. Siri can answer questions about famous people, food, and motorsports, and there's a whole new Shortcuts feature that's built on the Workflow app. With Shortcuts, you can build a huge range of automations using first- and third-party apps, which can then be activated with Siri voice commands.
Siri suggestions and Shortcuts show up on the Lock screen and when you pull down to search, with Siri able to do more than ever before with the third-party Shortcuts integration. You can create Shortcuts using a dedicated Shortcuts app coming this fall, and the app will offer dozens of pre-made options to make it easy to get started.
Apple built a comprehensive set of time management and focus tools into iOS 12, starting with a new Screen Time feature. Screen Time provides weekly activity reports detailing how you used your iOS device, including how much time you spend in each app, how often you pick up your phone, how long you spend on the iPhone or iPad, and which apps are sending the most notifications.

App Limits, a part of Screen Time, lets you set a time limit on apps to remind you to use them less, while new Parental Controls let parents see how much time children are spending on their devices and limit that time with richer, more granular control options.
Do Not Disturb at Bedtime lets you turn off notifications at night so you only see the time, and Do Not Disturb in general is easier than ever to use with DND options that include ending times available in Control Center through a 3D Touch or force press. With these DND features, you can set Do Not Disturb for an hour, while you're at a specific location, or for the duration of a meeting.
Grouped Notifications have been added to make it easier to view and manage all notifications from an app at once, and there's a new Instant Tuning feature for tweaking notifications as they come in. You can press on a notification to turn off notifications for a given app or set them to Deliver Quietly, which sends them to Notification Center but not the Lock screen. Siri also offers suggestions to turn off notifications for apps you don't use anymore, and all in all, notifications are less intrusive in iOS 12.

Multiple apps have new features in iOS 12. There's a Browse feature in Apple News and an Apple News sidebar on the iPad, and Apple has entirely redesigned the Stocks app and introduced it on the iPad. Voice Memos has also been revamped and made available on the iPad, and iBooks has been entirely overhauled with a new look, a Reading Now feature for syncing what you're reading across devices, and a new name -- Apple Books.

CarPlay now supports third-party navigation apps like Google Maps and Waze, and Photos features more powerful search capabilities and search suggestions, along with a new "For You" section that offers up photo highlights, editing suggestions, and an "on this day" look at what happened in past years. Sharing is a focus of Photos, and you'll see suggestions to share photos with your friends and vice versa with Share Back.

ARKit 2.0 in iOS 12 adds new functionality that has the potential to make augmented reality far more useful within iOS apps. Face tracking and object rendering have been improved, and there's new 3D object detection, but the key changes include shared experiences that let two people see the same AR environment on separate devices and persistence, which allows AR experiences to be built around an object or physical space.
Apple is introducing a new USDZ file format developed alongside Pixar, which will allow AR assets to be used across the system, in Safari, Messages, Mail, and more. USDZ will let you place 3D AR objects into the real world within these apps. Apple is working with many companies like Adobe to implement support for USDZ in unique ways.
As part of the new ARKit 2.0 changes, Apple is introducing a new app called Measure, which uses augmented reality capabilities to take measurements of objects, lines, and rectangles, and developers can build richer augmented reality experiences using all of the new tools.
macOS Mojave
macOS Mojave, introduced at the 2018 Worldwide Developers Conference, is the newest version of the operating system that runs on Apple's Macs. Inspired by the desert at night, macOS Mojave is the first Mac update in several years not to use a mountain-themed name, with its new moniker representing the visual changes made to the software.
The standout feature in macOS Mojave is a new system-wide Dark Mode, which extends to beyond just the dock and the menu bar to full windows and apps, with native apps like Mail, Calendar, iTunes, Xcode, and more adopting the new dark theme. Dark Mode is, of course, an optional feature, so users who prefer a lighter look can continue to use the light mode.

A new Dynamic Desktop option introduces wallpapers that subtly change throughout the day, while Desktop Stacks organize all your desktop files into neat piles arranged by type, date, or tag. Finder has been revamped with a new Gallery View for previewing files one by one, and a new Finder Sidebar offers up file information at a glance.

Contextual, customizable Quick Actions within Finder let you interact with files and do things like rotate photos or edit files without leaving the Finder interface, and a revamped Quick Look view integrates Markup, providing another way to make simple, quick edits to your files.

Screenshots in macOS Mojave get an iOS-style overhaul, putting Markup options and a variety of screen capture tools right at your fingertips. With the redesigned screenshot interface, screen recording content on your Mac is simpler than ever, and Continuity Camera lets you import photos and document scans captured with your iPhone right into macOS.
Several iOS apps are available on the Mac as part of a multi-year project Apple is working on to make it easier to port iOS apps to macOS. Apple News, Stocks, Home, and Voice Memos are now available in macOS Mojave as the first step of this initiative. Group FaceTime, an iOS 12 feature, is also available in Mojave, with FaceTime calls that now support up to 32 people.

macOS Mojave offers improved security and privacy, with new protections for sensitive data and features like the camera, microphone, mail database, message history, Safari data, Time Machine backups, iTunes device backups, locations and routines, and system cookies. All of these are protected by default for any app run on Mojave.
New privacy protections in Safari have also been implemented, with Apple blocking sites from tracking you using like buttons, share buttons, and comment fields without your express permission. Apple is also cutting down on how sites can track you across the web by sharing less data about your system configuration. Apple has also made it easier to create and keep track of strong, unique passwords for each website you visit with new password APIs.
The iOS App Store was redesigned with iOS 11, and with Mojave, it's macOS's turn. macOS Mojave features a revamped Mac App Store with a new Discover tab highlighting the best Mac apps and editorial content, along with new Create, Work, Play, and Develop tabs for improving app discovery.

Redesigned product pages put reviews and ratings front and center, while new video previews let you take a look at an app before making a purchase.
Core ML 2 and Create ML offer up new machine learning technologies developers can integrate into their apps, and several smaller changes are included in Mojave, like improved hard drive performance, faster wake from sleep, Apple File System (APFS) support for Fusion and hard drives, Favicons in Safari tabs, a new login window, a revamped save panel, and more.
macOS Mojave, which is a free update, is compatible with 2015 and newer MacBooks, 2012 and newer MacBook Air, MacBook Pro, Mac mini, and iMac models, the 2017 iMac Pro, and Mac Pro models from late 2013 and mid-2010 and mid-2012 models with Metal-capable GPUs.
watchOS 5
With watchOS 5, Apple focused on introducing new ways for you to stay active and connected to the world around you.
The headline feature of watchOS 5 is a new Walkie-Talkie app, which introduces an entirely new way to communicate on the watch by merging real-time voice conversations with the spontaneity of messaging. Walkie-Talkie works like a traditional Walkie-Talkie, with press-to-talk communication with your friends and family.

To motivate you to work out, watchOS 5 brings a new Competition option that lets you challenge your friends to a seven-day competition to see who can earn the most activity points. Regular progress reports let you know where you and your friends stand, with the winner receiving a special award.

Several new workout types have been added, including Yoga and Hiking, while Outdoor Runs have gained support for rolling mile pace, custom pace alert, and cadence for better tracking capabilities.

In watchOS 5, automatic workout detection means your Apple Watch will never fail to start or stop recording your activity when you're working out. Automatic workout detection works with Outdoor Run, Indoor Run, Outdoor Walk, Indoor Walk, Elliptical, Rower, Pool Swim, and Open Water Swim.

The Siri watch face is better than ever in watchOS 5 with support for sports, maps, heart rate, third-party app support, and Siri Shortcuts, a feature also coming to iOS 12. With Siri Shortcuts, the Apple Watch offers up actionable, dynamic shortcuts based on your own iPhone and Apple Watch usage habits.

Speaking of Siri, you no longer need to say "Hey Siri" to the Apple Watch with watchOS 5. Instead, you can just raise your wrist to speak to Siri.
Notifications are smarter and more interactive in watchOS 5 with actionable options for doing things like checking into a flight, paying for a ride, or booking a table right from an incoming notification on your wrist. Notifications are also grouped in more convenient ways.

watchOS 5 integrates WebKit for the first time, so you can view some website content from apps like Mail or Messages on your wrist, with the option to click on links and load sites on the Apple Watch. It's not full Safari support, but it lets you do more without having to open up your iPhone.
Podcasts are now available on the Apple Watch in a dedicated Podcasts app that syncs with the Podcasts app on your iPhone, and there's a new Podcasts complication.
Several other new features have been included in watchOS 5, like Memories in the Photos face, wind direction, wind speed, UV index, and air quality in the Weather app, an emoji picker, scheduled Do Not Disturb options, a customizable Control Center, and the ability to answer a FaceTime video call as audio without needing the iPhone.
watchOS 5 is available to developers for beta testing ahead of a fall release to the public. The new software will run on all Apple Watch models with the exception of the original first-generation Apple Watch, which does not support watchOS 5.
tvOS 12
tvOS 12, coming in the fall, brings support for Dolby Atmos sound. Apple says that iTunes will be home to the largest collection of Dolby Atmos-supported movies anywhere, with Apple upgrading titles customers have purchased for free.
Building on single sign-on, a new zero sign-on feature will further simplify the cable authentication process. With zero sign-on, the Apple TV can detect a user's broadband network and automatically sign them into supported apps they receive through their cable subscription.

Aerial screensavers include location information and there are new screensavers captured in collaboration with the International Space Station.
Other improvements to Apple TV in tvOS 12 include AutoFill passwords from iPhone, an Apple TV Remote automatically added to Control Center on the iPhone or iPad, and Apple TV support on Home control systems like Control4, Crestron, and Savant.
Tickets
Due to overwhelming demand and the sheer number of App Store developers, Apple offers tickets to WWDC via a lottery system. Prospective attendees enter a lottery and can only attend WWDC if they are awarded a ticket.
Apple opened up ticket registrations on March 13, 2018, and allowed registrations through March 22 at 10:00 a.m. Pacific Time. Apple notified ticket winners on March 23 and began charging credit cards at that time.
In 2018, WWDC tickets were priced at $1,599.
Apple made 350 WWDC Student Scholarships available for students and members of STEM organizations. Scholarships provided a free WWDC ticket, free lodging, and free one-year membership to the Apple Developer Program.
Scholarship submissions opened on Monday, March 26, 2018, and students were asked to build an interactive scene in Swift playground able to be experienced within three minutes.
Past WWDCs
WWDC 2017
At WWDC 2017, Apple made the following software and hardware announcements:
WWDC 2016
At WWDC 2016, Apple made the following announcements:
WWDC 2015
At WWDC 2015, Apple unveiled the following services and software:
WWDC 2014
At WWDC 2014, Apple unveiled the following services and software:
WWDC 2013
At 2013's WWDC, Apple unveiled iOS 7, OS X Mavericks, iWork for iCloud, the Mac Pro, and new MacBook Airs.
WWDC 2012
2012's event saw the introduction of the MacBook Pro with Retina Display, iOS 6 and its standalone Maps app, OS X Mountain Lion, MacBook Pro and MacBook Air updates, and a redesigned AirPort Express.