In an average year, Apple holds three to four events. There's usually a spring event in March, the Worldwide Developers Conference in June, a September event that's focused on iPhone and Apple Watch, and sometimes an October event if there are notable iPad or Mac refreshes expected in the fall.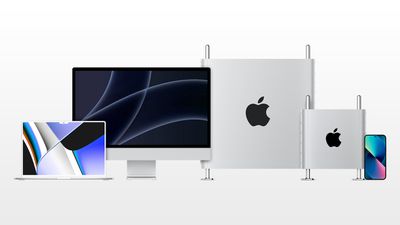 In this guide, we're keeping track of all of the Apple events that are on the horizon and what we're expecting to see at each one, so make sure to check back in regularly. We're expecting at least one more event in September, where new iPhones and Apple Watch models will be unveiled.
Note that the product launch information in this guide is based on rumors and estimates, and actual launch timelines could vary.
January Press Release Announcements
Apple in January 2023 introduced new 14-inch and 16-inch MacBook Pro models that are equipped with updated M2 Pro and M2 Max chips. Apple also introduced new M2 and M2 Pro Mac mini machines and a new larger-sized $299 HomePod, with all of these announcements done via press release.
WWDC
At WWDC, Apple introduced several new products, including the Vision Pro headset coming in 2024, along with the 15-inch MacBook Air, a new version of the Mac Studio with M2 Ultra chip, and an updated Mac Pro that uses the same M2 Ultra chip.
Apple also introduced software updates for all of its platforms, debuting iOS 17, iPadOS 17, tvOS 17, macOS Sonoma, watchOS 10, and visionOS.
September Event
At the September "Wonderlust" event, Apple introduced the 6.1-inch iPhone 15, 6.7-inch iPhone 15 Plus, 6.1-inch iPhone 15 Pro, and 6.7-inch iPhone 15 Pro Max. All of the new iPhones have USB-C ports, the Dynamic Island, next-generation Ultra Wideband chips, and faster 5G Qualcomm modems. The iPhone 15 Pro and Pro Max also have a 3-nanometer A17 Pro chip, thinner display bezels, a titanium frame, and more advanced camera systems. Apple did distinguish the two Pro models this year, adding a 3x telephoto lens to the iPhone 15 Pro and a 5x telephoto lens to the iPhone 15 Pro Max.
More about the iPhone 15 models can be found in our iPhone 15 roundup, while details on the higher-end iPhone 15 Pro models is available in a separate iPhone 15 Pro roundup.
Apple also introduced the Apple Watch Series 9 and the Apple Watch Ultra 2, plus a new version of the AirPods Pro 2 with a USB-C AirPods case.
Possible October Releases
Apple is not expected to hold an October event this year, but we could perhaps see a few additional products announced via press release. Apple could introduce the next-generation M3 chip in new Macs, but that's not yet a sure thing. If we don't get new Macs in the latter half of 2023, we could see these machines in 2024 instead.

Early 2024
There are several other products that Apple is working on, with launch dates expected in early 2024.

Later in 2024
Later in 2024, we are expecting the following devices:

Products with Unknown Release Dates
Further in the Future
2023 Product Refreshes and Announcements
2022 Product Refreshes and Announcements
We have a list of all the products that Apple released in 2022, which can be useful for predicting 2023 launch timelines.

2021 Product Refreshes and Announcements
Guide Feedback
Know of an upcoming product that we've missed on this list or see an error that needs to be fixed? Send us an email here.