In an average year, Apple holds three to four events. There's usually a spring event in March, the Worldwide Developers Conference in June, a September event that's focused on iPhone and Apple Watch, and sometimes an October event if there are notable iPad or Mac refreshes expected in the fall.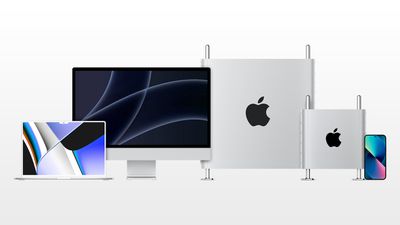 In this guide, we're keeping track of all of the Apple events that are on the horizon and what we're expecting to see at each one, so make sure to check back in regularly. We're expecting multiple events to take place in 2023, including WWDC and the September iPhone event, plus we could also get a spring event.
Note that the product launch information in this guide is based on rumors and estimates, and actual launch timelines could vary.
January Press Release Announcements
Apple in January 2023 introduced new 14-inch and 16-inch MacBook Pro models that are equipped with updated M2 Pro and M2 Max chips. Apple also introduced new M2 and M2 Pro Mac mini machines and a new larger-sized $299 HomePod, with all of these announcements done via press release.
Possible Spring Event?
Apple initially planned to introduce its AR/VR headset sometime around April and was intending to hold an event for the unveiling, but the launch of the device has been pushed back until June. It is not looking like we'll get a spring event at this time, but right now rumors suggest we could see a 15-inch MacBook Air in the spring to early summer timeline, and we're also waiting on new Apple silicon Mac Pro models. While these announcements will likely come at WWDC, there is a slim possibility that Apple could do an unveiling via press release during the spring.
There's only one MacBook Air right now, but Apple is working on a larger model that would measure in at 15.5 inches, which would be between the 14 and 16-inch MacBook Pro models in size. Rumors about the machine are limited, but it is expected to use the same general design as the M2 MacBook Air, and it could come as soon as the second quarter of 2023.
WWDC
Apple's 2023 Worldwide Developers Conference is set to start on Monday, June 5, with a keynote event set to be held on that day.
At WWDC, we're going to see the introduction of iOS 17, iPadOS 17, watchOS 10, tvOS 17, and macOS 14. WWDC is largely focused on software, but this year Apple could debut the new AR/VR headset that has been in the works for several years. If the Mac Pro also doesn't end up with a spring release, we could see it at WWDC.
Apple's AR/VR headset will combine augmented and virtual reality, and it is expected to be priced around $3,000. It will feature 4K micro-OLED displays, a comfortable headband, a mesh material that goes against the face, and high-end features like iris scanning for authentication and facial expression detection.
The headset will run a new xrOS operating system, and it will be focused on gaming, streaming video content, and video conferencing. Apple analyst Ming-Chi Kuo believes Apple could introduce the headset at WWDC, but there's also a chance it could be unveiled in the spring.
September Event
The iPhone 15 and 15 Pro models are expected in September, which is Apple's typical iPhone refresh month. The iPhone 15 models will be the first with USB-C instead of Lightning, and there could be minor design changes in store. We are expecting a 6.1-inch iPhone 15, a 6.7-inch iPhone 15 Plus, a 6.1-inch iPhone 15 Pro, and a 6.7-inch iPhone 15 Pro Max, though the "Pro Max" could get a new "Ultra" naming scheme this year.
The Pro models are expected to include a faster A17 chip built on a 3-nanometer node, and the biggest iPhone could feature periscope lens technology for 6x optical zoom capabilities.
Apple Watch Series 9
Alongside the iPhone, Apple always refreshes the Apple Watch, and we are expecting the Apple Watch Series 9 in September. There's no word as of yet what will be included with the Apple Watch Series 9 update.
It is not yet clear if the Apple Watch SE and Apple Watch Ultra will also be updated in 2023.
Late 2023
The Mac Pro is the last of the Mac lineup to continue to use Intel chips, and Apple is expected to transition the machine to Apple silicon in 2023, and a launch is expected late in the year. Rumors suggest that the Mac Pro will use an M2 Ultra chip with up to a 24-core CPU, up to a 76-core GPU, and at least 192GB of RAM, possibly more. No major design changes are expected at this time.
Products with Unknown Release Dates
Further in the Future
2023 Product Refreshes and Announcements
2022 Product Refreshes and Announcements
We have a list of all the products that Apple released in 2022, which can be useful for predicting 2023 launch timelines.

2021 Product Refreshes and Announcements
Guide Feedback
Know of an upcoming product that we've missed on this list or see an error that needs to be fixed? Send us an email here.