In an average year, Apple holds three to four events. There's usually a spring event in March, the Worldwide Developers Conference in June, a September event that's focused on iPhone and Apple Watch, and sometimes an October event if there are iPads or Macs expected in the fall.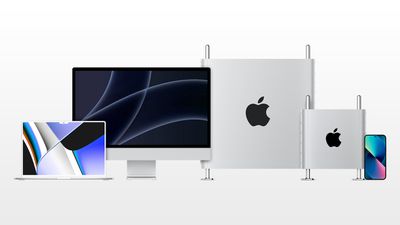 In this guide, we're keeping track of all of the Apple events that are on the horizon and what we're expecting to see at each one, so make sure to check back in regularly. We're expecting multiple events to take place in 2022, including WWDC, the September iPhone event, and a spring event.
Note that the product launch information in this guide is based on rumors and estimates, and actual launch timelines could vary.
Spring Event
Apple often holds an event in the March or April timeframe, and we're expecting our first event of 2022 to take place in the spring. Last year, Apple held an April event and introduced new AirTags, iMac models, and refreshed versions of the 11 and 12.9-inch iPad Pro.
Rumors suggest a new 27-inch "iMac Pro" is going to launch in the spring, so we could see it at this March/April event. We might also see refreshed iPad Pro models, and there's a Mac mini on the horizon that could come alongside the iMac Pro. A new iPhone SE and a new iPad Air are also possibilities for this event, according to rumors.
Apple is working on a 27-inch iMac that will be sold alongside the 24-inch model. It is expected to feature a Pro Display XDR-like design, a 27-inch mini-LED display with ProMotion technology, and M1 Pro/M1 Max chips. Rumors suggest it will launch in the spring of 2022.
Apple is developing a high-end version of the Mac mini, which will feature additional ports and a more powerful Apple silicon chip. It will include an improved version of the M1 chip with a 10-core CPU that has eight high-performance cores and two energy-efficient cores, plus 16-core or 32-core GPU options. The Apple silicon chip will support up to 64GB RAM and four Thunderbolt ports. Like the upcoming 27-inch iMac, the new Mac mini models are expected to use M1 Pro and M1 Max chips.
Apple is rumored to be refreshing the iPad Pro in 2022, and the 11-inch model could get the same mini-LED display introduced in the 2021 12.9-inch iPad Pro. A glass back that would allow for wireless charging is also a possibility, as is a reverse wireless charging feature that would let the iPad Pro charge devices like the AirPods.
Apple is rumored to be developing a new version of the iPhone SE with 5G and an upgraded processor, with a release expected in the first half of 2022. The iPhone SE will look similar to the current version, which has an iPhone 8 design. It will continue to offer a Touch ID home button with thick bezels, and 5G will be the main selling point. It is expected to be priced similarly to the current iPhone SE.
Apple is developing a fifth-generation iPad Air that will be similar to the sixth-generation iPad mini. It's expected to feature an A15 Bionic chip, 5G connectivity for cellular models, and a 12-megapixel Ultra Wide front camera with Center Stage support. It will look similar to the current iPad Air, offering a single-lens rear camera, a 10.9-inch LCD display, a USB-C port, a Touch ID power button, and various color options. It could come in the first half of the year, perhaps at a spring event.
June Event - WWDC
Apple always holds its Worldwide Developers Conference in June, and we're not expecting any deviation from the standard plan in 2022. WWDC often takes place early in the month, and for the last two years, it has been a digital event rather than an in-person event.
It's likely that WWDC will continue to be a digital-only event in 2022 due to the ongoing global health crisis. WWDC will see the introduction of iOS 16, iPadOS 16, watchOS 9, tvOS 16, and macOS 13.
September Event
Apple holds an annual iPhone-centric event in September to introduce new iPhone models, and this year, we're expecting the iPhone 14 and the Apple Watch Series 8.
We're expecting four iPhone 14 models in 2022, including the 6.1-inch iPhone 14, the 6.7-inch iPhone 14 Max, the 6.1-inch iPhone 14 Pro, and the 6.7-inch iPhone 14 Pro Max. There will be no 5.4-inch iPhone 14 mini.
The iPhone 14 Pro models are expected to feature a "hole-punch" design that does away with the notch for a larger display area. The front-facing camera will be located in a small cutout, and Face ID hardware will be under the display. Other possible features include a titanium frame for the Pro models, camera improvements, a faster A16 chip, and a faster 5G modem.
The Apple Watch Series 8 could get new health features that include temperature sensing, and sleep apnea detection, and more advanced features like blood glucose monitoring and blood pressure measurements are a possibility, though may not be coming until a later date.
The Series 8 could include car crash detection, and there is expected to be a rugged model that will better hold up to extreme usage. Along with the Series 8, we're expecting an Apple Watch SE to come at the same time.
October/November Event
Along with a September event, Apple sometimes holds a second fall event, usually focused on Macs and iPads. It's not entirely clear what we might see at this event, but a revamped MacBook Air is a definite possibility.
Apple is working on an AR/VR headset and while rumors initially said that it could be unveiled at WWDC, Apple is facing development issues and a WWDC debut is now unlikely.
The end of 2022 is the earliest that we might see the AR/VR headset, but Apple may also push the release back to 2023, so there's a chance we won't see it in 2022 at all. If there is an AR/VR headset unveiled in 2022, it will happen at a late fall event.
Products with Unknown Release Dates
There are several additional new products rumored to be coming in 2022, but we don't know their exact release dates just yet. Here's what's coming:

MacBook Air - Apple is developing a thinner and lighter version of the MacBook Air that will have thinner bezels than the current model. The bezels and the keyboard will be an off-white color, and the chassis will not have a wedge shape. The machine will feature a mini-LED display, MagSafe charging technology and USB-C ports for connecting external devices, but it won't have an HDMI port or an SD card slot. It will include a faster version of the M1 chip with the same number of computing cores as the M1 (eight). The new Apple silicon chip will support better graphics with nine or 10 GPU cores instead of the seven or eight in the current M1 MacBook Air. The MacBook Air could see a launch in mid-2022.
AirPods Pro - Apple is working on a new version of the AirPods Pro with a more compact design and a new wireless chip. The design is said to eliminate the short stem that sticks out from the bottom, resulting in a more rounded shape closer in design to competing wire-free earbuds from Google and Samsung.
Mac Pro - Apple is working on two versions of the Mac Pro, one of which features a redesigned chassis that's smaller in size, and one of which will continue to feature the same design as the current Mac Pro. The redesigned Mac Pro models will feature high-end Apple silicon chip options with 20 or 40 computing cores, made up of 6 high-performance or 32 high-performance cores and four or eight high-efficiency cores, along with 64 or 128 core GPUs. The Mac Pro that's not getting a redesign will use high-end Intel chips.
Apple Display - Apple is working on an updated version of the Pro Display XDR and other lower-cost Apple-branded display options that are expected to be sold alongside it. Apple could release a 24-inch display, a 27-inch display, and a 32-inch Pro Display XDR successor, and these display options could come out at some point in 2022.

AR/VR Headset - Apple is working on augmented/virtual reality headset. The headset is said to feature a dedicated display, built-in processor, and an "rOS" or reality operating system. Input will be via touch panels, voice activation, and head gestures, and it's said to have a high price point at around $2,000. Current rumors suggest a launch at the end of 2022.
Further in the Future
Foldable iPhone - Apple is allegedly working on a foldable iPhone that might be between 7.5 and 8 inches, with a launch date slated for 2023 at the earliest.
Apple Car - There have been a lot of twists and turns in the saga of Apple's electric car development, but reliable Apple analyst Ming-Chi Kuo believes Apple is still planning on a full autonomous vehicle rather than just an autonomous car software offering, with a launch to happen between 2023 and 2025.
2021 Product Refreshes and Announcements
We have a list of all the products that Apple released in 2021, which can be useful for predicting 2022 launch timelines.
Guide Feedback
Know of an upcoming product that we've missed on this list or see an error that needs to be fixed? Send us an email here.