13-Inch MacBook Pro
Apple's 13-inch MacBook Pro with M2 chip has been discontinued.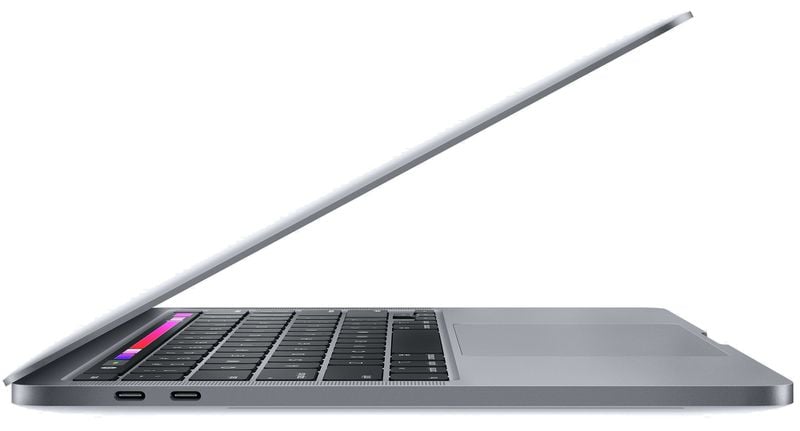 13-Inch MacBook Pro Discontinued
Apple has
discontinued the 13-inch MacBook Pro
following the introduction of updated 14-inch and 16-inch MacBook Pro models including a new entry-level 14-inch model with an M3 chip. This roundup will be updated shortly. Please
check out our event recap
for all of the details on Apple's "Scary Fast" announcements.
Should You Buy the 13-Inch MacBook Pro?
The 13-inch MacBook Pro offers the same M2 chip as the redesigned MacBook Air, but with active cooling through built-in fans and additional features like the Touch Bar.
Announced in June 2022, the MacBook Pro is approaching the end of its product cycle. The previous, M1-based MacBook Pro was released in November 2020, but before that, Apple updated the MacBook Pro annually. Rumors suggest that a new version of the 13-inch MacBook Pro could come out sometime 2024, so with months to wait, now is a good time to buy.
Priced starting at $1,299, the M2 MacBook Pro is $100 more than the M2 MacBook Air that was released at the same time. If you do not need the M2 Macbook Pro's added performance and features, it is worth opting for the M2 MacBook Air save money and get the latest design. Alternatively, if you need even more performance and additional features, there is the the $1,999 14-inch MacBook Pro, which features the M2 Pro chip, and if you want a larger-sized screen, there is the $1,299 15-inch MacBook Air.
If you're considering a MacBook Pro, we have a dedicated Deals guide that lists the best prices and discounts that we've seen this month.
The M2 MacBook Pro
Apple refreshed the 13-inch MacBook Pro in June 2022, adding an Apple-designed "M2" Arm-based chip to replace the prior M1 chip. The M2 MacBook Pro is being sold alongside the higher-end M2 Pro and M2 Max 14 and 16-inch MacBook Pro models, and it is considered the entry-level model in the MacBook Pro lineup.
The M2 chip is Apple's second System on a Chip for Mac that integrates the CPU, GPU, RAM, and more all together. The M2 has an 8-core CPU with four high-efficiency cores and four high-performance cores along with an integrated GPU that has up to 10 cores.
Compared to the prior-generation M1 chip, the M2 offers advancements in performance and efficiency with an 18 percent faster CPU, a 35 percent faster GPU, and a 40 percent faster Neural Engine. The MacBook Pro supports up to 2TB SSD storage and 24GB memory. Battery life is unchanged and the MacBook Pro lasts for up to 20 hours before needing to be recharged.
There are no external design changes to the MacBook Pro and it continues to feature the same aluminum body with large Force Touch trackpad, speakers at the side of the keyboard, and 13.3-inch display with slim black bezels. The MacBook Pro comes in Silver and Space Gray color options.
The display features a 2560x1600 resolution, 500 nits brightness, P3 wide color support for vivid, true-to-life colors, and True Tone that matches the color temperature of the display to the ambient lighting for a more natural viewing experience that's easier on the eyes.
Apple's M2 MacBook Pro includes a 720p FaceTime HD camera, which is the same as the camera in the prior model, with the M2 continuing to offer improved picture quality with better noise reduction, better dynamic range, and other features.
The M2 MacBook Pro features a Magic Keyboard with a refined scissor mechanism that's more reliable than the previous butterfly mechanism, offering up to 1mm key travel for a stable key feel. There's a Touch Bar at the top with touch-based controls and a Touch ID fingerprint sensor that can be used to unlock the Mac, make purchases, and more, with Touch ID protected by the Secure Enclave.

As an entry-level model, the M2 MacBook Pro has two Thunderbolt 3/USB 4 ports that support up to a 6K external display, while the 14-inch and 16-inch MacBook Pro models offer three Thunderbolt 4 ports. The MacBook Pro works with WiFi 6 or 802.11ax and Bluetooth 5.0. There are stereo speakers with wide stereo sound support, studio quality mics, and a 3.5mm headphone jack.
Note: See an error in this roundup or want to offer feedback? Send us an email here.
How to Buy
The M2 MacBook Pro is available from the online Apple Store and Apple retail stores. It is priced starting at $1,299. Supplies are constrained, and some custom configurations are not shipping until August.
Reviews
Many reviews agreed that it might be worth opting for the redesigned MacBook Air with the M2 chip. The new MacBook Air starts at a lower price of $1,199 and features newer design elements like MagSafe charging, a 1080p camera, thinner bezels around the display, physical function keys, and more.
However, one notable difference between the notebooks is that the MacBook Air features a fanless design, while the MacBook Pro has an active cooling system to ensure sustained performance for users with more demanding workflows.
If you just need a good, new laptop, wait for the upcoming MacBook Air. You get a slightly larger, more modern-looking screen, a better webcam, nicer speakers, and a fast-charging support, all in an overall lighter package (and fun colors!). This MacBook Pro remains an awkward middle child and doesn't bring nearly enough to the table to be worth your while.
Gizmodo's Phillip Tracy
:
Viewed in a vacuum, the MacBook Pro 13 is a great laptop with outstanding performance and unbeatable battery life, characteristics that put it ahead of some of its PC rivals. Zoom out and it's hard to see where this model fits within Apple's portfolio. The most direct rival to this entry-level Pro isn't the more premium versions, but rather, the MacBook Air. Not only does the Air have a lower starting price, but it has a larger display, a better webcam, quad speakers, more interesting color options, a slimmer chassis, and the benefit of a traditional shortcut row.
This would be the perfect device for someone like me — if it weren't for the new MacBook Air. This new MacBook Air, also powered by the M2, is coming very soon. It will be, as far as I can tell from Apple's website, the same price as the M2 MacBook Pro for the same specs in most cases (they level out at the $1,499 mark). But, unlike the MacBook Pro, the M2 MacBook Air did get a big redesign, and it includes all kinds of new features -- including new colors, a larger display, a 1080p webcam, and, especially, MagSafe -- that this device doesn't have.
Chin shared several benchmarks comparing the new 13-inch MacBook Pro with the previous model powered by the M1 chip. Geekbench 5 results confirm the new 13-inch MacBook Pro has
up to 18–20% faster multi-core performance
than the previous model.
TheStreet's Jacob Krol said the new 13-inch MacBook Pro delivers even more impressive battery life compared to the previous model:
Notably, our battery test beat the promised 20 hours of video playback that Apple was promising. In our testing, the 13-inch MacBook Pro lasted for 23 hours and 15 minutes with a 4K playback test. I also set the brightness to 50% and turned off connectivity during the playback. It's quite impressive, and in day-to-day use, it's tough to make the MacBook Pro die. I could easily have the 13-inch MacBook Pro last over a full day of use, coming in around 18 hours of full use, and the laptop can sit in standby mode for several days.
See more in our dedicated review roundup.
Design
The M2 MacBook Pro continues to feature the same design that Apple has been using for years now with a uniform rectangular shape, aluminum body, and slim bezels around the display. The MacBook Pro models come in silver and space gray.


There's a large trackpad, thin hinge, Touch Bar, Apple logo at the back, two USB-C ports and a headphone jack on the side, and speaker grilles on either side of the keyboard. The MacBook Pro measures in at 11.97 inches (30.41 cm) long, 8.36 inches (21.24 cm) wide, and 0.61 inches (1.56 cm) thick. It weighs three pounds (1.4 kg) and is 0.3 pounds (0.16 kg) heavier than the MacBook Air.

Active Cooling
Inside, there's an active cooling process that's meant to keep the MacBook Pro cooler while the M2 chip is in operation for faster performance.

Display
The 13-inch MacBook Pro models feature a Retina display with 500 nits of brightness, P3 Wide color support, and True Tone functionality. The display has a resolution of 2560 by 1600 resolution at 227 pixels per inch.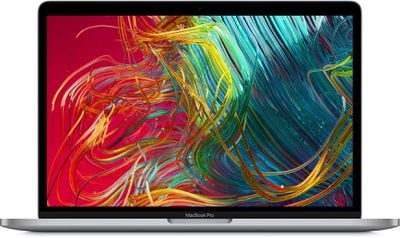 The True Tone feature uses a multi-channel ambient light sensor that's included in the new MacBook Pro models, which is able to determine both the brightness of the room and the color temperature. After detecting the white balance, the MacBook Pro is able to adjust both the color and intensity of the display to match the room's lighting for a more natural, paper-like viewing experience that also cuts down on eyestrain.
P3 Wide color support features a greater color range than standard sRBG displays for more vivid and realistic colors.
Keyboard
The MacBook Pro uses the same redesigned Magic Keyboard that was first introduced in the 16-inch MacBook Pro. The Magic Keyboard does away with the butterfly mechanism that Apple had been using since 2015 as it was riddled with issues that led to key failure due to dust and other small particulates.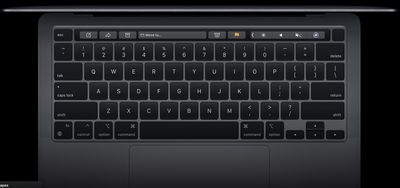 The scissor mechanism in the MacBook Pro's keyboard offers 1mm of key travel and a stable key feel, plus it uses an Apple-designed rubber dome that stores more potential energy for a more responsive key press.
The keyboard also features backlit keys controlled by an ambient light sensor to light up the keys in dark rooms.
Touch Bar and Touch ID
The 13-inch MacBook Pro is the only model that still has a Touch Bar, which has been removed from other MacBook Pro machines. The Touch Bar is a small OLED retina multi-touch display built into the keyboard where the function keys traditionally go. It is contextual and can perform a range of different functions on the Mac depending on which app is in use.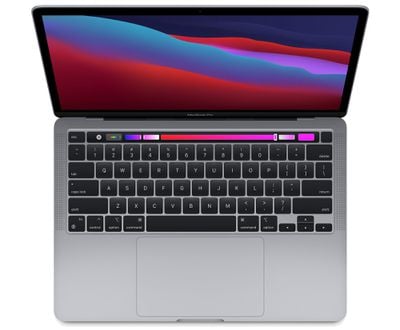 The Touch Bar is a matte-style display that blends right in with the rest of the keys on the keyboard, and in all modern MacBook Pro machines, it supports True Tone, allowing the white balance to be adjusted to match the ambient lighting conditions.
Interacting with the Touch Bar is done through taps, swipes, and other multi-touch gestures, with support for up to 10 fingers at a time available.
The 13-inch MacBook Pro models also have a Touch ID fingerprint sensor that's located next to the Touch Bar above the keyboard. Touch ID is protected by a Secure Enclave that keeps your fingerprint data and personal information safe.
Touch ID on the MacBook Pro can be used instead of a password, unlocking the Mac when a finger is placed on the sensor. It also replaces a password for password-protected apps, and it can be used to make Apple Pay purchases in Safari.
Trackpad
The MacBook Pro has a large Force Touch trackpad that has no traditional buttons and is instead powered by a set of Force Sensors, allowing users to press anywhere on the trackpad to get the same response.
A Taptic Engine powered by magnets provides users with tactile feedback when using the trackpad, replacing the feel of a physical button press. The Force Touch trackpad supports a light press, which is used as a regular click, along with a deeper press or "force click" as a separate gesture that does things like offer up definitions for a highlighted word.
Ports
The M2 MacBook Pro features two USB-C ports with support for USB 4 and Thunderbolt 3 for Thunderbolt transfer speeds of up to 40Gb/s and USB transfer speeds of up to 10Gb/s. With Thunderbolt 3, the MacBook Pro models can support a single 6K display at 60Hz.

Apple says that the M2 MacBook Pro is limited to one display up to 6K resolution, but using DisplayPort adapters, M1 and M2 MacBook Air and MacBook Pro models can run up to five external displays. This is only possible when using a mix of 4K and 1080p displays as the Thunderbolt ports do not have the bandwidth to run five 4K displays.
M2 Apple Silicon Chip
Apple added the M2 chip to the MacBook Pro, marking the debut of the successor to the M1, the first Apple silicon chip that came out in November 2020. The M2 features an 8-core CPU, much like the M1, but it supports nine or 10 GPU cores, up from seven or eight in the prior-generation version.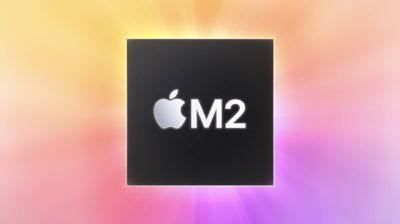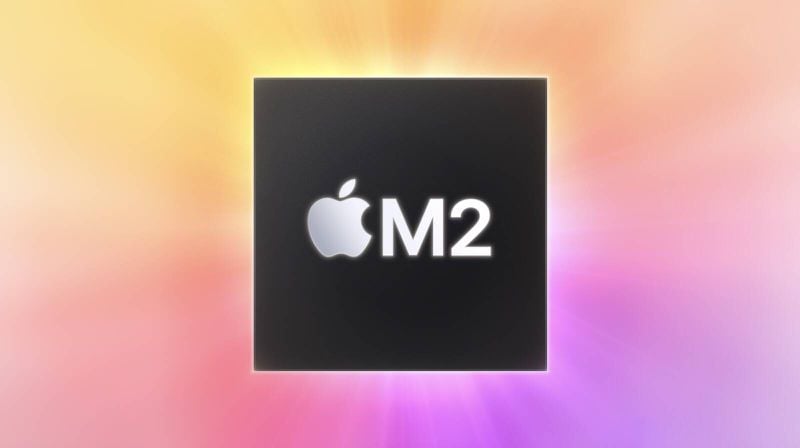 Apple says that the M2 chip is built using next-generation 5-nanometer technology, with better performance per watt. It consists of 20 billion transistors, 25 percent more than the M1, adding more memory bandwidth at 100GB/s.
The M2 chip is 1.4x faster than the M1, and it features an 18 percent faster CPU, a 35 percent more powerful GPU, and a 40 percent faster Neural Engine.
Geekbench benchmarks have confirmed that the M2 chip is up to 20 percent faster than the M1 chip when it comes to multi-core performance.
The M2 which runs at 3.49GHz compared to 3.2GHz for the M1 earned a single-core score of 1919, which is roughly 12 percent faster than the 1707 single-core score of the M1 13-inch MacBook Pro. The M2 earned a multi-core score of 8928, up about 20 percent from the 7419 score of the M1 model.
As for the Metal benchmark, the ‌M2‌ chip scored 30627, a notable improvement over the 21001 score earned by the M1. The M2 chip offers up to a 10-core GPU, compared to the 8-core maximum of the M1.
Memory and Storage
The M2 13-inch MacBook Pro supports up to 24GB Unified Memory and up to 2TB of SSD storage. The base model ships with 8GB Memory and 256GB storage.
Battery Life
With the efficiency improvements introduced with the M2, the MacBook Pro has impressive battery life, similar to the M1 MacBook Pro.
There's a 58.2WHr battery in the M2 MacBook Pro models that lasts for up to 17 hours when browsing the web and up to 20 hours when watching movies in the Apple TV app.
Other Features
Memory
Base M2 models come with 8GB RAM, which can be customized up to 24GB.
SSD
With the SSD controller integrated into the M2 chip, the SSD in the MacBook Pro supports sequential read speeds of up to 3.3GB/s. M2 MacBook Pro models can be equipped with up to 2TB SSDs, with storage starting at 256GB.
Connectivity
The M2 MacBook Pro supports 802.11ax WiFi, which is known as Wi-Fi 6, the newest WiFi protocol that's faster and more efficient than the prior-generation 802.11ac WiFi with up to 1.2Gb/s throughput. It also supports Bluetooth 5.0.
FaceTime Camera and Mics
There's a 720p HD camera built into the front of the MacBook Pro for FaceTime calls. Apple has used a 720p front-facing camera for multiple years now and has not upgraded the quality, but the M2 chip's image signal processor allows for clearer, sharper images.

The MacBook Pro also features studio-quality mics for clear sound on FaceTime calls.
Available Models
There are two standard configuration 13-inch MacBook Pro models available from Apple:
$1,299 - Apple M2 chip, 8GB RAM, 256GB SSD.
$1,499 - Apple M2 chip, 8GB RAM, 512GB SSD.
Build to Order Options
Entry-level 13-inch MacBook Pro with 256GB storage:
16GB RAM - +$200
24GB RAM - +$400
512GB SSD - +$200
1TB SSD - +$400
2TB SSD - +$800
Entry-level 13-inch MacBook Pro with 512GB storage:
16GB RAM - +$200
24GB RAM - +$400
1TB SSD - +$200
2TB SSD - +$600
Apple Silicon Mac How Tos
Since the Apple silicon Macs are using a new type of chip designed by Apple, there are some tips and tricks for doing things like transferring files, entering recovery mode, and finding apps optimized for the new machines. We have several Apple silicon-specific how tos that are worth checking out.
14- and 16-inch MacBook Pro Models
The 13-inch MacBook Pro is an entry-level model sold alongside higher-end 14- and 16-inch MacBook Pro models that are equipped with 10-Core M2 Pro and M2 Max chips that are equipped with 19 and 38 graphics cores, respectively.
Priced starting at $1,999, the 14- and 16-inch MacBook Pro models feature a mini-LED display with a notch, much faster performance, a MagSafe port for faster charging, HDMI and SDXC card slot, and more. The 14- and 16-inch MacBook Pro models are aimed at professionals who need more power, and more information about the machines can be found in our roundup.
What's Next for the 13-Inch MacBook Pro
There were rumors that the 13-inch MacBook Pro could see an update as soon as October 2023, but it turns out it won't be ready to launch until 2024.
The next 13-inch MacBook Pro will feature an M3 chip. The M3 chip from Apple will be built on the newer, more efficient 3-nanometer process.