watchOS 9
The latest version of the watchOS operating system, coming this fall.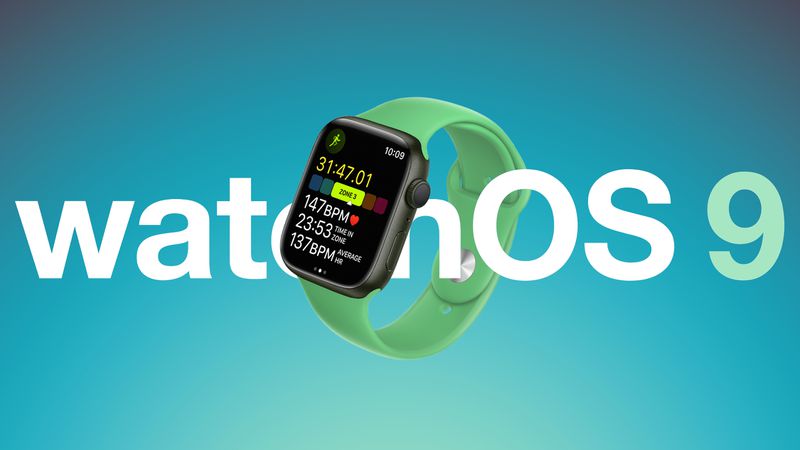 watchOS 9
watchOS 9 is the current version of the watchOS operating system that runs on the Apple Watch, replacing watchOS 8 upon its release in September 2022. watchOS 9 was previewed at the 2022 Worldwide Developers Conference in June.
The watchOS 9 update features design improvements, new watch faces, and new apps, with a particular focus on updated health and fitness capabilities.
There are four new watch faces that are available. Lunar depicts the relationship between the Gregorian calendar and various lunar calendars, while Playtime features fun, animated and personified numbers created in collaboration with artist Joi Fulton. Metropolitan is a classic type-driven watch face with a style that changes as the digital crown is turned, and Astronomy is a revamped version of the original astronomy watch face with a remastered design and new star map and cloud data.
Several existing watch faces have design updates as well. Utility, Simple, and Activity Analog have enhanced and modernized complications available, and Modular and X-Large feature background color editing. The Portraits watch face adds depth effect to more photos, including cats, dogs, and landscapes, and the Focus mode feature can now be associated with a specific watch face, so if you're in a "work" mode, you can set it to a watch face different from what it might be in "personal" Focus mode.
Sleep tracking in watchOS 9 now includes sleep stages, allowing users to detect when users are in REM, Core, or Deep sleep. Sleep stage data is available in the Sleep app and can be viewed in more detail in the Health app on iPhone.
A new Medications app on the Apple Watch is designed to help users manage and track their medications, vitamins, and supplements. The app keeps a list of medications, sends reminders when it's time to take them, and watches out for any drug interactions (U.S. only). Data is synced to the Health app on iPhone, where users can get more information on their medications.
The Workout app has been updated to use the Digital Crown to swap between Workout Views, and there is a new option to create custom workouts that can include work and rest intervals. Heart Rate Zones can be created to monitor the intensity of a workout, and there are new alerts for pace, power, heart rate, and cadence that can guide users through workouts. Swimmers have access to a new automatic kickboard detection stroke type, and efficiency can be tracked with a SWOLF score that combines stroke count with the time it takes to swim the length of the pool.
For triathletes, there's a new Multisport workout type that can swap between swimming, biking, and running workouts, and for runners, the Fitness app offers more data. Runners can track Stride Length, Ground Contact Time, and Vertical Oscillation, plus there are options to race against the best or last result on frequently used routes.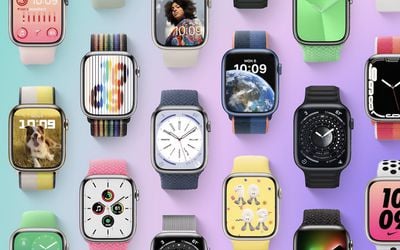 Apple has also added a new pacer experience so runners can choose a distance and goal time in which they want to complete a run, with the Watch calculating the pace required. For all users, Cardio Recovery estimates are now provided after an Outdoor Walk, Run, or Hiking workout even when the workout does not hit peak intensity.
Fitness+ workouts in watchOS display on-screen guidance in addition to trainer coaching to help users get more out of HIIT, Cycling, Rowing, and Treadmill workouts. Fitness+ users who don't have an Apple TV can use AirPlay to stream workouts and meditations to compatible third-party TVs for use without an Apple TV.
The ECG app's atrial fibrillation (AFib) warnings have been updated, with Apple adding a new AFib History feature. Patients with AFib can turn on AFib History to track AFib frequency for deeper insight into their heart condition that can also be shared with medical professionals.
In the Reminders app, there's an option for editing key details like date, time, location, tags, and notes. The Calendar app allows users to create new events directly from the Apple Watch, and it provides access to List, Day, and Month views.
Apple redesigned notifications on the Apple Watch to feature slimline banners that are less interruptive when the watch is in active use, and Family Setup now supports the Home app so kids can control smart home accessories from their wrists. Quick Actions on the Apple Watch allow users to do more with a double-pinch gesture, including answering/ending phone calls, playing/pausing media, and starting or pausing a workout.
An Apple Watch Mirroring accessibility feature helps users control their Apple Watch remotely from a paired iPhone using AirPlay, and the QWERTY keyboard on the Series 7 now supports additional languages including French, German, Japanese, Italian, Portuguese, and Spanish.
Developers have access to a new CallKit API to allow calls from third-party VOIP apps to be answered on Apple Watch, and developers can now build share sheet support into their apps and integrate watchOS apps with the Apple TV.
Note: See an error in this roundup or want to offer feedback? Send us an email here.
Current Version
The current version of watchOS 9 is watchOS 9.6, which was released in July. watchOS 9.5.1 is a security update that addresses several vulnerabilities, and it does not appear to include any new features.
New Watch Faces
Lunar
The Lunar watch face depicts the relationship between the Gregorian calendar and the lunar calendars that are used in cultures that include Chinese, Islamic, and Hebrew. You can use up to four complications with this watch face.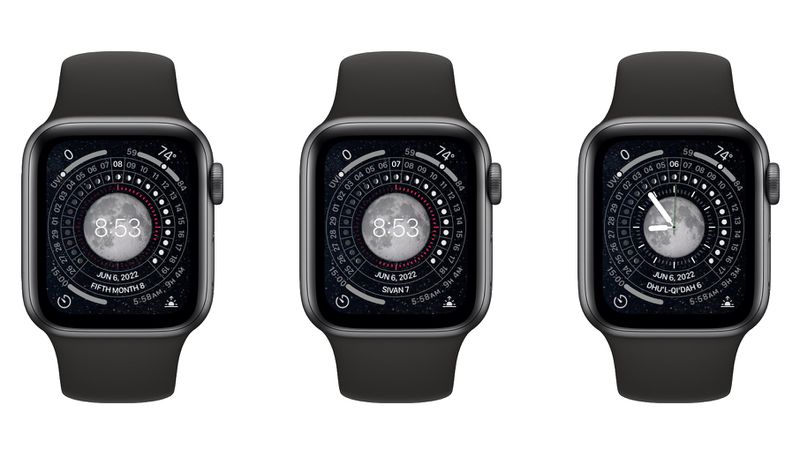 Playtime
Playtime is a fun, dynamic Apple Watch face featuring animated numbers, with the face designed in collaboration with artist Joi Fulton. Rotating the Digital Crown changes the background by animating the confetti, and the characters react if you tap on them. You can choose to have a confetti background or a solid background, but there are no complications.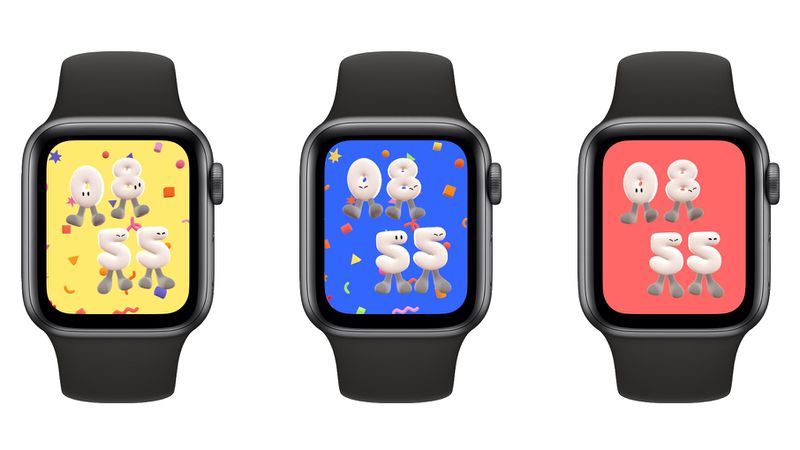 Metropolitan
Metropolitan is a classic Apple Watch face that changes style when the Digital Crown is turned. Custom-designed numbers change in style and weight, and rotate to become pills when the wrist is down. Up to four complications can be added with the circular dial, and the colors are customizable.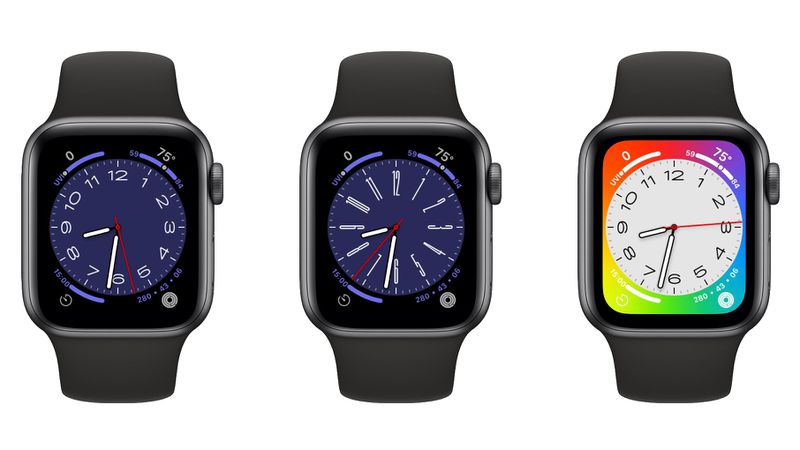 Astronomy
Astronomy is actually a revamped version of the original Astronomy watch face, but it has been remastered and includes a new star map and current cloud data based on your location. You can set the Earth, Moon, or Solar System as the main view, and customize font. It supports two complications, and turning the Digital Crown lets you fast forward or rewind to see the moon phase/planet location on another day.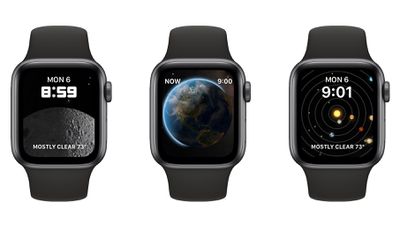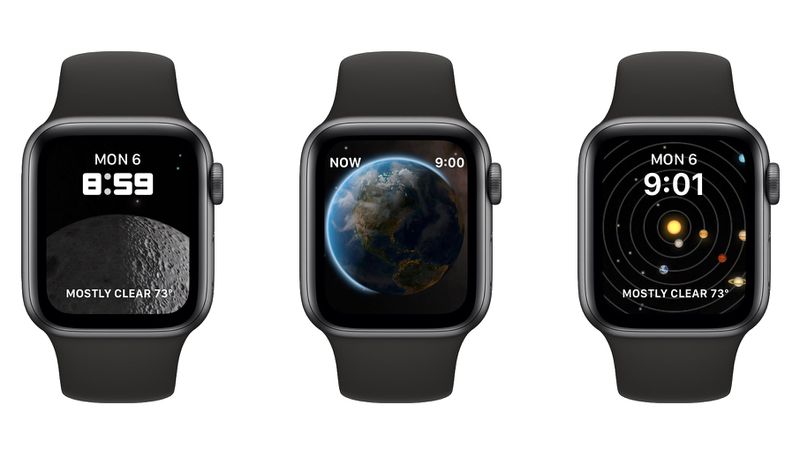 Watch Face Improvements
Utility - New, updated complications.
Simple - New, updated complications.
Activity Analog - New, updated complications.
Modular - Background color editing.
X-Large - Background color editing.
Portraits - The Portraits watch face adds depth effect to more photos, including cats, dogs, and landscapes.
Sleep Tracking
Apple enhanced the built-in Sleep app on the Apple Watch in a big way in watchOS 9, introducing Sleep Stages. With Sleep Stages, the Apple Watch is able to tell you how much time you spent in REM, Core, or Deep sleep during the night, along with the amount of time that you were awake.

The Health app includes sleep comparison charts that show heart rate and respiratory rate so you can see how you're doing through the night.
Medications App
There's a new Medications app on the Apple Watch, and it works alongside a Medications feature in the Health app on iPhone. On the iPhone, you can add all of the medications, vitamins, and supplements that you take, along with a schedule of when you need to take them.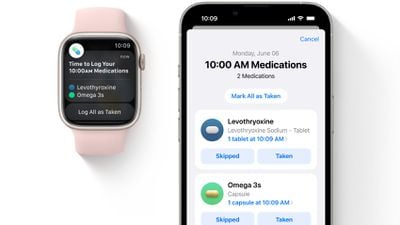 From there, you can get reminders to take your medications on your Apple Watch, and you can mark when you've taken them to keep a record of your habits.
Workout App Updates
If you turn the Digital Crown while doing a workout in watchOS 9, you can see new views of metrics that include Activity rings, Heart Rate Zones, Power, and Elevation depending on which workout you're doing.
Heart Rate Zones allow you to get an idea of your intensity level at a glance. As you progress through your workout, you can move through different zones depending on your heart rate. The Apple Watch automatically calculates training zones using your personalized health data, but you can also create zones manually.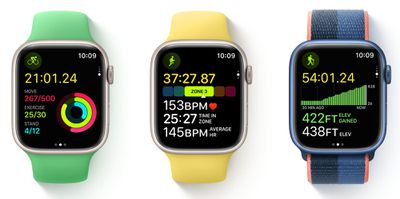 Workouts can be customized with different work and recovery intervals for different training styles, with the Apple Watch sending alerts for pace, heart rate, cadence, and power so you can track whatever metric you need.
For running workouts, Apple will provide feedback to let you know if you're on pace to meet your goal, and there are also new Running Form Metrics that include stride length, ground contact time, and vertical oscillation, all of which are designed to help you understand how efficiently you run.
The Apple Watch can also calculate Running Power, which is a measure of your effort while running, and there's an enhanced Workout summary for workouts like outdoor running.

With Outdoor Run or Cycle workouts, you can now opt to race against your last or best result, and there are new multisport modes for triathletes. The Pool Swim workouts function supports Kickboard as a new stroke type, and swimmers can track their SWOLF score for each set to measure efficiency.
Fitness+
Apple Fitness+ subscribers who use AirPlay to watch their workouts can now see their real-time metrics on compatible third-party television sets.

The service has also been updated with a new trainer callouts feature. Apple Fitness+ instructors will call out Intensity Metrics and they will appear on the screen for motivation. Intensities include Easy, Moderate, Hard, and All Out.
Trainers also now offer more assistance with rowing, cycling, and treadmill workouts to help users adjust their pace and get the most out of their workouts.
ECG Improvements
The ECG app on the Apple Watch is able to detect atrial fibrillation (AFib), an irregular heart rhythm that can be indicative of serious health issues.

For those who have been diagnosed with atrial fibrillation, Apple has added a new AFib History option that can track it. With AFib History, you can see an estimate of how frequently your heart has arrhythmia, and you can see how factors like sleep, exercise, and weight can affect AFib.
Other New Features
Focus - Focus modes can now be set to different watch faces so you can have a separate watch face for each Focus.
Calendar - Events can be created directly from the Apple Watch, and it's also easy to navigate to specific days or weeks.
Dock - Apps running in the background are prioritized over the other apps in the Dock so it's easier to get back to them.
Notifications - When the Apple Watch is in active use, notifications show up as unobtrusive banners. They're standard full-screen notifications when the wrist is down and the Apple Watch is not activated.
Family Setup - Kids who have their parents set up an Apple Watch can now access the Podcasts app, the Home app, and various digital keys stored in the Wallet app.
Quick Actions - With Quick Actions, you can use a double-pinch gesture to do things like start a workout or take a photo depending on the app you're using.
CallKit - Third-party VOIP apps can now allow calls to be answered on Apple Watch.
Apple Watch Mirroring - The Apple Watch Mirroring accessibility feature is designed to allow the Apple Watch to be controlled via the iPhone using AirPlay. It allows for assistive features like Switch Control and Voice Control.
Maximum Battery Capacity Recalibration - With watchOS 9, Apple is adding a new recalibration feature for the Apple Watch Series 4 and Apple Watch Series 5, according to the watchOS 9 release notes. The recalibration will result in a more accurate estimate for maximum battery capacity.
Compatibility
watchOS 9 works with the Apple Watch Series 4 and later, and it drops support for the Apple Watch Series 3. A full list of compatible devices is below.
Apple Watch Series 4
Apple Watch Series 5
Apple Watch SE (first-generation)
Apple Watch Series 6
Apple Watch Series 7
Apple Watch SE (second-generation)
Apple Watch Series 8
Apple Watch Ultra