HomePod 2 Could Feature All-New Touch Interactions
Apple is reportedly considering adding multi-touch functionality to a new version of the HomePod set to launch as soon as next year, hinting at all-new ways to interact with the device.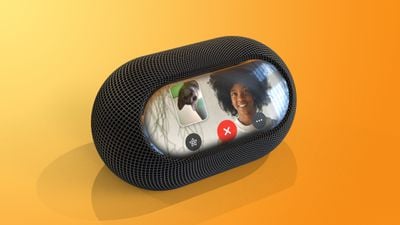 In a recent newsletter, Bloomberg's Mark Gurman explained that Apple is likely to release a successor to the original ‌HomePod‌ next year that could feature multi-touch functionality:
The HomePod, code-named B620, will run the same S8 chip coming to the watches and will be closer to the original HomePod in terms of size and audio performance rather than a new HomePod mini. The new HomePod will have an updated display on top and there's even been some talk of multi-touch functionality.
The report comes after Apple analyst Ming-Chi Kuo said that Apple is planning to release "a new version" of the HomePod. He warned that "there may not be much innovation in hardware design" with the new ‌HomePod‌ and "Apple is still figuring out how to succeed in this market."
Apple discontinued the original HomePod last year, partly due to lackluster sales, and said it was focusing on the HomePod mini going forward. Gurman previously said that Apple was considering a new version of the HomePod that would be sized between the original ‌HomePod‌ and the ‌HomePod mini‌, so it seems possible that this is the new smart speaker that Kuo and Gurman are now anticipating.
Such a device could replace the now-discontinued ‌HomePod‌, and it would likely be more expensive than the ‌HomePod mini‌ but less expensive than the larger ‌HomePod‌. The ‌HomePod‌ originally debuted for $349, before Apple reduced it to $299 just over a year later, but a lower price for a new ‌HomePod‌ could make sense given the difficulties caused by its predecessor's high price point compared to equivalent smart speakers from Google and Amazon.
Multi-touch functionality indicates that the ‌HomePod‌ may feature a full touch screen, rather than the comparatively simple LED array that previous ‌HomePod‌ models have offered, which only allow users to play, pause, activate Siri, or change the playback volume. This could enable whole new ways to interact with the ‌HomePod‌ with touch, such as skipping tracks, selecting music, setting timers, and more. Such a display could be accommodated by the S8 chip, which would be the most powerful chip to come to a ‌HomePod‌ model to date and put it on par with the Apple Watch Series 8.
Multi-touch could also let the new ‌HomePod‌ set the groundwork for a host of new Apple smart home devices. In the long term, Apple is believed to be rethinking its smart home strategy and is reportedly working on a combined Apple TV and HomePod device, as well as a HomePod with a screen mounted on a robotic arm. The ‌HomePod‌ already runs a variant of tvOS, and there are indications that Apple is working on a new "homeOS" platform.
Kuo believes that the device could launch as soon as fourth quarter of 2022 or the first quarter of 2023, while Gurman says that the new ‌HomePod‌ is "unlikely to arrive until next year."