In late January 2023, Apple released a HomePod 16.3 software update that adds humidity and temperature sensing to the second-generation HomePod and all HomePod mini models. This article explains how the features work and what you can do with them.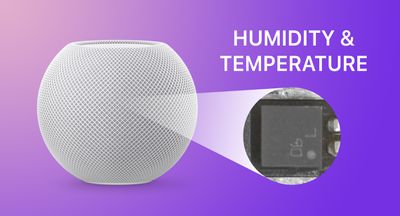 Apple's new second-generation ‌HomePod‌ features temperature and humidity sensors that can be used to measure the indoor climate. But that's not all. The new 16.3 ‌HomePod‌ software allows you to run automations based on these measurements.
What's more, the existing ‌HomePod mini‌ has a dormant temperature and humidity sensor that Apple activated with the 16.3 update, allowing the same temperature and humidity settings to be used for home automation and device activation purposes. (Sadly, that is not the case for the first-generation ‌HomePod‌.)
Below, we show you how the temperature and humidity sensor information appears in the Home app, and how you can add automations. In our example, after having installed the 16.3 software on a ‌HomePod mini‌, we run through the steps needed to activate a thermostat to heat a room whenever it falls below 66.2 degrees Fahrenheit (19 degrees Celsius).
Open the Home app and select the room where the ‌HomePod mini‌ or second-generation ‌HomePod‌ is located.
After a short calibration phase on first use, the readouts at the top of the room menu provide live climate measurements. We're going to tap the Temperature readout.
Tap the Temperature Sensor button in the pop-up menu to access the settings card.
Tap Add Automation.


Using the dial, choose a temperature level that activates the automation using the Rises Above and Drops Below options.
Use the Time setting to choose from Any time, During the day, At night, or Specific times.
Use the People setting to choose whether this automation should run based on When I am home or When I am not home. You can also turn this setting off.
Tap Next, then select the accessory that you want to use with this automation. Here we're selecting Thermostat.


Tap Next, then give your automation a name at the top of the menu and set your accessory to perform an action. Here, we're setting the thermostat to heat the kitchen to 71.6 degrees Fahrenheit, or 22 degrees Celsius.
Tap Done, then tap the X to close the Temperature Sensor settings card.

Our automation is now ready to activate the thermostat to heat the room whenever the temperature drops below the specified measurement. To complement the automation, we could create an additional one that turns off the thermostat when the room reaches a certain temperature.
This is just one example of some of the new features available with the ‌HomePod‌ 16.3 software update. The update also brings users the ability to add remastered ambient sounds to scenes, automations, and alarms, as well as the ability to use Siri to set recurring automations and find people who are in your Find My contacts.