Apple's HomePod to Finally Return This Year
Apple's HomePod may make an unexpected return later this year, according to reputable Apple analyst Ming-Chi Kuo.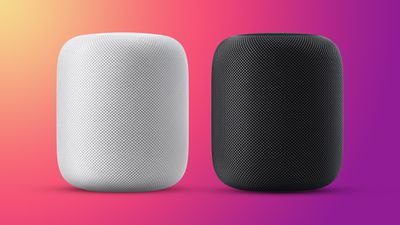 Kuo recently said that Apple is planning to release "a new version" of the ‌HomePod‌. He warned that "there may not be much innovation in hardware design" with the new ‌HomePod‌ and "Apple is still figuring out how to succeed in this market."
The news is fairly unexpected given that Apple discontinued the HomePod last year, partly due to lackluster sales, and said it was focusing on the HomePod mini going forward.
There is no word on what size the new ‌HomePod‌ will be and if it will be a ‌HomePod mini‌ successor or a larger speaker. Bloomberg's Mark Gurman previously said that Apple was considering a new version of the HomePod that would be sized between the original ‌HomePod‌ and the ‌HomePod mini‌, so it seems possible that this is the speaker that Kuo discussed.
Such a speaker could replace the now-discontinued ‌HomePod‌, and it would likely be more expensive than the ‌HomePod mini‌ but less expensive than the larger ‌HomePod‌. The ‌HomePod‌ originally debuted for $349, before Apple reduced it to $299 just over a year later, but a lower price for a new ‌HomePod‌ could make sense given the difficulties caused by its predecessor's high price point compared to equivalent smart speakers from Google and Amazon.
In 2021, Gurman reported that Apple had shelved its plans for a direct successor to the HomePod that was originally scheduled to launch in 2022, five years after its original announcement. While it is unclear what features or changes were due to come to this ‌HomePod‌ model, it is highly likely that it would have, at minimum, had ‌HomePod mini‌ features like an U1 ultra-wideband chip, a newer processor, and possibly a different top display.
Regardless of the lack of clarity around exactly which kind of new ‌HomePod‌ model is now in the works, Kuo believes that the device could launch as soon as fourth quarter of 2022 or the first quarter of 2023.
In the long term, Apple is believed to be rethinking its smart home strategy and is reportedly working on a combined Apple TV and HomePod device, as well as a HomePod with a screen mounted on a robotic arm.