Apple Considered Updating Original HomePod With Improved Processor Before Deciding to Discontinue It
Before deciding to discontinue the original HomePod, Apple had internally deliberated updating it to feature an improved processor, a move the tech giant may have seen as a last-ditch attempt to reignite demand for its smart speaker.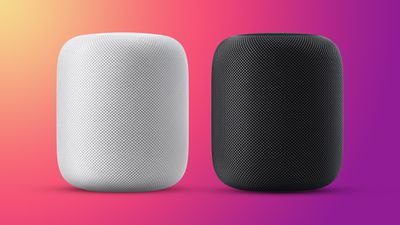 In a tidbit in his latest newsletter, Bloomberg journalist Mark Gurman says that before discontinuing the HomePod, Apple "had internally discussed making a new version with upgraded components." Gurman writes that the now-discontinued ‌HomePod‌ featured an A8 chip, the same chip introduced with the iPhone 6 and ‌iPhone‌ 6 Plus in 2014, implying that Apple had considered upgrading the chip to a more recent, more powerful processor.

Before discontinuing the original HomePod, I heard Apple had internally discussed making a new version with upgraded components. The processor in the original HomePod is an A8, which first hit the market seven years ago.
The A8 chip inside of the ‌HomePod‌ powers several features, including real-time analysis of music, spatial awareness, and more. Apple may have felt that an improved processor could have revitalized the ‌HomePod‌, which ever since its reveal at the Worldwide Developer's Conference in 2017, failed to hit mainstream adoption.
Apple had marketed features of the ‌HomePod‌, such as its spatial awareness and advanced audio technology, to the masses. Apple, however, struggled to market the ‌HomePod‌ in a way that appealed to the larger market, especially when other competitors, such as Amazon and Google, offered similar smart speakers at lower price points and tighter integration with third-party services. Apple's ‌HomePod‌ originally retailed for $349 but was later reduced to $299.
Apple followed up the full-sized ‌HomePod‌ with the HomePod mini this past fall. Compared to the original ‌HomePod‌, the ‌HomePod mini‌ features a much smaller form factor and retails at just $99. Additionally, Apple has slowly opened up the ‌HomePod‌ to third-party music services, such as Pandora and Deezer.
Bloomberg has previously reported that Apple is exploring a new kind of HomePod with built-in cameras, a screen, and an Apple TV. Although as previously reported and further reiterated today by ‌Mark Gurman‌, the original ‌HomePod‌ design will not be making a comeback.