Apple No Longer Planning to Launch New HomePod in 2022
Apple was planning to launch an updated HomePod in 2022, prior to discontinuing the original HomePod, according to reliable Bloomberg journalist Mark Gurman.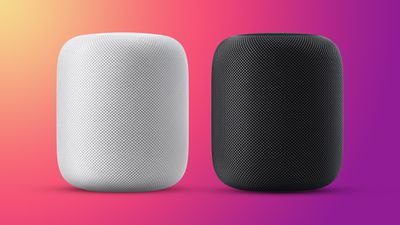 The original ‌HomePod‌ was announced in 2017, representing Apple's first foray into the competitive smart speaker market. The ‌HomePod‌ was never replaced with an updated model, despite the HomePod mini launching with new ultra-wideband features and an improved top display.
According to Gurman, Apple was planning to release an updated version of the ‌HomePod‌ in 2022, five years after its original announcement:
Before the discontinuation of the larger HomePod, the company had been working on an updated version for release in 2022.
While it is unclear what features or changes were coming to the now-scrapped 2022 ‌HomePod‌, it is highly likely that it would have, at minimum, had ‌HomePod mini‌ features like an U1 ultra-wideband chip, a newer processor, and possibly a larger top display.
Apple hoped that the ‌‌HomePod‌‌'s high-quality sound would give it an edge over competing products, but sales of the ‌‌HomePod‌‌ have always been lackluster with so many other affordable options on the market. Apple was selling the ‌‌HomePod‌‌ for $299, but it was originally priced at $350 before a $50 price drop. The ‌‌HomePod mini‌‌ is available for $99, which is far more competitive against equivalent smart speakers from Google and Amazon.


Gurman said that Apple still lacks a "unifying strategy" for the smart home market, with some people within the company apparently blaming the lack of progress on Siri's shortcomings compared to Google Assistant and Alexa.
Going forward, Apple said in a statement that it is focusing on the HomePod mini. The ‌‌HomePod mini‌‌ offers all of the features of the ‌‌HomePod‌‌ in a smaller and less expensive package. Many reviews praised the ‌HomePod mini‌ for its sound quality relative to its size, and while it does not quite match the sound available from the ‌‌HomePod‌‌, it features the same ‌Siri‌ integration, Apple Music support, and HomeKit controls.
Gurman also revealed that following the demise of the ‌HomePod‌, Apple is working on "new speakers with screens and cameras," a claim that has seemingly been supported by new FaceTime and iMessage frameworks and a new AVFCapture framework being added to the HomePod's software, so we may still see a brand new larger-sized ‌HomePod‌ be released at some time in the future.