New Mid-Range HomePod Could Be on the Way
After the success of the HomePod mini, Apple is reportedly mulling over offering a new, mid-range HomePod model that would sit between the original ‌HomePod‌ and the ‌HomePod mini‌.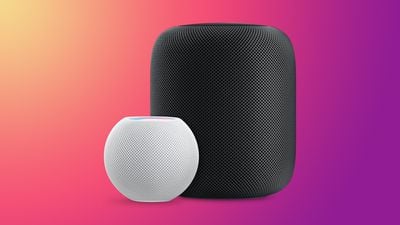 Apple currently offers two ‌HomePod‌ models. One is the $299 ‌HomePod‌, with seven tweeters, a four-inch woofer, six microphones, and the iPhone 6's A8 chip. The other is the $99 ‌HomePod mini‌, which features a single full-range driver, dual passive radiators, four microphones, and the Apple Watch Series 5's S5 chip.
According to Bloomberg's Mark Gurman and Debby Wu, Apple may choose to offer a third ‌HomePod‌ model to sit in the middle of both of the existing offerings:
Apple has also internally weighed a new ‌HomePod‌ that sits in size, price, and sound quality between the original $299 ‌HomePod‌ and the $99 ‌HomePod mini‌. It's unclear if Apple will ultimately launch that product or just further cut the price of the higher-end version.
Apple slashed the price of the original ‌HomePod‌ from $349 to $299 less than two years after its 2017 launch, so another price drop to bring the larger smart speaker into the mid-range is not inconceivable.
However, the original ‌HomePod‌ is getting on to be four years old. The recently released ‌HomePod mini‌ illustrates the age of the original ‌HomePod‌ by adopting new technologies such as a custom acoustic waveguide, an upgraded top display, and an ultra-wideband U1 chip. It is difficult to see how Apple can continue selling a high-end ‌HomePod‌ that lacks a number of features from the markedly cheaper ‌HomePod mini‌. Instead, it may make more sense for Apple to upgrade the original ‌HomePod‌ at its current price point to bring it up to date.
With a $200 price difference and significant disparity between the two existing ‌HomePod‌ models in terms of audio technologies, a third ‌HomePod‌ model has the range to set itself apart, with some of the higher-end audio hardware of the larger model in a smaller form factor.
Bloomberg's report appears to suggest that these internal discussions are still at an early stage, so it may yet be some time before we see a third ‌HomePod‌ model emerge, if at all.