The COVID-19 coronavirus outbreak has been spreading around the world since January, and so far, it has had a major impact on Apple's device production and device sales in affected countries like China, Italy, South Korea, the United States, and almost every other country.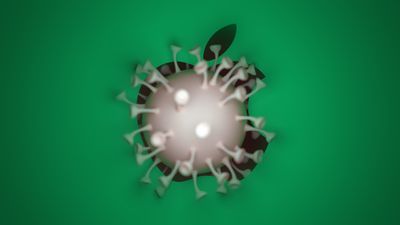 As the virus has continued to move through the United States and other countries, has led to some production and supply problems, and has caused WWDC to be held as a digital-only event for the first time. This guide covers everything that we know about COVID-19's impact on Apple.

Coronavirus Explained
SARS-CoV-2 is a virus in the coronavirus family that surfaced in Wuhan, China in December of 2019, and the illness that it causes is COVID-19. It is believed that the virus originated at a seafood market where exotic animal meats were sold, though Chinese scientists have suggested that it may have originated elsewhere and then spread in the market.
Genetically, SARS-CoV-2 has been found to have a similarity to coronaviruses in bats, which is the animal it may have originated from, though researchers believe a secondary animal such as a pangolin was involved in the transmission.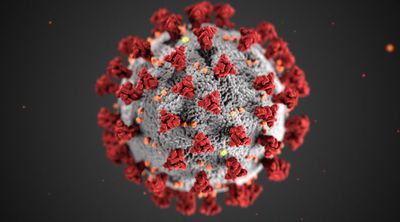 SARS-CoV-2 is known as a coronavirus because of its shape, which is circular with protruding club-shaped spike peplomars that look similar to the corona aura that surrounds the sun and other stars.
Coronaviruses cause respiratory tract infections, and while many coronaviruses in humans cause mild problems similar to a cold, rarer versions are more dangerous. Other examples of coronaviruses that have raised alarms in the past include SARS and MERS, both of which were deadlier than SARS-CoV-2, but not as widespread. Symptoms include fever, a dry cough, and shortness of breath.
Regardless of where SARS-CoV-2 came from, the virus has infected over 95,000 people and killed more than 3,000, primarily in China. It has spread to over 50 locations around the world, including the United States, and in the U.S. specifically, there have been cases of community transmission, where medical professionals are unsure of how the virus was contracted.
Many younger people who contract COVID-19 have recovered, but because this is a new virus, there are still many unknowns, and older people who are more prone to respiratory issues have not fared as well. There are also unknowns about the extent of the transmissibility of the virus, which has led to events worldwide being canceled as it spreads.
For those who want more information on the COVID-19 outbreak, the CDC's website is a good source, as is the World Health Organization.

Coronavirus Impact on Apple's Device Sales
When news of COVID-19 spread in late January and infection numbers began to rise, Apple shut down all retail stores, corporate offices, and contact centers in China for two or more weeks.


Many of the stores started reopening in late February, but there are still some store locations that remained closed into March, while other stores that reopened in February are operating on reduced hours. As of March 13, all stores in China had reopened.
Closing stores, operating on reduced hours, government-imposed travel bans and quarantines, and the public's fear over contracting coronavirus in public spaces led to less foot traffic in stores in China, which has significantly impacted Apple's sales in the country.
After closing stores in China, Apple elected to close all other retail stores in the United States and other countries on March 14, which has also had an impact on sales.
Apple started reopening stores with its sole location in South Korea, which reopened on April 18 on limited operating hours, and began opening up additional store locations in May. More than 300 Apple Stores worldwide have reopened with safety measures that include mandatory masks, limits on the number of people in the store, social distancing, fever checks, and more, but some stores began reclosing in the United States and other countries in June amid COVID-19 spikes.
Many retail locations that remain open are primarily open for repairs and online order pickups with Apple limiting in-store access in many locations.

Coronavirus Impact on Apple's Device Production
Many of Apple's suppliers in China were forced to shut down production for several weeks in early February, with the factory closures coming right after the Lunar New Year holiday. Main iPhone suppliers that include Foxconn and Pegatron were closed for quite some time because an outbreak of COVID-19 at a supplier campus where workers live in close quarters would be devastating.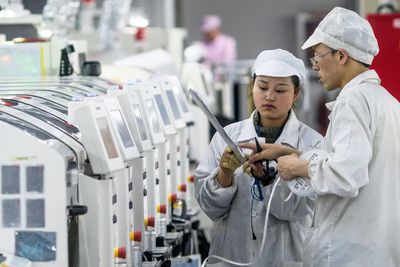 Apple's factories were up and running by mid to late February for the most part, but travel restrictions from heavily impacted areas in China, mandatory quarantines, and low labor return rates led to delays with factories ramping up to full production. Outbreaks in new countries like South Korea also led to some factory closures.
Supplier issues caused some Apple products to have long ship times, such as build-to-order versions of the iMac, ‌iMac‌ Pro, Mac Pro, and MacBook Pro, but as of May, Apple's suppliers are back up and running.
Analysts have lowered their estimated device shipments for the first half of 2020 due to the coronavirus, and the overall impact of the coronavirus throughout the rest of 2020 remains to be seen.
Apple implemented travel restrictions for its employees, and employees have not been able to travel to China to begin the preparation process that takes place ahead of when new flagship iPhones are manufactured. In February, Apple employees typically travel to China to perfect their manufacturing processes with partners like Foxconn, and delays ate into the time that Apple needs to finalize orders for chips and other ‌iPhone‌ components.
At this time, it's unclear if the COVID-19 outbreak is going to impact the launch of the ‌iPhone‌ 12, but most rumors indicate that Apple still plans to launch the new iPhones during the fall months. A recent report from Japanese site Nikkei says that Apple is considering pushing back the launch of its 2020 iPhones by several months, but a separate report from Bloomberg says that the ‌iPhone‌ 12 models are still on course for a fall launch, though the launches of the new devices could be staggered. Apple in 2018 released the ‌iPhone‌ XR later than the XS and XS Max, and we could see a similar situation in 2020.
Most rumors now suggest that Apple's iPhones will be delayed by about a month, so we could see launches in October or November instead of September.

Apple's Response to Coronavirus
Apple in January announced plans to donate to money to groups dedicated to fighting the COVID-19 outbreak in China, and later, Apple CEO Tim Cook said it would more than double the company's donation.
As mentioned before, Apple temporarily closed all corporate offices and retail stores in China in response to the virus. Corporate offices are now reopened, and stores are in the process of reopening. In the United States, Apple asked all of its corporate employees to work from home where possible, and it is providing unlimited sick leave to any employee infected with the coronavirus. Retail stores were closed for approximately two months, and as of June, Apple has begun allowing corporate employees to start to return to their offices.
According to Apple CEO ‌Tim Cook‌, Apple's chief concern is the health and safety of its employees, supply chain partners, customers, and communities in which it operates, with Apple prioritizing people over revenue.
Apple has worked with its suppliers to source more than 20 million N95 masks that have been distributed to healthcare workers in the United States, and millions more have been donated in Europe. Apple has also been manufacturing face shields for medical communities, and has donated millions of dollars to various charities.

March Revenue Cuts
Apple in mid-February announced that its financial guidance for the March quarter would fall short due to the COVID-19 outbreak. During the January earnings call, Apple said it expected to see revenue of $63 to $67 billion in the March quarter, but that wasn't a goal the company was able to meet. Apple ended up reporting revenue of $58.3 billion during the quarter.
Apple cited lower customer demand in China and constrained ‌iPhone‌ supplies worldwide as the factors leading to lower than expected revenue numbers.

Coronavirus and WWDC
Amid the public health crisis, many companies canceled or postponed major events that would see people gathering in large numbers Apple elected to hold its WWDC 2020 event in a digital-only capacity for the first time with no physical gathering. The online-only event took place in June, kicking off on June 22.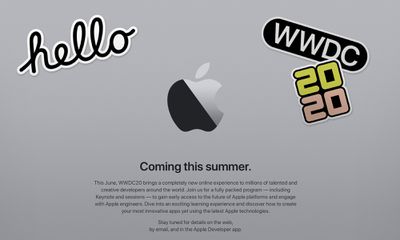 The online WWDC event was "packed with content" for consumers, press, and developers alike, with developers provided with early access to new software and the opportunity to engage with Apple engineers. WWDC was be free in 2020, so developers did not need to pay the $1,599 ticket price to attend virtually.
With no event happening in San Jose, Apple pledged to donate $1 million to local San Jose organizations to offset the associated revenue loss as a result of WWDC 2020's online format.

Exposure Notification APIs Developed With Google
Apple and Google worked together on an exposure notification API, which is designed to allow apps from public health authorities worldwide to figure out if they've been exposed to COVID-19, and if so, what steps to take next to minimize the spread of the virus.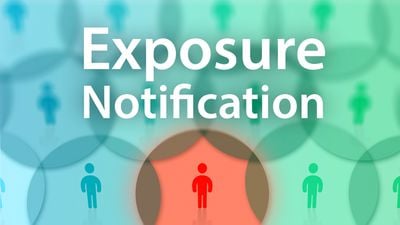 Google and Apple developed the backbone for the system, which relies on device-to-device Bluetooth communication to monitor who you've come into contact with, letting you know if that person later contracts COVID-19. Exposure Notification was added as an API in the iOS 13.5 release.
The underlying API will be used by official health apps and privacy is built in. It collects no geolocation information and data is kept on device unless consent is provided for it to be shared upon infection. Full details on the API can be found in our extensive Exposure Notification Guide.

Guide Feedback
Have questions about COVID-19's impact on Apple, know of something we left out, or want to offer feedback on this guide? Send us an email here.