Apple Reports 1Q 2020 Results: $22.2B Profit on $91.8B Revenue, Best Quarter Ever
Apple today announced financial results for its first fiscal quarter of 2020, which corresponds to the fourth calendar quarter of 2019.
For the quarter, Apple posted revenue of $91.8 billion and net quarterly profit of $22.2 billion, or $4.99 per diluted share, compared to revenue of $84.3 billion and net quarterly profit of $20.0 billion, or $4.18 per diluted share, in the year-ago quarter. The quarter was the best in Apple's history in terms of revenue and profit, topping the first fiscal quarter of 2018.
Gross margin for the quarter was 38.4 percent, compared to 38.0 percent in the year-ago quarter, with international sales accounting for 61 percent of revenue. Apple also declared an upcoming dividend payment of $0.77 per share, payable February 13 to shareholders of record as of February 10.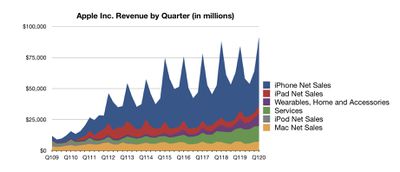 "We are thrilled to report Apple's highest quarterly revenue ever, fueled by strong demand for our iPhone 11 and iPhone 11 Pro models, and all-time records for Services and Wearables," said Tim Cook, Apple's CEO. "During the holiday quarter our active installed base of devices grew in each of our geographic segments and has now reached over 1.5 billion. We see this as a powerful testament to the satisfaction, engagement and loyalty of our customers — and a great driver of our growth across the board."
Apple's guidance for the second quarter of fiscal 2020 includes expected revenue of $63-67 billion and gross margin between 38 and 39 percent.


Apple will provide live streaming of its fiscal Q1 2020 financial results conference call at 2:00 PM Pacific, and MacRumors will update this story with coverage of the conference call highlights.
Apple's earnings call recap follows...

1:39 pm: Apple's share price is up over 2% in after-hours trading following the earnings release. That follows a nearly 3% increase during regular trading today that nearly offset yesterday's 3% decline.
1:42 pm: iPhone revenue of just under $56 billion was Apple's second highest in history, following the $61.6 billion figure in the same quarter two years ago. Strong growth in wearables and services more than made up the difference.
1:50 pm: With $10.0 billion in revenue, Apple's Wearables, Home and Accessories segment surpassed the Mac ($7.2 billion) for the first time after coming very close in several previous quarters.
2:01 pm: Apple's conference call is getting underway with introductory remarks. Tim Cook will speak first and will be followed by CFO Luca Maestri before opening up to analyst questions.
2:03 pm: Cook: Thrilled to report biggest quarter ever. Set records in most geographies and growth returned to China. Active install base as surpassed 1.5 billion.
2:04 pm: On ‌iPhone‌, revenue was $56 billion, up 8% thanks to exceptional demand for ‌iPhone‌ 11 lineup. ‌iPhone‌ 11 was top selling model every week, and the three new models were three most popular iPhones. The new models are the best we've ever shipped.
2:07 pm: Services revenue was all-time record $12.7 billion, up 17%. New all-time records for many categories, and new December quarter records for App Store and AppleCare. Record $386 million ‌App Store‌ sales on New Year's Day, up 20%. Apple Arcade off to a strong start. Apple TV+ off to a rousing start, and congratulations to The Morning Show for multiple nominations and awards. Apple News has over 100 million active users. ‌Apple News‌+ continues to add new titles. Apple Pay transactions and revenue more than doubled year over year. In spring 2020, more ‌Apple Pay‌ Express Transit cities coming. Apple Card is also proving popular.
2:09 pm: All-time record for wearables, now the size of a Fortune 150 company. AirPods and Apple Watch were must-have holiday gifts, driving growth even while experiencing supply constraints.
2:09 pm: Mac and iPad saw strong performance. ‌iPad‌ saw strong growth in many key emerging markets. With current lineup, we give customers unparalleled tablet experience, integrating hardware, software and services as no one else can.
2:10 pm: Strong quarter for the Mac. We launched the 16-inch MacBook Pro and the new Mac Pro, and we're seeing a strong response. Congratulations to this weekend's Grammy nominees and winners who use Logic.
2:12 pm: Retail and online stores set all-time record with double digit growth in ‌iPhone‌, including doubling trade-ins year over year. Began 2020 with our greatest product lineup ever. Launched new Everyone Can Code curriculum in November. Millions of students in over 5000 schools are using it.
2:13 pm: U.S. customers can enroll in three health studies: women's health, heart and movement, and hearing. We built privacy in from the ground up. Announced $2.5 billion plan to address housing affordability in California. We're also closely following the new coronavirus. We're donating money to groups assisting those affected and working closely with our teams and partners, and our thoughts are with everyone.
2:15 pm: Luca Maestri: Our performance in the quarter was exceptional. Revenue up 9% in spite of $1 billion headwind from foreign exchange. Products revenue was up 8% as ‌iPhone‌ returned to growth and incredible strong growth in wearables. Services grew 17% to all-time record.
2:16 pm: Gross margin was up 40 basis points sequentially. Products gross margin was up 260 basis points thanks to leverage and favorable product mix. Net income was all-time record of $22.2 billion. EPS of $4.99 was also a record.
2:17 pm: ‌iPhone‌ revenue of $56 billion, up 8% year over year. All-time revenue records in U.S., Mexico, UK, and more. Active ‌iPhone‌ install base is at an all-time high. In U.S., consumer satisfaction at 98% for ‌iPhone‌ 11 lineup. 84% of business buyers plans to purchase iPhones.
2:18 pm: Services setting all-time records across segments. Well on our way to goal of doubling FY16 services revenue this year. We've already reached it on a run-rate basis based on this quarter.
2:19 pm: Over 480 million paid subscriptions across services, up 120 million year-over-year. Increasing our target for subscription from 500 million to 600 million by end of the fiscal year. Third-party subscriptions grew almost 40% year-over-year. Apple Music and iCloud set all-time revenue records. December quarter record for ‌AppleCare‌ thanks to attach rates and expanded distribution. The value resonates with our customers and partners.
2:21 pm: Mac and ‌iPad‌ had difficult year-over-year comparisons due to product launches and channel fill in year-ago. Around half of customers purchasing Macs and iPads were new to the platforms. 93% customer satisfaction for ‌iPad‌ from consumers, and 92% from business.
2:22 pm: Wearables revenue hit $10 billion, up 37%. Set records in nearly every segment despite some supply challenges.
2:24 pm: $207 billion in cash and marketable securities, versus total debt of $108 billion. Returned nearly $25 billion to shareholders during the quarter. Will share plans for next phase of capital return plans in March quarter call.
2:24 pm: Q&A time!
2:25 pm: Amit Daryanani, Evercore: On wearables, very impressive. Can you touch on growth? How much coming from first-time buyers vs. upgrades.
2:26 pm: Cook: If you look at wearables alone, up 44%. Apple Watch and AirPods did very well, Apple Watch in particular, 75% of customers are new to it. Still very much selling to new customers.
2:26 pm: Daryanani: Can you touch on gross margins forecast? What's enabling better than usual performance there?
2:27 pm: Maestri: We're losing leverage with seasonality, but offset by better mix and cost savings.
2:27 pm: Tom Forte, D.A. Davidson: Congrats on ‌Apple TV+‌. How are you gauging success internally?
2:28 pm: Cook: Measuring ourselves on number of subscribers. We started with very aggressive price, plus our bundle where you get a year for free with pretty much any device purchase. That said, the product itself is about storytelling. If we do that well, there will be some number of those that will be critically acclaimed, and we're seeing that.
2:28 pm: Forte: ‌Apple Card‌ installment plans for iPhones, what's the impact of that?
2:29 pm: Cook: Retail stores are doing great with ‌iPhone‌, and one of the factors in that was ‌Apple Card‌ monthly payments. Of course U.S. only at this point, but it's a key market.
2:29 pm: Shannon Cross, Cross Research: Revisit China. Can you talk about what you were seeing in region before health crisis, and can you talk about geographic diversification, etc.?
2:31 pm: Cook: We had double digit ‌iPhone‌ growth in mainland China, an important change. Also in services and wearables. Number of different factors for us. Customers responding to ‌iPhone‌ 11 in particular thanks to battery life and camera. Trade-in and financing programs have been well-received. We're attracting quite a large percentage of new customers on products like Mac and ‌iPad‌. We had 3 of the top 4 selling phones in urban China.
2:33 pm: In terms of coronavirus, our thoughts go out to those affected. We've limited travel to business-critical areas. Situation is still emerging, and we're gathering data points. Some uncertainty going forward, so forecasts are a bit wider than normal. We have some suppliers in Wuhan area, but all of these have alternate suppliers, and we're working to ensure good supplies. On a broader basis, factory startups following Chinese New Year have been delayed, and we're working to manage that. We've closed one retail store, while others have reduced hours. We're taking precautions with cleaning, etc. Wuhan area is small sales base for us, but seeing slowing even outside of the immediate area.
2:34 pm: Cross: How are inventory levels on components, etc.?
2:34 pm: Maestri: Most commodity prices have been declining and we expect that to continue. We look at the movement of these, and we will continue to buy in advance when it seems appropriate.
2:35 pm: Katy Huberty, Morgan Stanley: Can you address modest slowing of service growth?
2:37 pm: Maestri: 17% growth in December quarter vs. fiscal year 2019 growth of 16%, so we feel very good. It was very broad-based growth. As Tim mentioned, we set all-time records in many, many segments. We had set 2 goals in services. First, double fiscal 2016 revenue by 2020, and we've achieved that on a run-rate basis. Also had a goal of 500 million paid subscription in 2020. With 480 million now, we're now aiming for 600 million by end of calendar 2020. We feel it's going very well. We've launched some new services, so while these didn't have a material impact, we expect over time they will start contributing to growth.
2:38 pm: Huberty: How big of a demand driver do you view 5G to be, and what's a killer app for the technology?
2:38 pm: Cook: We don't comment on future plans, but 5G is still in the early phases of rollout. We feel very excited about our pipeline and wouldn't trade with anyone.
2:40 pm: When can we expect supply constraints on AirPods Pro and Apple Watch?
2:40 pm: Cook: We expect Apple Watch to balance this quarter. Can't say about ‌AirPods Pro‌.
2:42 pm: Wamsi Mohan, BofA Merrill Lynch: Can you clarify if services revenue had any impact of deferrals with ‌Apple TV+‌?
2:44 pm: Maestri: There was a very small contribution to revenue from the deferral and from subscribers who are paying. Two components for revenue: Paid subscribers that we recognize as they pay, and bundle customers who purchase hardware and get free year. We defer revenue based on the value of the service and the number of customers eligible for the offer, and the expected number of redemptions. From our total of eligible device purchase, you need to reduce for things like family sharing, multiple purchases, etc. This gets updated quarterly and we adjust our revenue deferrals accordingly.
2:45 pm: Question about premium vs. low-cost segments.
2:45 pm: Cook: I want to stay away from commenting about future products, but in general it's important to look around the world at 5G deployment schedules. In terms of price of handsets that aren't announced, I don't want to comment.
2:48 pm: Mike Olson, Piper Sandler: Are wearables bringing in customers entirely new to Apple?
2:49 pm: Cook: With each Apple product a customer buys, they get tighter into the ecosystem because they like the customer experience. Each of our products can drive another product. I would think it's most likely ‌iPhone‌ comes first, but there's no doubt some came in from the watch.
2:49 pm: Olson: Thoughts on how AR will affect our lives. Gaming, industrial, etc?
2:50 pm: Cook: When you look at AR today, there are consumer ad enterprise applications. You rarely have new technology where consumers and businesses are both seeing value. That's why we're so excited, going to be in parallel across business and home life.
2:50 pm: Chris Caso, Raymond James: Are margins on ‌iPhone‌ improving?
2:52 pm: Maestri: Yes, it helped us in Q1 and in guidance in Q2. Some of it is mix of iPhones. ‌iPhone‌ 11 lineup has clearly helped with that. Also, as we move from Q1 to Q2, the proportion of revenue from services grows, so we get a better mix with that.
2:52 pm: Caso: Operating expenditures have been growing faster than revenue. When do we see a return on that?
2:54 pm: Maestri: Our expense to revenue ratio is incredible competitive. We believe we have a lot of great opportunities in front of us. This last year we had new initiatives with marketing, R&D, etc. We closed on the acquisition of Intel's modem business. You can see from results and guidance that I think we're doing a pretty good job of balancing investments against returns. Our net income was up 11%.
2:58 pm: Call is wrapping up, and will be available for replay. Keeping checking in with MacRumors for all of our coverage from today's earnings release.