iPhone 6s
Apple's previous-generation iPhone, launched September 25, 2015.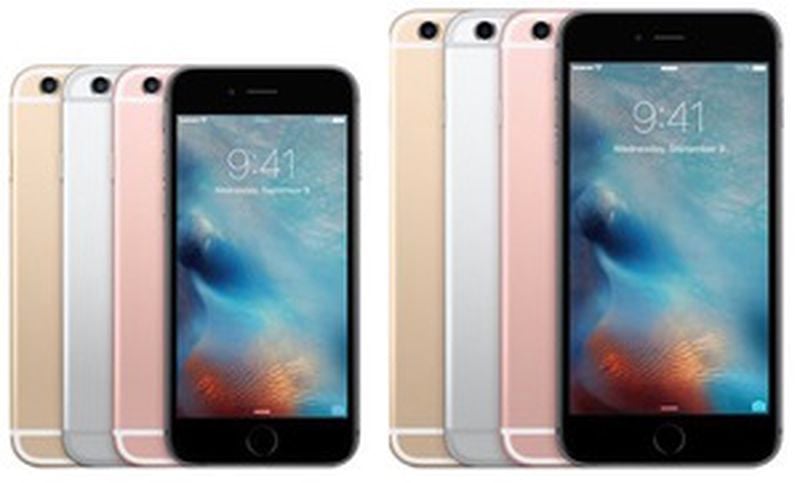 The iPhone 6s and iPhone 6s Plus
Apple announced its ninth-generation iPhones, the iPhone 6s and the iPhone 6s Plus, at a media event in San Francisco, California on September 9, 2015. The iPhone 6s and iPhone 6s Plus can be summed up beautifully with a single quote from Apple CEO Tim Cook: "While they may look familiar, we have changed everything about these new iPhones."
Available with the same 4.7 and 5.5-inch Retina displays, the iPhone 6s and iPhone 6s Plus have the same exterior design as the iPhone 6 and 6 Plus, but much of the hardware inside, from the camera to the processor, is new and improved. Core technologies like the touchscreen and the vibration engine have been updated, and the devices are even constructed from a new material.
The iPhone 6s and 6s Plus are made from a 7000 Series aluminum alloy, which is stronger and more durable than the 6000 series used in the previous-generation iPhones. Apple's also updated the devices with stronger glass, made using a dual ion exchange process. One of the biggest changes is the introduction of a new aluminum finish in Rose Gold, which accompanies the traditional Silver, Space Gray, and Gold color options.
A second-generation Touch ID module makes fingerprint detection twice as fast, and the 64-bit A9 processor in the two devices is 70 percent faster at CPU tasks and 90 percent faster at GPU tasks than the A8 processor in the iPhone 6 and 6 Plus. A built-in M9 motion coprocessor enables new features, such as always-on "Hey Siri" functionality.
With the iPhone 6s and 6s Plus, Multi-Touch has been expanded to encompass a third dimension through a 3D Touch feature, and Apple is calling this "the future of Multi-Touch." In addition to recognizing a tap, sensors in the iPhones can also recognize pressure, enabling a range of new shortcut gestures Apple's calling the "Peek" and "Pop." A new Taptic Engine provides tactile feedback whenever the pressure-based gestures are used.
Most of Apple's "S" year upgrades include camera improvements, and the iPhone 6s and 6s Plus are no exception. Both devices have a 12-megapixel camera with some internal improvements to preserve color accuracy and speed up autofocus. The iPhone 6s Plus has Optical Image Stabilization, while the iPhone 6s does not.
With the improved camera, 4K video at 30 FPS is supported, and the iPhones can capture 63 megapixel panoramas. There's a 5-megapixel front-facing FaceTime camera with a True Tone Retina Flash feature that lights up the display of the iPhone just before a photo is captured.
The most novel camera-based feature available for the iPhone 6s and the iPhone 6s Plus is Live Photos, a feature that captures 1.5 seconds of movement before and after a photo is taken to display short animations and sound when a 3D Touch gesture is used on an image. Live Photos is designed to add a sense of vitality and life to still photos.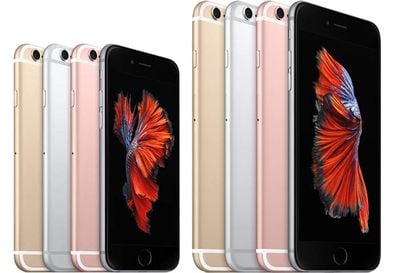 When it comes to connectivity, both LTE and Wi-Fi speeds have been improved. With LTE Advanced, LTE is twice as fast at up to 300 Mb/s, and 23 LTE bands are supported. Compared to the previous-generation iPhones, the iPhone 6s and the iPhone 6s Plus are twice as fast when connected to Wi-Fi, with Wi-Fi speeds up to 866 Mb/s.
The iPhone 6s has been succeeded by the iPhone 7 and the iPhone 8 and is now two generations old. It is positioned as Apple's lower-end device available at a more affordable price point alongside the iPhone SE.
Discontinued in September 2018
The iPhone 6s was discontinued in September 2018 following the introduction of the iPhone XS, iPhone XS Max, and iPhone XR. It has been replaced by the iPhone 7 as Apple's most affordable device.
Issues
Power Management for Depleted Batteries
In devices that have degraded lithium-ion batteries, Apple has introduced power management features that can slow down the iPhone during times of peak power draw to prevent unexpected shutdowns.
Apple first introduced the power management features in iOS 10.2.1, but the issue received additional attention at the end of 2017 after it became clear that power management involved slowing down iPhones with batteries that are running at a sub-optimal level.
Several lawsuits have been filed against Apple accusing the company of deliberately slowing devices to encourage upgrades, which Apple says it does not do. Power management features are designed to extend the life of the iPhone rather than shorten it.
Following significant backlash over the issue, Apple announced a $29 battery replacement program, which allows customers who have an iPhone 6 or later to replace their batteries for $29 regardless of battery health. Each older iPhone is entitled to one low-cost battery replacement. Supplies were limited in early 2018 due to demand, but Apple is offering reduced-cost batteries through the end of the year.
Customers who already paid for a battery replacement for an iPhone 6 or later in 2017 from Apple or an Apple Authorized Service Provider are eligible for a $50 credit.
Any customers who are affected by the power management features and slowdowns because of a depleted battery will see improved performance after replacing the battery. It's important to note, though, that even those affected by throttling will not see it at all times -- it only kicks in at certain times when the processor is taxed.
As promised back in December, iOS 11.3 introduces a new "Battery Health" section to the Battery portion of the Settings app, which provides iOS users with more information about the health of their iPhone battery.
It includes details on current maximum capacity, current operating performance, and if an iPhone is subjected to throttling via power management features, it offers a toggle to turn it off. More details can be found in our how to post.
Power management features impact the iPhone 6, iPhone 6 Plus, iPhone 6s, iPhone 6s Plus, iPhone SE, iPhone 7, and iPhone 7 Plus.
Unexpected Shutdowns
Some iPhone 6s models manufactured between September and October 2015 suffer from an issue that causes them to unexpectedly shut down due to a problem with the battery. Apple has launched an iPhone 6s repair program to address the bug, and will offer new batteries to affected customers free of charge. Customers can see if their iPhone 6s is affected by using Apple's support tool and entering a device serial number.
According to Apple, the affected iPhone 6s models are experiencing shutdowns because of a manufacturing issue that resulted in some batteries being overexposed to "controlled ambient air" when being built. Some models outside of the September and October 2015 timeframe may also be affected, so Apple introduced a diagnostic tool in iOS 10.2 to better diagnose the issue.
In iOS 10.2.1, Apple introduced a fix that significantly cuts down on random shutdowns on iPhone 6 and 6s devices. On the iPhone 6s, shutdowns have been reduced by 80 percent, and on the iPhone 6, shutdowns have been reduced by 70 percent. The issue is caused by uneven power draw on devices with older batteries, so Apple has updated its power management settings. While the problem has not been entirely resolved, Apple has made it less bothersome by introducing an auto-restart feature that will turn an iPhone back on without it needing to be connected to power.
Processor Variance
As it turns out, the iPhone 6s and 6s Plus use chips sourced from two different suppliers: TSMC and Samsung. There don't seem to be performance differences between the two processors, but the chip produced by Samsung is about 10 percent smaller than the chip from TSMC.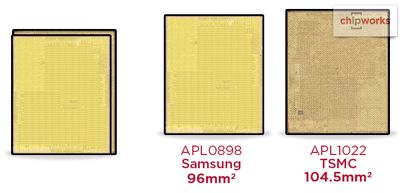 Tests suggest TSMC produced approximately 60 percent of the A9 chips while Samsung produced 40 percent. The iPhone 6s Plus seems to use an equal number of each chip, but the iPhone 6s appears to feature more TSMC chips than Samsung chips.
There's no indication the two chips perform differently when it comes to speed, but battery benchmark tests on iPhones with TSMC chips and iPhones with Samsung chips initially suggested there could be some significant battery life differences between the two devices, with the TSMC iPhone 6s lasting approximately two hours longer than the Samsung iPhone 6s.

Geekbench battery tests on TSMC (left) and Samsung (right) iPhone 6s Plus variants
Battery tests conducted to demonstrate real world usage showed much more minor performance differences. Testing by Ars Technica, for example, showed nearly equal battery life between an iPhone with a TSMC chip and an iPhone with a Samsung chip under identical conditions.
According to Apple, battery benchmarks like the Geekbench 3 battery test are not reflective of real world usage conditions. Data from internal testing and data gathered from Apple customers has suggested there's only a two to three percent performance difference between the two iPhone variants, which is well within normal manufacturing tolerances.
With the Apple-designed A9 chip in your iPhone 6s or iPhone 6s Plus, you are getting the most advanced smartphone chip in the world. Every chip we ship meets Apple's highest standards for providing incredible performance and deliver great battery life, regardless of iPhone 6s capacity, color, or model. Certain manufactured lab tests which run the processors with a continuous heavy workload until the battery depletes are not representative of real-world usage, since they spend an unrealistic amount of time at the highest CPU performance state. It's a misleading way to measure real-world battery life. Our testing and customer data show the actual battery life of the iPhone 6s and iPhone 6s Plus, even taking into account variable component differences, vary within just 2-3% of each other.
Based on Apple's data, in real world conditions, any slight difference in battery life between iPhone 6s and 6s Plus models with a Samsung chip and those with a TSMC chip would be too small to notice.
Design
Like the iPhone 6 and the iPhone 6 Plus, the new iPhones come in two sizes: 4.7 inches and 5.5 inches. While they continue to have the same physical design with prominent antenna bands, soft, rounded corners, and a curved glass screen that melds into the thin body of the device, they're made from a stronger aluminum alloy.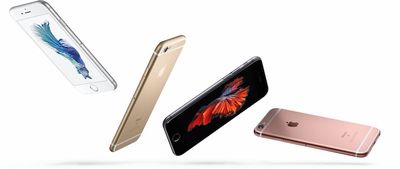 Apple first introduced its 7000 Series aluminum alloy in the Apple Watch, and in 2015, the company brought the alloy to its iPhone lineup. Compared to the 6000 Series aluminum used in the iPhone 6 and 6 Plus, the 7000 Series aluminum is stronger, more durable, and less malleable. It's the strongest alloy Apple has used in an iPhone and is the same alloy used in the aerospace industry.
Externally, the iPhones are the same, but part leaks ahead of the launch of the iPhone 6s and 6s Plus revealed some minor interior design tweaks to strengthen the areas around the volume buttons and the home button.
The switch to 7000 Series aluminum and the reinforcing were likely done in part to eliminate weak points in the construction of the iPhone that led to bending in the iPhone 6 and 6 Plus. Some iPhone 6 and 6 Plus users saw their iPhones bend when placed in a pocket, an issue that should come up much more rarely with the reinforced body. In a preliminary bend test, the iPhone 6s Plus proved much harder to bend than the iPhone.
The addition of 3D Touch and the use of 7000 Series aluminum have not come without minor downsides. The iPhone 6s and the 6s Plus are slightly thicker, taller, and heavier than their previous-generation counterparts. The iPhone 6s is 7.1 mm thick and it weighs 143 grams, while the iPhone 6 was 6.9 mm thick and weighed 129 grams.

The iPhone 6s Plus is 7.3 mm thick and weighs 192 grams, while the iPhone 6 Plus was 7.1mm thick and weighted 172 grams. Both the iPhone 6s and iPhone 6s Plus are 0.1 to 0.2 mm taller and wider. These size changes are minimal enough that the average user won't notice a difference between the devices, and the majority of iPhone cases and accessories work with both device generations.
Almost all of this weight can be attributed to 3D Touch, as the display module for both devices is much heavier than the display module used in the iPhone 6 and 6 Plus. The display in the iPhone 6s weighs 29 grams, while the iPhone 6s Plus display weighs 40 grams. In the iPhone 6, the display weighs 12 grams, while the iPhone 6 Plus display weighs 19 grams.
There also appear to be a few internal changes contributing to improved water resistance. In tests, the iPhone 6s and 6s Plus seem to hold up to water a bit better than the iPhone 6 and 6 Plus.
In device teardowns, iFixit discovered a new strip of glue acting as a gasket surrounding the entire inside edge of both the iPhone 6s and the iPhone 6s Plus. The gasket accounts for an 0.3mm increase in width and the iPhone's frame was designed specifically to accommodate the gasket. The iPhone 6s and 6s Plus logic boards also appear to include a small silicone barrier around all cable connector.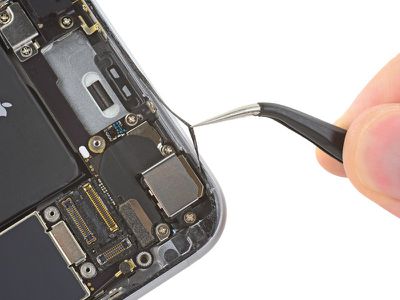 Combined, the glue-based gasket and the new silicone barriers on the logic board help contribute to water resistance, but internal components like the headphone jack, speaker, power, and volume buttons do not have any new waterproofing, so it's still advisable for iPhone users to avoid exposing their devices to liquid.
Rose Gold
A Rose Gold color option for the iPhone 6s and the iPhone 6s Plus is the only significant exterior change made to the two new devices. The Rose Gold is a pink-tinged gold color that joins the original Gold, Silver, and Space Gray color options.

Display
The iPhone 6s and 6s Plus feature a 3D Touch-enabled Retina HD display, with resolutions of 1334 x 750 (326 ppi) and 1920 x 1080 (401 ppi), respectively. New this year is a cover glass constructed using a dual ion exchange process, which makes the glass stronger at a molecular level. According to Apple, it's the most durable glass in the smartphone industry.
Like the iPhone 6 and 6 Plus, the new iPhones include an improved polarizer for better outdoor viewing and a fingerprint-resistant oleophobic coating.
3D Touch
Built into the display of the iPhone 6s and 6s Plus is an expanded multi-touch feature called 3D Touch, which allows the iPhone to measure different levels of pressure in addition to taps, swipes, and pinches. 3D Touch is a key new feature in the iPhone 6s and 6s Plus, with the potential to totally change the way we interact with our phones.
3D Touch is used across iOS 9 to enable shortcut gestures called a "Peek" and a "Pop" both at the home screen and in iOS apps. A light press enables a Peek, while a deeper press enables a Pop, and there are unique swipe gestures to open up menus and take actions when using Peeks. 3D Touch is similar to the right click function of a MacBook, as it opens up menus, different app options, and content previews.
Pressing on the Phone app on the home screen, for example, brings up a list of favorite contacts, allowing a call to be placed without the need to open the app. Pressing on the Camera app brings up a list of options like "Take a Selfie" or "Record Video," which automatically opens to the front-facing camera, or the video recording mode. Apple calls these "Quick Actions."

Quick Actions, initiated by pressing on an app on the home screen.
In Mail, a light "Peek" press previews a message, and a flick gesture is available for replies. A quick slide over lets a message be deleted or marked as read, while a longer "Pop" press pops you into the full mail message. In Messages, a Peek can be used to do things like look up flights, check your calendar, or preview Safari links, all without leaving the app. In the Camera app, after a photo has been taken, a Peek press lets you preview your shots.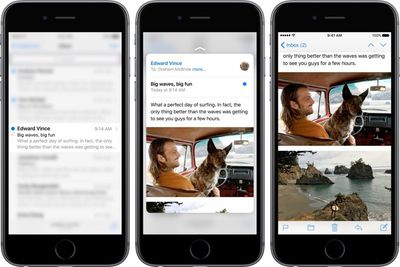 Use a lighter "Peek" press to preview a message in the Mail app, then use a longer "Pop" press to open the message from the preview.
Using a 3D Touch press on the keyboard in apps like Notes, Mail, and Messages, turns the keyboard into a trackpad for quick cursor movements, and in apps like Notes, 3D Touch enables pressure-sensitive drawing. Pressing lightly results in thinner lines, while pressing harder results in thicker lines.
Pressing on the left side of the home screen switches to the multitasking view, making it quicker to switch through different apps as an alternative to opening multitasking view through a double tap on the home button.
Third-party developers can take advantage of 3D Touch. A press on the Facebook app icon on the home screen brings up options for updating a status or checking in, and in Dropbox, a press on the app icon brings up options to search or access recent documents. In Instagram, a lighter Peek press while browsing an image feed brings up full image and video previews.
The new gestures can be built into games, enabling new gameplay dimensions. In Warhammer Freeblade, for example, the camera is controlled with a finger on the screen, and with 3D Touch, it's possible to zoom in and out while panning around the game field. A deeper press lets users swap weapons.
3D Touch is a second-generation version of the Force Touch used in the Apple Watch, MacBook, and latest Retina MacBook Pros. Force Touch on those devices is used in similar ways, but they only recognize a single level of pressure, rather than multiple levels of pressure like 3D Touch.
3D Touch works through capacitive sensors built into the backlight of the iPhone display. These sensors measure microscopic changes in the distance between the glass cover of the display and the backlight, combining signals from the touch sensor and the accelerometer to continually respond to finger pressure.
There was some speculation screen protectors would not work with 3D Touch, but in an email to a customer, Apple marketing chief Phil Schiller confirmed screen protectors would work with the feature as long as they follow Apple's design guidelines.
Taptic Engine
When using 3D Touch Peek and Pop gestures, a new Taptic Engine built into the iPhone 6s and 6s Plus provides tactile feedback for guidance, making users aware of what action has been taken and what can be expected.

The new Taptic Engine also powers all of the vibrations for alerts, alarms, and notifications, so the feel of the vibrations in the iPhone 6s and 6s Plus is different from the vibrations in the iPhone 6 and 6 Plus.
A9 Processor
The iPhone 6s and 6s Plus are powered by a next-generation A9 chip that offers faster performance while also being more energy efficient, cutting down on overall power usage. The A9 is 70 percent faster at CPU tasks and 90 percent faster at GPU tasks than the A8 in the iPhone 6 and 6 Plus, which was already an impressive chip.
For the first time, the A9 chip includes a built-in M9 motion coprocessor. The motion coprocessor, first introduced with the iPhone 5s, is the chip that captures motion-based data from the compass, accelerometer, and gyroscope to power Apple's health and fitness capabilities without significant power drain.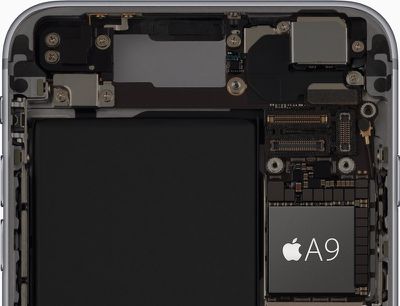 In the past, the motion coprocessor has been a separate chip, not integrated as the M9 is into the A9. Building the M9 into the A9 allows it to be powered on all the time, facilitating the launch of an expanded "Hey Siri" feature. With the iPhone 6 and older iPhones, saying "Hey Siri" activates Siri whenever the iPhone is plugged into power.
With the iPhone 6s and 6s Plus, "Hey Siri" can be used at any time to activate Siri, even when the iPhone is not charging. It's a small convenience factor preventing users from needing to press the home button to get Siri's attention.
The M9 motion coprocessor in the iPhone 6s and 6s Plus is also able to measure walking and running pace in addition to steps, distance, and elevation changes.
Geekbench 3 benchmarks conducted on the iPhone 6s suggest the A9 processor offers significant gains over the A8 processor in the iPhone 6. It's nearly on par with the A8X processor in the iPad Air 2 with its multi-core score, which is impressive because the A9 is a dual-core chip and the A8X is a triple-core chip.
The iPhone 6s achieved a single-core score of 2292 and a multi-core score of 4293 in benchmarks done on a device delivered ahead of launch. Comparatively, an iPad Air 2 scores 1808/4256, while an iPhone 6 scores 1607/2887 on the same Geekbench 3 benchmark test.
RAM
Apple never reveals the amount of RAM in its devices, but rumors ahead of the launch of the iPhone 6s and 6s Plus suggested the new iPhones are equipped with 2GB of RAM, which was later confirmed by data discovered in Xcode.
2GB RAM in the iPhone 6s lets the phone keep more apps and data in recent memory, which is especially noticeable in Safari in the video below. Safari can have more open tabs without needing to reload a page.
Battery Life
The iPhone 6s has a 1715 mAh battery, which is smaller in capacity than the 1810 mAh battery in the iPhone 6. The iPhone 6s Plus has a 2750 mAh battery, also smaller in capacity than the 2915 mAh battery used in the iPhone 6 Plus.
Apple may have used a smaller battery to make room for vital 3D Touch components in the new iPhones, both of which include a new part called a "Taptic Engine." The Taptic Engine provides haptic feedback for 3D Touch gestures and also powers the vibrations for alarms and notifications.
Though there's a smaller battery in the iPhone 6s and 6s Plus, efficiency improvements introduced with the A9 chip and other performance enhancements have resulted in the two devices offering the same battery life as the iPhone 6 and 6 Plus.

On paper, the iPhone 6s offers up to 14 hours of talk time, 10 days of standby time, 11 hours of video playback, 10 hours of Internet use on LTE. The iPhone 6s Plus offers 24 hours of talk time, 16 days of standby time, 14 hours of video playback, and 12 hours of Internet use on LTE.
Camera Upgrades
There's a 12-megapixel iSight rear camera in the iPhone 6s and 6s Plus, a significant upgrade from the 8-megapixel camera in the iPhone 6 and 6 Plus. With more megapixels, the iPhones are able to capture more detail in photos for crisper images. Autofocusing speeds are also improved, and there's a new image signal processor that offers better noise reduction and improved tone mapping.

According to Apple, increasing the megapixels of the iSight camera has not resulted in any downgrades to image quality like color bleeding, artifacts, or noise, thanks to precise placement of color filters and "Deep Trench Isolation," which adds small barriers between each pixel so the colors can't bleed into one another to affect color accuracy.
For the last several years, Apple's iPhones have remained at 8 megapixels, and Apple executive Craig Federighi explained why during the iPhone event. "Our team wasn't going to upgrade pixels until we could add them without compromising image quality," he said. "We've done that in the iPhone 6s."
With the 12-megapixel camera, it's now possible to capture 63-megapixel panoramas. Optical Image Stabilization, a feature introduced in the iPhone 6 Plus, continues to be available in the iPhone 6s Plus, and it's expanded to work with video. Optical Image Stabilization is not available in the smaller iPhone 6s.
In a video comparison between the iPhone 6s and the iPhone 6s Plus, Optical Image Stabilization in the larger-screened device proved to heavily cut down on unintentional movement, resulting in a much smoother video.
Video
The iPhone 6s and 6s Plus can capture 4K video at 30FPS for the first time, allowing iPhone users to take videos with incredible levels of detail. 4K video joins 240FPS Slo-mo video and Time-Lapse video, both features introduced in past-generation devices. Time-Lapse video gains new stabilization features with the new iPhones.

When taking 4K video, it's also possible to take 8-megapixel still photos at the same time.
FaceTime Camera
There's a 5-megapixel FaceTime front camera in the iPhone 6s and 6s Plus, which is a significant improvement over the 1.2-megapixel FaceTime camera in the iPhone 6 and 6 Plus. Selfie shots are crisper and more detailed than ever with the upgrade, and there's a new True Tone Retina Flash that works with the front-facing camera.
Retina Flash causes the display of the iPhone to flash brightly just ahead of when a picture is snapped, improving selfies in low light. The Retina Flash is three times as bright as the standard display thanks to a custom display chip, and it's been engineered to match the ambient light, just like Apple's rear-facing True Tone flash.
Live Photos
Live Photos are a new feature designed to add a bit of life and vitality to the standard still photo. When taking a picture, the Live Photos feature in the iPhone 6s and 6s Plus captures an extra 1.5 seconds before and after a shot, and this extra footage is used to animate the photo with movement and sound whenever it's pressed with a 3D Touch gesture.
Live Photos are similar to the animated photos shown in the Harry Potter movies, dislaying a few seconds of animation over and over again. These short animations are also displayed when flicking through images in the Camera Roll.
Every photo taken with the iPhone 6s and 6s Plus with either camera is a Live Photo by default, but the feature can be turned off in the Camera app. Live Photos combine a 12-megapixel JPG with a MOV file containing 45 frames playing back at around 15 frames per second. Combining a JPG with a MOV file means Live Photos take up twice the space of a normal image.
Live Photos can only be created on an iPhone 6s or 6s Plus and can be viewed on iOS devices running iOS 9, the Apple Watch with watchOS 2 installed, and Macs running OS X El Capitan. When sending a Live Photo to an unsupported device, the MOV component is stripped and the image is sent as a standard JPG. More details on how Live Photos work can be found here.
Live Photos can be set as the photo face on an Apple Watch running watchOS 2, and the short animation plays each time the wrist is raised. Live Photos can also be set as a Lock screen wallpaper on the iPhone, where it animates when pressed.
APIs for the Live Photos feature are available to developers, so support for displaying Live Photos can be built into third-party apps.
Other Features
Touch ID
Second-generation Touch ID technology is used in the new iPhones, making fingerprint recognition up to twice as fast. On the iPhone, Touch ID is used in place of a password as a method for verifying identify. It's also used to verify Apple Pay payments. iPhone 6s owners have been highly impressed with the speed of Touch ID, as it instantly unlocks the phone as soon as a finger is placed on the Home button. Some users have even complained that it's too fast.
NFC
There's an NFC chip in the iPhone 6s and 6s Plus to allow the two devices to work with Apple Pay, Apple's payments service.
LTE
With LTE Advanced, LTE in the new iPhones is twice as fast, reaching data transfer speeds of up to 300 MB/s. The iPhone 6s and 6s Plus also support up to 23 LTE bands, making them ideal for world travel.
Wi-Fi
According to Apple, iPhone 6s and 6s Plus Wi-Fi connection speeds can reach speeds of 866 MB/s, which is twice as fast as the maximum Wi-Fi connection speeds of the iPhone 6 and 6 Plus. The phones support 802.11a/b/g/n/ac Wi-Fi with MIMO.
Bluetooth
The iPhone 6s and 6s Plus include Bluetooth 4.2 technology.
Dynamic Wallpapers
Live Photos fall into the category of "Dynamic Wallpapers," but iOS 9 also includes several pre-made animated wallpapers that can be used on the Lock screen. Options include different fish and colored smoke.

iPhone 6s How Tos and Tips