TSMC's A9 Chip Outperforming Samsung's in Early iPhone 6s Battery Benchmarks
Following the launch of the iPhone 6s and 6s Plus last month, it was discovered that Apple is dual sourcing the A9 chip for the new devices from both TSMC and Samsung, with the chips from the two companies measuring at slightly different sizes due to different processes used in manufacturing the chips. As users began to determine which chips were used in their devices, data began to point toward a 60/40 split in favor of TSMC, although the ratio has shifted toward 50/50 as more data has been obtained.
Benchmarks have suggested there is little if any difference in chip performance between the two A9 variants, but some recent battery testing (via Engadget) is hinting at the possibility of significantly better battery life for models with the TSMC-manufactured A9 chip.
We should caution that data points remain few at this time and controlling for variables to accurately focus the comparison only on the differences in the A9 is difficult, but these limited tests are generating significant amounts of interest in our discussion forums and elsewhere.
Perhaps the most dramatic result comes from a reddit poster who compared Samsung and TSMC versions of the iPhone 6s Plus using the battery life test included in Geekbench 3, finding the TSMC version lasting nearly two hours longer than the model with Samsung A9 chip.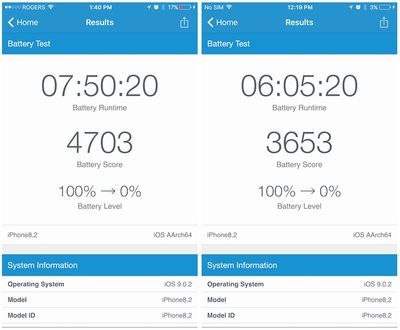 Geekbench battery tests on TSMC (left) and Samsung (right) iPhone 6s Plus variants
Ran this test a couple times and results were consistent. Always about a 2 hour difference in duration. Both phones were tested using the same backup, same settings. Also tried testing them as new phones and results were similar.
We asked John Poole of Primate Labs, the developers of Geekbench, for any insight into the dramatic differences being observed in some cases, and he noted there have been rumors of TSMC's 16-nanometer process being "superior" to Samsung's 14-nanometer process in power consumption. He was, however, surprised by the amount of difference in observed battery life considering the various components have essentially identical performance benchmarks. Ideally, further controlled testing can be performed to offer a more accurate comparison between the variants.

More signs of a battery life difference between TSMC and Samsung variants come from Chinese site MyDrivers (via reddit), which ran a series of tests [Google Translate] comparing otherwise identical phones as they performed JavaScript and video playback tasks and watched the rates of battery depletion. As with the Geekbench testing, MyDrivers saw measurably faster battery drain on the Samsung iPhone 6s compared to the TSMC version. Follow-up testing [Google Translate] using AnTuTu Benchmark also showed the Samsung model tending to run up to a few degrees hotter than the TSMC version.

TSMC iPhone 6s (left) benchmarking slightly higher and with more battery remaining (77% vs. 71%) than Samsung version (right) after 12 runs of AnTuTu Benchmark
While these early synthetic benchmarks and processor-intensive tests do hint at the possibility of somewhat better power efficiency for the TSMC A9 over the Samsung A9, any impact on real-world performance has yet to be firmly established. Posters in our forums are
sharing their general impressions
based on their testing and daily usage, yielding a mixture of opinions. Users will no doubt continue their testing, however, in attempting to determine just how visible or invisible these internal variations in the latest iPhones really are in daily use.
Those interested in seeing which variant of the A9 is included in their new iPhones can use an app such Lirum Device Info Lite, which displays on the Model Information screen whether the device has a Samsung (N66AP for 6s Plus or N71AP for 6s) or TSMC (N66mAP for 6s Plus or N71mAP for 6s) chip.