iPhone 6s Uses Different-Sized A9 Chips From Samsung and TSMC
Ahead of the launch of the iPhone 6s and 6s Plus, there were rumors suggesting both TSMC and Samsung were developing Apple's A9 chip for the device. There was some confusion over how the split would work, because the two companies used different technologies - TSMC was rumored to be using a 16-nanometer process while Samsung used a 14-nanometer process.
Chipworks has now confirmed via several iPhone 6s teardowns that the new devices do indeed contain application processors from both Samsung and TSMC. Comparatively, the die size of the Samsung processor is smaller than the die size of the TSMC processor.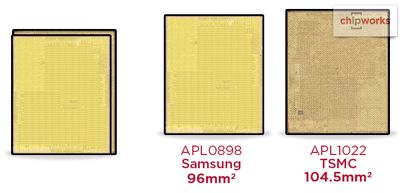 The APL0898 chip was developed by Samsung and measures in at 96 square millimeters, while the APL1022 chip manufactured by TSMC measures in at 104.5 square millimeters. Chipworks suggests Apple's decision to use processors from both companies points towards "major sourcing problems," but over the last few years, Apple has opted to diversify its supply chain to prevent manufacturing hurdles that can potentially lead to delays.
It is not yet clear how the size difference between the chips will affect the performance of the iPhone 6s and 6s Plus, but Chipworks plans to benchmark each of the processors to figure out whether iPhones equipped with Samsung chips and those equipped with TSMC chips perform differently.