Apple Addresses Alleged Throttling of iPhones With Degraded Batteries
Over the course of the last week, there's been speculation that Apple is throttling the performance of older iPhones with degraded batteries, leading to resurgence of accusations that Apple is deliberately slowing down older iPhones that aren't operating at peak battery performance.
In a statement to TechCrunch on the results people are seeing when testing iPhones with older batteries, Apple says it is aiming to smooth out the high power draw peaks that can result in shutdowns and other problems in older devices to "deliver the best experience for customers."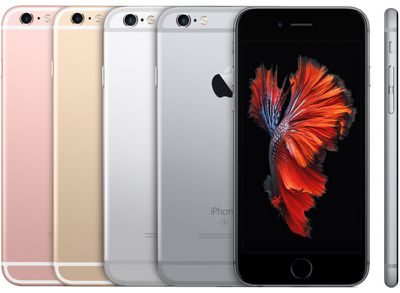 Lithium-ion batteries degrade over time by nature, and there's nothing Apple can do to halt the process, so it uses power management techniques to attempt to prolong the life of the iPhone and its battery. Apple isn't denying that iPhones with older batteries can sometimes see slower performance, but power management is not a feature that's been implemented to force users to upgrade by deliberately slowing devices.
"Our goal is to deliver the best experience for customers, which includes overall performance and prolonging the life of their devices. Lithium-ion batteries become less capable of supplying peak current demands when in cold conditions, have a low battery charge or as they age over time, which can result in the device unexpectedly shutting down to protect its electronic components.

Last year we released a feature for iPhone 6, iPhone 6s and iPhone SE to smooth out the instantaneous peaks only when needed to prevent the device from unexpectedly shutting down during these conditions. We've now extended that feature to iPhone 7 with iOS 11.2, and plan to add support for other products in the future."
The throttling accusations first surfaced last week, after a Redditor shared Geekbench results taken before and after the battery in his iPhone 6s was replaced. He claimed that performance on his iPhone 6s sped up drastically after replacing a battery with a wear level "around 20%."
Then, earlier this week, Primate Labs founder John Poole showed some aggregate Geekbench data that visualized a link between lower processor performance and degraded battery health. He compared iPhone 6s scores between iOS 10.2 and iOS 10.2.1, which showed variations in benchmarking scores following the update.


Apple in iOS 10.2.1 introduced an update designed to fix a bug that was causing iPhone 6s models to shut down unexpectedly, a problem attributed to uneven power delivery from older batteries. Apple says this feature has been implemented for iPhone 6, 6 Plus, 6s, 6s Plus, SE, and, as of iOS 11.2, the iPhone 7 and 7 Plus. It will be implemented in future iPhones going forward, too.
It's this power management feature causing the benchmark variations John Poole found in Geekbench scores between iOS 10 updates last year. As explained by TechCrunch's Matthew Panzarino:
Basically, iPhones were hitting peaks of processor power that the battery was unable to power and the phones were shutting off. Apple then added power management to all iPhones at the time that would 'smooth out' those peaks by either capping the power available from the battery or by spreading power requests over several cycles.
When an iPhone's battery ages, there may come a point when it can't provide the processor with enough power to reach a peak of power, and thus it spreads the requests out "over a few cycles," resulting in the peaks and perceived lower scores on benchmarking tests. As Panzarino points out, benchmarking tests are not reflective of real world usage and will artificially trigger the power management features in the iPhone.
"In other words, you're always going to be triggering this when you run a benchmark, but you definitely will not always trigger this effect when you're using your iPhone like normal," writes Panzarino.
Apple has clear battery replacement guidelines in place. The iPhone battery is designed to retain 80% of its original capacity at 500 complete charge cycles. A defective battery that does not meet those parameters can be replaced for free for customers who have AppleCare+ or who have devices still under warranty.
For out of warranty customers, Apple offers a battery replacement service, with the company charging $79 for a battery replacement plus $6.95 in shipping.
Apple's iPhones do send out a notification when a battery has degraded enough that it's going to impact performance, but it is "pretty conservative" according to Panzarino, and he recommends Apple make this notice more aggressive, in addition to providing customers with clearer information on the link between battery life and performance.