Apple Says iOS 10.2.1 Update Has Significantly Reduced Unexpected iPhone 6 and 6s Shutdowns [Updated]
For the last several months, iPhone 6, 6s, 6 Plus, and 6s Plus users have been dealing with a problem that causes their devices to unexpectedly shut down, an issue that Apple now says it has successfully addressed in the latest iOS 10.2.1 update, released to the public on January 23.
In a statement provided to TechCrunch, Apple says that the iOS 10.2.1 update has resulted in an 80 percent reduction of unexpected shutdowns on the iPhone 6s and a 70 percent reduction of unexpected shutdowns on the iPhone 6.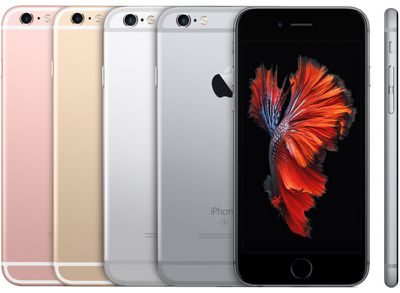 With iOS 10.2.1, Apple made improvements to reduce occurrences of unexpected shutdowns that a small number of users were experiencing with their iPhone. iOS 10.2.1 already has over 50% of active iOS devices upgraded and the diagnostic data we've received from upgraders shows that for this small percentage of users experiencing the issue, we're seeing a more than 80% reduction in iPhone 6s and over 70% reduction on iPhone 6 of devices unexpectedly shutting down.

We also added the ability for the phone to restart without needing to connect to power, if a user still encounters an unexpected shutdown. It is important to note that these unexpected shutdowns are not a safety issue, but we understand it can be an inconvenience and wanted to fix the issue as quickly as possible. If a customer has any issues with their device they can contact AppleCare.
According to Apple, the shutdown issue that is solved by the iOS 10.2.1 update is separate from the problem that caused it to recall a select number of iPhone 6s devices. In that case, Apple said some batteries had been overexposed to "controlled ambient air" during the manufacturing process, resulting in the need for a physical battery replacement.
That there are multiple issues causing iPhone shutdowns explains why many iPhone 6 users also complained of problems after the iPhone 6s recall, and why the iPhone 6s issue seemed more widespread than Apple suggested in the recall program. There were even rumors that Apple was planning an iPhone 6 battery exchange program, something Apple quickly refuted.
The shutdowns solved by iOS 10.2.1 are reportedly caused by uneven power delivery from older batteries, which can trigger an emergency shutdown on an iPhone. Apple has tweaked its power management system to reduce shutdowns, but some users may occasionally still have problems, so Apple has also created a way to auto-restart without needing to connect to power. The auto-restart feature is available on the iPhone 6 and 6s in iOS 10.2.1 and will be added to the iPhone 6 Plus and 6s Plus in iOS 10.3.
A new battery info screen will also be added to iOS 10.2.1 in the next few days, letting customers who need to replace their battery know that it's not functioning as expected. The warning, which will be in the Battery section of the Settings app, will only be displayed to customers who need new batteries.
When iOS 10.2.1 was released, Apple did not include a mention of a fix for the iPhone 6 and 6s in its release notes, giving it time to quietly collect data on the shutdown issue before making an official announcement. Customers who are experiencing shutdowns on their iPhone 6 or 6s devices should upgrade to iOS 10.2.1 if they have not done so already.
Update: Apple has posted a support document outlining the new battery notice that's available in the Settings app. It will only show up if a battery needs servicing.