Controlled Testing Supports Apple's Claim of Nearly Equal iPhone 6s Battery Life With TSMC and Samsung Chips
Last week Apple addressed concerns over battery life discrepancies between the TSMC and Samsung A9 chips used in the iPhone 6s and the 6s Plus, suggesting a real world battery life difference of only two to three percent between the chips despite Geekbench battery tests that had pointed towards a bigger gap.
Ars Technica has now conducted controlled battery life tests on two iPhone 6s models, one with a TSMC chip and one with a Samsung chip, and its findings line up with Apple's statement. The site used two AT&T models, both with SIM cards removed and screen brightness set at the exact same level.
In Wi-Fi browsing, WebGL, and GFXBench tests, there were performance differences mostly in favor of the TSMC iPhone, but the variation between the two phones was slight. There was a more significant performance difference on the Geekbench 3 test, but as has been covered earlier, that test is not reflective of real world usage.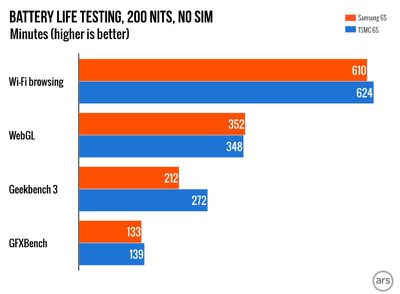 Aside from the Geekbench test, which saw a battery life difference of 28 percent between the two devices, the TSMC iPhone and the Samsung iPhone scored within two to three percent of each other. In Ars' opinion, in the real world, there's going to be little difference between a Samsung iPhone and a TSMC iPhone.
So there are definitely circumstances under which the TSMC phone will last longer than the Samsung phone, but it's not a universal problem. A Samsung chip that's mostly idling or even one under modest CPU and GPU load, though, is going to behave in just about the same way as a TSMC chip. And the kinds of CPU-intensive work that the Samsung chip seems to struggle with just aren't that common on smartphones. Most of the time, iPhone 6S battery life should be similar no matter which chip your phone is using.
According to Apple, the comparison of just two devices is too small of a sample size to make meaningful predictions about the performance between iPhones with Samsung chips and those with TSMC chips. As Ars points out, no one but Apple has the resources to collect enough data from enough devices to get an accurate picture of performance.
Ars Technica's findings do line up with what Apple says it has seen in both lab testing and data gathered from hundreds of thousands of customers. Apple has said the variation between the TSMC and Samsung chips it has observed is "well within its manufacturing tolerances" and is a level of variation that can be seen between devices that have the same chip.