Improved Water Resistance of iPhone 6s Attributed to New Gaskets and Seals
iFixit began its teardown of the iPhone 6s and iPhone 6s Plus after the new smartphones became available last Friday, discovering the specifics of the smaller batteries, Taptic Engine, and 3D Touch display. After a few iPhone fans began extensive water resistance testing over the weekend, iFixit decided to revisit its teardown of the new devices with a renewed focus on components placed by Apple that could point to the company's interest in a more liquid-proof smartphone.
The site closely inspected a strip of glue that acts as a gasket surrounding the entire inside edge of the iPhone 6s and iPhone 6s Plus, accounting in total for a slight 0.3mm increase in width when in comparison to last year's models. Described as "a string of sticky goop," iFixit theorizes that if Apple hadn't placed the gasket there to hold components in, perhaps "it was designed to keep liquids out."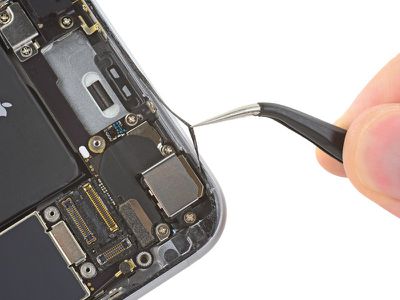 First, Apple takes this gasket business pretty seriously: they didn't just run a strip of glue around the existing display like they were caulking a bathtub. Instead, it appears the iPhone's frame has been subtly reworked to accommodate the new gasket. We noted a slight, but measurable, increase in the width of the lip running along the perimeter of the frame—it's about 0.3 mm wider than on the iPhone 6, making it just wide enough for that little gasket to land on.

One-third of a millimeter may not seem like much, but given how tight the iPhone's tolerances are nowadays, the change is big enough to see with the naked eye. And it's almost certainly enough of a change that other components had to be subtly tweaked to match. Make no mistake, Apple gave this careful thought.
Even the logic boards of the new iPhones appear to be updated to at least partially protect against liquid intrusion, with all cable connectors on the logic board -- "from the battery and display, to the Lightning port and buttons" -- surrounded and reinforced with a small silicone barrier. As iFixit points out, the logic board's various connectors are the most vulnerable to water within the iPhone's body, so the fact that Apple has appeared to safeguard them against liquid damage is definitely notable.
Otherwise, the rest of the internal components of the iPhone 6s and iPhone 6s Plus -- like the headphone jack, speaker, power, and volume buttons -- didn't showcase any forms of waterproofing by the Cupertino-based company. Today's news follows a few days of water resistance talk about the new iPhones thanks to a handful of video tests created by various YouTubers, along with a new rumor pointing to the "iPhone 7" adopting a fully-waterproof body when it debuts next year.