iOS 11.3 Beta 2 Introduces New 'Battery Health' Feature
The iOS 11.3 beta 2 update, seeded to developers this morning, introduces a new "Battery Health" feature that's designed to provide iOS users with more information about their batteries.
Located in the Battery section of the Settings app, the new Battery Health feature tells you the maximum capacity of your battery and whether or not it is operating at peak capacity.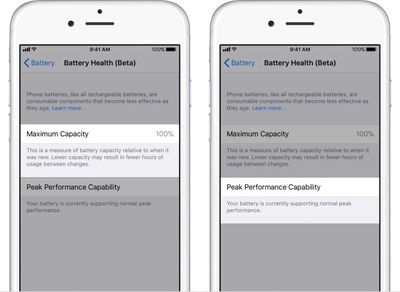 What you'll see if your device is operating normally


On devices that are operating at full battery capacity, such as the newly released iPhone X, there is no toggle to turn off the throttling feature that causes iPhones with degraded batteries to run more slowly. An updated support document that outlines the feature says that on a device with a battery that needs to be replaced, power management can be toggled off.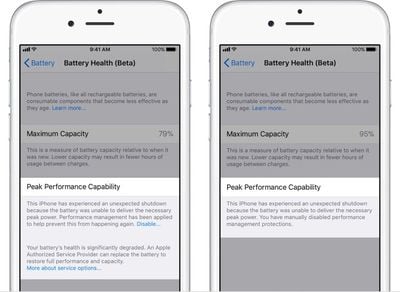 What you'll see if your device has a degraded battery


Power management will be disabled on all devices when the iOS 11.3 beta is installed, but if an iPhone experiences an unexpected shutdown, power management will automatically be turned on.
Additionally, users can see if the performance management feature that dynamically manages maximum performance to prevent unexpected shutdowns is on and can choose to turn it off. This feature is enabled only after an unexpected shutdown first occurs on a device with a battery that has diminished ability to deliver maximum instantaneous power. This feature applies to iPhone 6, iPhone 6 Plus, iPhone 6s, iPhone 6s Plus, iPhone SE, iPhone 7, and iPhone 7 Plus.
Apple says that if power management is manually disabled after being enabled due to a shutdown, it won't be able to be turned back on. It will, however, turn on once again automatically if another unexpected shutdown occurs, so it sounds like users may need to turn the feature off more than once on a device that is experiencing issues.
Apple's Battery Health feature is listed as being a "Beta" feature, and Apple will likely continue to refine and update its Battery Health feature over the course of the beta testing period.