Apple Offering $50 Credit to Customers Who Paid for iPhone 6 and Later Battery Replacements From January to December 2017
Apple is providing a $50 credit to all customers who paid for an out-of warranty battery replacement for an iPhone 6 or later between the dates of January 1, 2017 and December 28, 2017, the company announced today.
The $50 credit is an extension of Apple's $29 battery replacement program, which went into effect in December of 2017 to provide lower-cost battery replacement options to customers potentially affected by performance throttling due to battery degradation.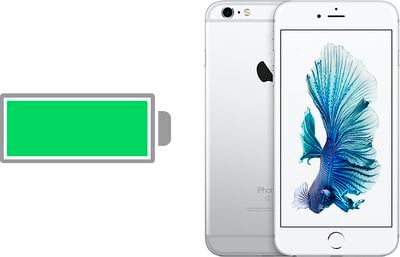 All customers who had a battery replacement from an Apple Store, Apple Repair Center, or an Apple Authorized Service Provider are eligible for the $50 credit, which will be provided as an electronic funds transfer or a credit on the credit card used to pay for the battery replacement.
Apple is only issuing refunds for replacements completed at an Apple authorized service location, so those who may have received repairs from a third-party repair outlet will not be eligible for a refund.
The program is available to customers who paid the full $79 price for an out-of-warranty battery replacement on an iPhone 6, 6 Plus, SE, 6s, 6s Plus, 7, or 7 Plus. The $50 credit will bring the price paid for the replacement down to $29, the same price Apple is charging for replacement batteries through the end of 2018. While Apple is offering $50 in the United States, battery replacement credits in other countries will vary based on the original price of the out-of-warranty replacement.
Those who paid for an out-of-warranty battery replacement will be contacted by Apple via email between May 23 and July 27 with instructions on how to receive the credit. Customers who believe they are eligible for a credit but have not received an email by August 1 should contact Apple support for assistance.
Apple has been offering lower-cost batteries following controversy over power management features quietly introduced in older iPhones with the iOS 10.2.1 update in early 2017.
The power management options were introduced to prevent unexpected shutdowns during times of peak power draw on devices with degraded batteries, but Apple faced heavy criticism for not disclosing the fact that the power management features throttled the processor on older iPhones with less than optimal batteries, resulting in slower performance.
The throttling was discovered in late 2017 and many customers were left feeling deceived by Apple. To make up for the disclosure oversight, Apple apologized, introduced a $29 battery replacement program, disabled throttling by default in iOS 11.3, and added new features to iOS to introduce more detailed information about battery health so customers will know when a degraded battery is impacting performance.