Xcode Confirms 2GB of RAM in iPhone 6s and 6s Plus, 4GB of RAM in iPad Pro
Apple development tool Xcode seemingly confirms the iPhone 6s and iPhone 6s Plus each have 2GB of RAM, while the iPad Pro has 4GB of RAM, as discovered by iOS developer Hamza Sood.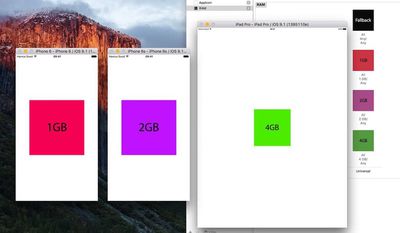 The image asset is chosen based on the memoryClass key in the simdevicetype's capabilities.plist. 0 = <1GB, 1 = 1GB, 2 = 2GB, 3 = 4GB. — Hamza Sood (@hamzasood) September 13, 2015
The iPhone 6s and iPhone 6s Plus have long been
rumored to have 2GB of RAM
. Meanwhile, Adobe issued a Creative Cloud press release earlier this week that stated the
iPad Pro had 4GB of RAM
, but removed the mention just hours later.
As usual, Apple itself did not mention how much RAM the iPhone 6s, iPhone 6s Plus or iPad Pro have during its "Hey Siri" media event, nor does it include RAM on the tech spec pages for any of the devices.