Lucky Customer Receives Rose Gold iPhone 6s Nearly Five Days Early [Updates]
Visual designer Adrienne Alpern from San Diego, California is one of the first customers to receive the brand new iPhone 6s, nearly five whole days before the latest smartphone launches in the U.S. and eleven other countries.
Adrienne shared photos of the new iPhone 6s on her Twitter account on Monday afternoon, noting that her pre-order from AT&T arrived much earlier than expected. The all-new iPhone 6s and iPhone 6s Plus officially launch September 25.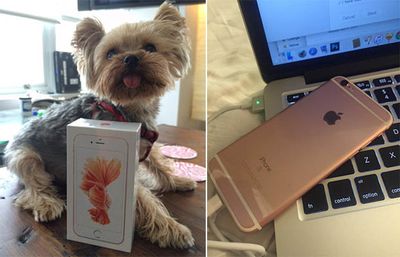 Apple each year requests that couriers like UPS and FedEx hold new iPhone deliveries until the same day the smartphones become available in stores, but a few lucky customers often receive their devices ahead of time due to logistical error.
Adrienne also shared Geekbench 3 screenshots that show the iPhone 6s has a single-core score of 2292 and a multi-core score of 4293. The iPhone 6s is also benchmarked against several other iPhone and iPad models.

Additionally, she shared a short 4K video shot with the iPhone 6s.
iPhone pre-orders in the U.S. can be tracked with
FlightAware and UPS
.
Update: We've received full resolution images from Adrienne taken with the iPhone 6s.
- Image 1
- Image 2
- Image 3
- Image 4