Live Coverage of Apple's 'Hey Siri' Event: iPhone 6s, Apple TV, iPad Pro, and More
Apple's highly anticipated "Hey Siri" event today will see the introduction of a number of new products including the iPhone 6s and 6s Plus, a new Apple TV set-top box, a larger iPad Pro, and more. The event is being held at the Bill Graham Civic Auditorium in San Francisco, with the festivities beginning at 10:00 AM Pacific Time / 1:00 PM Eastern Time.
Apple is providing a live video stream on its website and via Apple TV.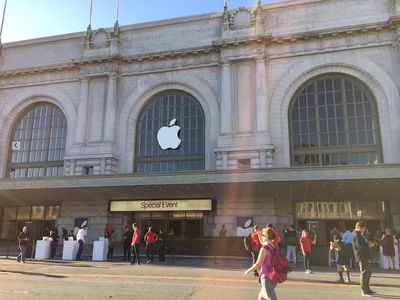 In addition to Apple's video stream, we will be updating this article with live blog coverage and issuing Twitter updates through our @MacRumorsLive account as the keynote unfolds. Highlights from the event and separate news stories regarding today's announcements will go out through our @MacRumors account.
Apple's online stores around the world are currently down in advance of the event, and we've already seen the first signs of today's product releases with (PRODUCT)RED Apple Watch Sport Bands arriving at Apple retail stores overnight.

Archive of Live Updates in Reverse Chronological Order


12:21 pm: After three songs, One Republic is finished and the event is over. "Thank you for joining us!"


12:07 pm: Before we go, since we're in a legendary music venue, we thought it would be only appropriate to close with a sensational music act. One of my absolutely favorite bands. Five platinum singles on their latest album. More importantly they are great people and their music is absolutely amazing. Please join me in welcoming One Republic.
12:05 pm: All new models and new bands for the Apple Watch. WatchOS 2. iPad Pro. Apple TV. Most advanced iPhones we've ever created and most advanced in the world.
12:03 pm: We want to tell the world about these new iPhones, so we've made an ad.


12:03 pm: Tim Cook back on stage.
12:03 pm: 5GB iCloud, new pricing. 50GB for $0.99/month, 200GB for $2.99/month, 1TB for $9.99/month.
12:02 pm: iOS 9 available September 16th.


12:02 pm: Rolling out by end of the year to 130 countries, 400 carrier partners.
12:02 pm: Preorder September 12, available September 25th.
12:01 pm: New Apple Retail pricing program, starting in the US. iPhone Upgrade Program. New iPhone each year, choose your carrier, unlocked phone, includes AppleCare+, starts at $32/month.
12:01 pm: 24 monthly installment plans, $27 per month for 6s, $31/month for 6s Plus.


12:00 pm: Will be same pricing and configurations as iPhone 6 and 6 Plus. 5s moves to free, iPhone 6 starts at $99, 6 Plus starts at $199. 6s and 6s Plus start at $199 and $299.




11:58 am: New charging docks that match metal finishes of the iPhone. Leather covers, new silicone colors.
11:58 am: New Move to iOS app, available on the Android store. Will help transfer information from Android phone to iPhone.
11:57 am: Records 1.5 seconds of video on each side of a photo.
11:57 am: Can view on Photos in El Capitan on the Mac, iPhone, iPad, Apple Watch, including the photo watch face.
11:55 am: It's not unlike Harry Potter photos.


11:54 am: What if you could press with 3D touch, on your photos, and this happens... shoots video around a photo. "Live Photos."
11:54 am: Pictures are magical moments frozen in time that we can keep forever and share with family and friends.
11:53 am: Custom display chip can drive the display 3x brighter when you need it to be a flash.
11:53 am: Can use screen as a front-flash for the FaceTime camera.
11:52 am: Shoot and edit 4K video on the iPhone. New 5MP FaceTime HD camera.
11:51 am: 8 million pixels per frame.
11:51 am: HD video, and now 4K video.


11:48 am: All we need to know is we can take even better pictures with the iPhone 6 s and 6 s Plus.
11:47 am: Autofocus is faster and more accurate.
11:46 am: All-new 12MP iSight camera. 50% more pixels than before, tremendous improvement in detail on your photos.


11:45 am: 2nd generation Touch ID sensor, 2x as fast.
11:45 am: Motion coprocessor built into chip, embedded and always on. Hey Siri feature, whether you're plugged in or not.


11:42 am: Pixel toys coming on stage to demo.
11:41 am: New A9 chip. New transistor architecture. Optimized for real-world use. 70% faster than A8.
11:41 am: No matter what you want to do, 3D touch makes it really intuitive.
11:40 am: Dropbox let's you view recent documents or search. Facebook can update status or check in from Home screen.
11:39 am: Can apply force on the edge of the screen and swipe from one app to another.
11:39 am: "It's just so much more direct and natural than ever before."
11:39 am: Can get to favorites by pressing Phone app on home screen. Play Beats 1 from the Music. "Take Emergency Selfie." Press on the Camera app and take a selfie.


11:38 am: Can peek at flights, get quick view of flight status data.
11:37 am: Can peek at mail or events, and swipe to do common tasks.
11:36 am: Craig Federighi on stage to show 3D Touch.
11:35 am: "This is unlike any experience you've seen in a smartphone."


11:33 am: Distinct tactile feedback for actions. Letting you know what you've done and what to expect.


11:32 am: Works on home screen to get short cuts to the things you do frequently. Press lightly and it gives you a peek at the content. Continue pressing and it pops you into the content itself.


11:32 am: The next generation of multi touch. iPhone can recognize force. enabling new gestures. Peek and pop.
11:31 am: For iPhone 6s and 6s Plus, we've added a whole new dimension to the way you experience your iPhone.
11:31 am: New interface - 3D Touch.
11:30 am: New glass, strongest in the industry. Dual ion-exchange process.


11:30 am: Two sizes, iPhone 6s, 4.7", 6s Plus, 5.5" display.
11:30 am: Four finishes, silver, gold, space grey and rose gold.
11:29 am: New Rose Gold aluminum finish. "It may look the same but this is an entirely new aluminum." 7000 series aluminum.
11:29 am: iPhones you are about to see are the most advanced ever, and they are the most advanced smartphones in the world. Phil Schiller coming back on stage.
11:28 am: What we have to show you today is really awesome. While they may look familiar, we have changed everything. "The only thing that's changed is everything."


11:28 am: No product is more about innovation than the iPhone.
11:28 am: Introducing the iPhone 6s and iPhone 6s Plus.


11:27 am: I am thrilled to show you the newest iPhones.
11:27 am: So how do you follow a success like this?
11:26 am: iPhone 6 is the most popular iPhone ever. These are the most popular phones in the world. More important to us, they are the most loved phones in the world. Customer satisfaction far above any other phone.
11:25 am: Cook back on stage to talk iPhone.
11:25 am: Shipping in Late October in 80 countries.


11:24 am: 32GB for $149. 64GB for $199. Existing Apple TV sticking around for $69.
11:24 am: Can control TV volume so this is the only remote you need. Can turn TV and AV remotes on. Accelerometer and gyroscope. Lasts 3 months per charge. Charges via lightning connector.


11:23 am: Power, HDMI and Ethernet. Comes with new Siri remote. Communicates via Bluetooth.
11:23 am: That's apps. Powerful hardware. Fastest Apple TV. 64-bit A8 chip. 10 millimeters taller.
11:23 am: Developers can create universal apps. Get app on iPhone, iPad and Apple TV. Games, start playing on your iPhone, start right where you left off on your television.
11:22 am: All of these apps and more, right on the App Store, right on the Apple TV. Just as easy to use as it is on the iPhone.
11:22 am: Take a linear video and make it interactive, access to stats, notifications, watch multiple games at the same time.


11:22 am: MLB.com At Bat for Apple TV. NHL GameCenter Live coming in 2016.
11:22 am: MLB TV can send a look-in notification when something happens. Split screen, watch both games at the same time. Swipe back and forth to watch both games.


11:21 am: Can stream at 60fps, 1080p. With one click, you can pull up live data, synced to the TV broadcast. Player stats and pitch tracking. Highlights and scores from other games.
11:20 am: Major League Baseball. Share our vision for how fans experience live sports.
11:20 am: The new Apple TV will make shopping from home even more compelling.
11:19 am: Can buy right from the app.


11:18 am: Your own fashion show right from home.
11:17 am: Gilt. 80% of mobile sales come from iOS devices. Amazing platform. Fashion is visual and social. We're so excited to bring Gilt to your living room on the new Apple TV.
11:17 am: What about shopping on your couch?
11:16 am: Music games are the most fun to play with friends. Includes support to play with 4 simultaneous players. Use iPhone or iPod Touch to add additional players.
11:16 am: Swinging remote to hit balls thrown by aliens to match the music.
11:14 am: Beat Sports, a collection of games for the whole family, designed for Apple TV.
11:14 am: New brand new game from Harmonix.
11:14 am: Will launch when the new Apple TV is out.


11:13 am: Cooperative play is a lot of fun, but we all have a competitive side. This is where Crossy Road on the Apple TV really shines. It is so much fun to push and block your friends.
11:12 am: iPhone or iPad can jump into the action in multiplayer.
11:12 am: Multiplayer coming to new Apple TV.


11:12 am: Swipe to move left and right, tap to jump forward.
11:11 am: Zillow. Live demo of Crossy Road.
11:10 am: Given some developers early access. Showing cool new apps. Content apps like Netflix. HBONow. Hulu. Galaxy on Fire, Rayman Adventures, Disney Infiniti, Activision is bringing new Guitar Hero to Apple TV. Shadowmatic. PlayKids. AirBNB.


11:09 am: New tvOS. Based on iOS, built for the living room. Developers are going to love it. Really easy to create apps. Familiar tools like Xcode. Access to technologies like Metal, GameKit and UIKit.
11:09 am: We've redesigned all of our apps, including Apple Music. The future of TV is apps. Apps have changed what we expect from and do on our iPhones and iPads.
11:08 am: Cue back on stage. "The new Apple TV is so much fun to use."
11:08 am: That was a quick glance at the new Apple TV.


11:07 am: "Open Music." I'm taken right to Apple Music.
11:07 am: Can pause the movie in the background and provide more information with a swipe.


11:07 am: Information pops up over the screen, not disrupting the movie.
11:07 am: "How did the San Francisco Giants do yesterday?"
11:06 am: "Who stars in this?"
11:06 am: "What are some new movies that are good to watch with kids?"


11:05 am: "Show me some action movies." "The James Bond ones." "Just the ones with Sean Connery."
11:05 am: "What did she just say?" Siri will skip back and temporarily turn on captions.
11:03 am: "Show that Modern Family episode with Edward Norton."


11:03 am: Movies and TV shows on iTunes. App Store. Photos. Apple Music.
11:02 am: Apple TV will play just the day or night shots depending on your time of day.
11:02 am: Gorgeous new screen savers. High definition video shot exclusively for Apple TV. Each slow motion shot reveals a scene in a way that is truly captivating. Included stunning locations from around the world.
11:01 am: iTunes, Netflix, Hulu, HBO, and Showtime. Adding more over time.
11:01 am: Search for something, it will search across multiple content apps and give all viewing options on a single screen.
11:00 am: Hold down Siri button and ask for something.
11:00 am: Glass touch surface across the top that makes it fluid and precise to move around. "A great touch experience."


10:59 am: Power set top box and revolutionary remote. Remote has new touch surface.
10:59 am: Cook: This is the new Apple TV. We believe it is the future of television. Eddy Cue coming on stage.


10:58 am: "Comedies with Jason Bateman. "Anything with Jason Schwartzman." "Jason Bourne movies."


10:58 am: "Show me family movies, animated only, just the new ones."
10:57 am: "Siri, show me something new."
10:57 am: We know this is what it takes. And we've been working really hard, and really long, to bring all of these together. Today, I'm thrilled to show you the new Apple TV.
10:57 am: And power developer tools and APIs so developers can create apps that are amazing just like in the mobile space. And an App Store so customers can find those apps.
10:57 am: To deliver on this vision, we need a new foundation for TV. Powerful hardware, that runs a modern operating system, that provides a new user experience that's fun and easy to use.
10:56 am: Search for what you want, experience it where and when you want. Interact with it in incredibly powerful new ways.
10:56 am: When you experience TV in this way, through an app, you realize just how much better it can be.
10:56 am: 60% of pay TV streaming video is consumed on an Apple device. All is consumed through an app.
10:56 am: This transition has already begun. We spend more time on our computers and mobile devices enjoying content through apps.
10:55 am: It starts with a vision. Our vision for TV is simple and perhaps a little provocative. The future of television is apps.
10:55 am: As important as TV is, the experience itself has not changed much in decades. The television experience has stood still while innovation is thriving in the mobile space led by mobile and iPad. Today, we are going to do something about that.


10:54 am: Cook: "I'd like to talk about an even larger screen. Your TV."


10:54 am: iPad mini 2 starting at $269 now. iPad mini 4 launches today, starting at $399. Power and performance of iPad Air 2 into Mini enclosure.
10:53 am: Designed to make you more productive and more creative, at an entirely new scale.
10:52 am: Speaker housing is built directly into the enclosure, sealed with carbon fiber cap.
10:51 am: Can dynamically alternate the speed at which the screen is refreshed, depending on what is being displayed. Saves battery life.


10:49 am: Never been a product like iPad Pro before. Created a video to tell more about it.


10:49 am: $99 for Apple Pencil, Smart Keyboard for $169. Available in November.
10:49 am: 32GB $799, 128GB $949, 128GB and LTE for $1079.
10:49 am: 3 finishes, silver, gold and space gray.


10:48 am: 8MP iSight camera, FaceTime HD camera. WiFi and LTE networking, Touch ID built in.
10:48 am: Schiller: Now you've seen the kinds of applications you can run on iPad Pro. The most advanced iPad we've made by a long shot.
10:47 am: Can share documents with patients so they can view it on their own iPads.
10:47 am: Can show patient injuries in 3D. "I can model the effects of arthritis."


10:46 am: Showing a knee, animated with muscles and skin. Can "cut" through the body, to help medical students.
10:44 am: "We believe clear understanding between doctors and patients leads to better healthcare and outcomes.
10:44 am: Last demo. App to help visualize human anatomy. 3D4Medical.


10:43 am: Powerful enough for professionals, but easy enough for anyone to use. Available only on the iPad, shipping in October.
10:43 am: Went from blank page to a design in just a few minutes, using three apps. Showing off multitasking.
10:42 am: New product, Adobe Photoshop Fix. For retouching, can process 50MP images.
10:40 am: Next: Adobe. Working on a brand new suite of applications that's incredibly powerful and can do amazing things.
10:39 am: "Will really translate how people work on these kinds of devices."
10:39 am: Full support for Apple Pencil in PowerPoint too. Can draw shapes and they're converted to graphic objects. Shape recognition for 20 different object types.
10:37 am: Multitasking Word and Excel simultaneously.
10:37 am: New pen tools, color wheel, thickness control. Can draw on document, and can be viewed on any MS Office application on any device.
10:36 am: Today, more than ever, we're supporting Microsoft Office on Apple platforms.
10:36 am: Bringing some developers on stage. Microsoft. "These guys know productivity!"
10:35 am: Can use within built-in apps in iOS. New applications from developers coming too.
10:34 am: Schiller: Apple Pencil is absolutely amazing.


10:34 am: Precision that gives you the ability to touch a single pixel.
10:33 am: Battery lasts for hours, lightning connector recharges by plugging into iPad Pro.
10:33 am: Feels like a true writing or drawing instrument.
10:33 am: Calculates angle and orientation to produce broad or shaded strokes.


10:33 am: When using the pencil, the iPad detects position twice as fast. Tech in the pencil detects position, force and tilt.


10:32 am: Jony Ive video to introduce the Apple Pencil.
10:31 am: Moving away from typing, looking now at drawing. New classes of Applications coming, that require greater precision. New brand new accessory. Created a stylus. Apple Pencil.


10:30 am: Uses Apple Dome Switch from the MacBook. Uses brand new connector technology, Smart Connector. Power and data, connects magnetically to the smart keyboard.


10:30 am: Apple launching new physical keyboard, Smart Keyboard. Built into Smart Cover.
10:28 am: 1.57 pounds, original iPad was 1.54 pounds.
10:28 am: 6.9mm thick, iPad Air is 6.1mm.


10:28 am: Four-speaker audio system, one at each corner. Automatically balances left and right, depending on how you hold the iPad. Three times the volume of iPad Air 2.
10:27 am: 10-hour battery life.
10:27 am: With iMovie, can edit 3 streams of 4K video simultaneously.
10:26 am: Graphics tasks, it's faster than 90%.
10:26 am: Faster than 80% of portable PCs shipped in the last 12 months.
10:25 am: 3rd-generation 64-bit A9X chip. 2s memory bandwidth, 2x faster storage performance. 1.8x faster than A8x. Desktop-class CPU.


10:24 am: This is the most advanced display we have ever built.


10:24 am: More pixels than 15" MacBook Pro with Retina.
10:23 am: 2732 x 2048 pixels. 5.6 million pixels.
10:23 am: Width of the iPad pro is the same as the height of the iPad Air. Take that height, make a 4:3 ratio, and you have an iPad big enough to run full iPad Air apps with more room side by side.
10:23 am: So how big is the screen? 12.9-inches diagonal.
10:22 am: We can do things on the iPad you can't do on a notebook.


10:22 am: Why make an iPad with a bigger display? It's a magical piece of glass you hold in your hands. Touch the books we read, the documents we create. It can do things a smartphone can't do because it doesn't need to fit in your pocket.
10:21 am: Huge screen, biggest we've ever built in an iOS device. More power and performance than any iOS device we've ever made.


10:20 am: "This is the iPad Pro"
10:20 am: Showing video displaying an iPad with huge planets on the screen. It appears to be a giant iPad.


10:19 am: We asked ourselves, how can we take iPad even further? Today, we have the biggest news in iPad since iPad.
10:18 am: Partnering with IBM and Cisco to redefine and transform how people work in the enterprise.
10:18 am: Has transformed the way we create, the way we learn, and the way we work.
10:18 am: Can transform into virtually anything you want it to be.
10:18 am: The clearest expression of our vision of the future of personal computing.
10:18 am: Next up: iPad
10:17 am: Tim Cook back on stage.
10:17 am: Shipping today in 24 countries, watchOS 2 coming September 16th. "We think it's going to be a fantastic holiday gift."



10:17 am: Wide variety of new sport band colors.
10:16 am: Space black stainless, added with black sport band. Classic leather updated with two-tone look. Stainless steel case with Product Red sport band. Portion goes to Global Fund to fight AIDS.
10:16 am: Two new finishes in anodized aluminum. Gold and Rose Gold. Available at same price as the rest of the sport lineup. "You have to see them in person."


10:15 am: New watch models and bands from Apple. Gold and rose gold-colored sport watches, a number of new band colors.
10:14 am: Coming in October.
10:14 am: New watch bands and Hermes digital watch faces. Apple Watch Hermes.


10:14 am: New watch partnership with Hermes.
10:13 am: Jeff Williams: "That's why we do what we do. We think the power and potential of watchOS 2 is unlimited."
10:13 am: Can send data from the watch to the doctor and receive messages back. "AirStrip plus Apple Watch will redefine how messaging and communication occurs in health care."
10:12 am: Patients can wear it too. Message sent right to patient from doctor and can send patient data right to doctor from Apple Watch.
10:11 am: Can take action, send HIPPA-compliant message right to patient's care team from the watch. Secure because it's still on wrist.


10:10 am: Can get live cardiac waveforms and other health data on the Apple Watch.
10:10 am: Physician viewing daily schedule and rounds on watch face. Can time travel to see notifications. Messages arrives, can show lab results and wave form of a patient right on the watch.
10:09 am: Bringing up co-founder of AirStrip, an app for doctors to demonstrate the app for doctors.
10:08 am: Facebook Messenger: Send text, audio messages, share location from the wrist. iTranslate: speak into the microphone and see and hear translations in over 90 languages. GoPro: Control GoPro and view live shots.
10:08 am: 10,000 Watch apps. With native apps, developers can do even more. Access hardware.


10:07 am: Going over new features introduced to watchOS from WWDC. Transit, Time Travel, third-party complications.


10:06 am: Jeff Williams coming on stage to talk about the future of Apple Watch.
10:05 am: Customer satisfaction is 97%.
10:05 am: To many people... the Apple Watch has been life-changing.
10:05 am: Customers are amazed by all they can do with their watch. Apple Pay, Siri, notifications.
10:04 am: Apple Watch up first.
10:04 am: We are about to make some monster announcements across several of our product lines. No time for updates.
10:04 am: "It's been an incredible year for Apple."


10:03 am: "We could not be more excited to be here this morning."
10:03 am: Tim Cook comes out on stage to applause from the crowd, filled with media and Apple employees.
10:02 am: Here we go!
9:58 am: "Please switch all electronic devices to silent mode" - Zane Lowe
9:58 am: We are just two minutes away from the biggest Apple event of the month!


9:48 am: Apple's video stream from inside the auditorium is now live.
9:41 am: San Francisco sports legends Barry Bonds and Joe Montana were spotted outside the building. (via John Gruber)
9:40 am: Media are now being let into the auditorium.


9:35 am: Apple employees inside the auditorium as media wait to be let in the doors.


8:47 am: Eddy Cue tweets about it being "a big day for the big screen!"


8:34 am: Media are gathering outside the venue to collect their badges and gain entry to the waiting area.